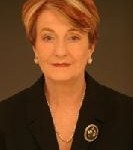 Helen Caldicott, an anti-nuclear activist, author and physician, has dedicated the last 38 years of her life to educating the public about the medical dangers of nuclear usage and ways to preserve the earth.
Caldicott will be presenting her findings in her speech, "Lessons from Fukushima: What Role Should Nuclear Energy and Natural Gas Extraction Play in our Energy Future?" at 7 p.m. Tuesday in the Hockett Family Recital Hall in the James J. Whalen Center for Music.
Contributing Writer Candace King spoke with Caldicott about her road to activism.
Candace King: What inspired your activism and medical aspirations?
Helen Caldicott: When I was about 17, I read a book by Australian author Nevil Shute called "On the Beach." It was about a nuclear war that began in the Northern Hemisphere. Everyone in the world was killed, except for people in Melbourne because it was so far south. And actually radiation moved in south, and that was the end of human existence. I was absolutely stunned by the book, and it left a deep impression upon me.
CK: What was your reaction to Japan's nuclear power plant destruction earlier in the year?
HC: Two days after it happened, I suddenly realized that this is the most catastrophic accident and worst death that mankind has ever experienced, and it's ongoing. Millions have been radiated, both in Japan and the Northern Hemisphere, inducing, over time, hundreds of thousands, if not
millions, of cancers. Children are 10 to 20 times more radiosensitive than adults. People do not understand how devastating this is.
CK: Is your weekly radio program based on your 2009 book "If You Love This Planet: A Plan to Heal the Earth"?
HC: I suppose so, the subject is similar. The book encompasses many issues that are threatening life on the earth: overpopulation, species extinction, chemical pollution, ozone depletion, global warming, deforestation, nuclear war, nuclear power. In my radio show, I view all of those issues from a medical perspective, as I am basically a doctor practicing global prevention medicine.
CK: What is your message to youth who may be unfamiliar with America's nuclear policies?
HC: Nobody knows that we can have a nuclear war tonight, and that would be the end of life on earth. That's No. 1. No. 2: I'll teach them about the medical dangers of nuclear power, about Fukushima, Chernobyl and Three Mile Island. No. 3: I will prove the medical implications of global warming.
CK: What can the public expect from you in the future?
HC: I'm getting ready to write a book called "Why Men Kill and Why Women Let Them" — how to analyze the psychopathology that creates the killing instinct. If the Second World War was fought today, Europe would be uninhabitable because all the nuclear power plants would melt down. It's very touch-and-go at the moment. The United States is in the intensive care unit, and we are now, in fact, in a big position for a dying planet.