For Dan Heffner '78, blood and gore has been a profitable business. Heffner, an Ithaca College communications alum and the executive producer of the "Saw" film franchise, is spending the week in the Roy H. Park School of Communications as a Park Alumni Professional in Residence.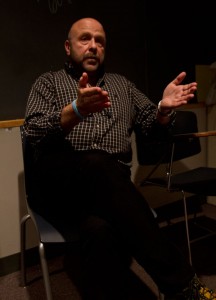 Heffner has spent time speaking with students, privately and during courses, and he will present to the campus community at 4 p.m. tomorrow in the Park Auditorium. Heffner's speech will include clips from his two newest films, "Knights of Badassdom," which follows live-action role players and their misadventures, and "Cobu," a 3-D movie about star-crossed dancers that are forced to become rivals.
Senior writer Lauren Barber spoke with Heffner about his passion for film, working on horror productions and his return to Ithaca College.
Lauren Barber: How did you first become interested in film?
Dan Heffner: I am one of those few lucky people who knew I wanted to be in this business since I was five years old. Over the years, it just got infective. As you get older and you learn more about what everything is, you can focus more on your actual likes and dislikes. I always knew I wanted to be that person who put everything together. That's the way I was coming into school, that's the way I was coming out of school, and that's what I've been doing ever since.
LB: What is it about film that keeps you in the industry?
DH: I don't know that it's any one thing. When you go into the film industry, it's kind of in your blood. I love what I do. I've been doing it for a lot of years now, and I still wouldn't ever think of doing anything else. That doesn't mean you don't have good days and bad days. There are projects that I've worked on where I've been like, "I can't wait for this to be over," but there are projects where I've been very sad that they've ended. Overall, I keep looking forward to the next challenge. Maybe that's part of it. When you're making movies, no two days are ever the same.
LB: What is it like to work in the horror genre?
DH: It's interesting. Every movie is different, and you learn new things from every movie. Having made seven "Saw" movies now, I pretty much have it down pat. Somehow I've become the king of the horror films. I know the ins and outs of it, but it's not rocket science.
LB: Why did you decide to spend a week in Ithaca this year?
DH: Because I could. I've been coming back to Ithaca now for six or seven years. A lot of my ability to do that is because we have been shooting the "Saw" franchise in Toronto, so it's easy to come down from there. I try to come down twice a year. I've done that for the last bunch of years except for last year — I couldn't get down here because "Cobu" was such a crazy project. I looked at my schedule, and it was one those weird times where I had a week. I called the dean and said, "If you'd like I can give you a week." So here I am.
LB: What is it about Ithaca that keeps you coming back?
DH: You guys [the students]. I find it exhausting and invigorating at the same time. I am surrounded constantly by people in the industry — some who are enthused, some who are older and jaded, some who are grumpy. When I come here, it's really invigorating to spend time with the students who are all excited and have that glow in their eyes. The future is ahead of them.
LB: What advice would you give to communications students who are set to enter the industry?
DH: The most important piece of advice that I can give is that the entertainment industry is an incredibly difficult industry to get into, to be in, to work in, to stay in, to thrive in. It is also incredibly rewarding, not just financially but emotionally, mentally and any other way you can think of. If this is something you really want to do, then you need to do it and go for it and have faith in yourself, and you will succeed. Everybody just needs to remember, just like everything in life, there are good days and bad days. Sometimes there will be more bad days in a row than good days. If you're dedicated and you work at it and you never give up, you'll do well.