Candidates for the provost and vice president for academic affairs position are visiting campus and participating in interviews with groups of students, faculty and staff.
A search committee was tasked with filling the position after former Provost Kathleen Rountree resigned last spring. Gregory Woodward, dean of the School of Music, has been serving as interim provost since June while the search for a replacement has been underway.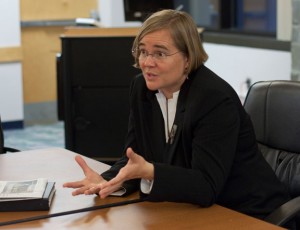 The committee has narrowed its candidates down to three finalists: Mary Strey, former provost and vice president for academic affairs at Gustavus Adolphus College in St. Peter, Minn., Marisa Kelly, dean of the College of Arts and Sciences at the University of St. Thomas in St. Paul, Minn., and Abiodun Goke-Pariola, provost and vice president for academic affairs at Otterbein University in Westerville, Ohio. Woodward was not on the list of finalists for the position.
Nancy Pringle, chair of the search committee, said she could not release whether Woodward was ever one of the candidates in the search. President Tom Rochon could not be reached for comment, and Woodward declined to comment on the search.
Strey, the first finalist, visited campus yesterday and Tuesday. Strey served as a provost and vice president for academic affairs at Gustavus Adolhus College in St. Peter, Minn., and is now as a professor of chemistry and biology there.
Strey spoke on the subject of developing distinctive excellence at a residential comprehensive college to open her session for faculty, staff and students.
"From my perspective, Ithaca College is moving forward — moving forward in a direction that can indeed establish the college as the standard of excellence for residential comprehensive colleges," she said.
Strey went on to describe the history of what she called "the language of excellence" at colleges, bringing up books with the word "excellence" in their titles and colleges using the word in their tag slogans and mission statements.
"All that excellence started to run together in the eyes and ears of prospective students, parents, faculty, staff and trustees," she said. "It was at about this point that leaders understood the imperative to set their institution apart from the competition — to become distinctive."
Strey also highlighted what she said were three key components in developing "sustainable, distinctive excellence" at the college: intentionality, authenticity and the voices of past, present and future college community members.
Strey closed her speech with an excerpt from "This Gifted Age," a poem by Edna St. Vincent Millay.
Following her speech, Strey took questions from the session's attendees.
An audience member asked Strey how she would handle the issue of interdisciplinary education at the college.
"What I would encourage is to not hold back," Strey said.
She urged faculty and staff to think broadly and boldly when addressing policy and going forth with initiatives.
She was also asked what she viewed as her primary role as provost.
"The role of the provost at any institution is institutionally designed," Strey said. "I've been trying to get a sense over these past couple days … of what your expectations are."
Strey said she believes a provost should be visible in the college community.
An audience member asked why Strey wanted the job of provost, with its long and demanding hours.
"It's compelling work," Strey said. "It's exciting, it's work that is necessary and it's work that I love to do. It's work that creates a shared sense of values and a shared sense of purpose."
Strey said if selected as provost, she would encourage the college community to move forward.
"I bring the willingness to take risks and the ability to try things and take those risks in ways that the risk is so great that failure is a disaster," she said.
Kelly, the second finalist, will be on campus today and tomorrow. Interview sessions with faculty, staff and students will take place from 12:10 to 1 p.m. today in Emerson Suite C. A session with students will be held from 5:30 to 6:15 p.m. today in the Taughannock Falls meeting room, and a session for faculty will be held from 12:10 to 1 p.m. tomorrow in the Taughannock Falls meeting room.
Goke-Pariola will be on campus Nov. 9 and 10 at the same times. Locations are to be determined. Opinion surveys will be given to attendees of all the sessions to gather input on the candidates.