It wasn't until senior Kalia Armbruster's mother confessed to reading her 16-year-old daughter's diary that the 22-year-old from Laredo, Texas considered making writing a career.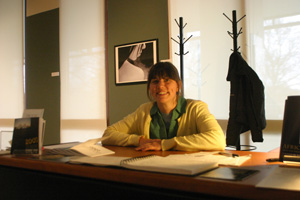 "[My mom and I] got into a little fight about it," she said. "It was accidental on her part, but she then told me that she thought what she read was actually good, and that is when I began thinking that maybe I had found something that was fun for me, and that others could identify with."
Armbruster, a senior writing major with an English minor, said she began to take her writing seriously only after she came to Ithaca College.
"I was actually going to be a chemistry major, but I love words in general, and poetry is what affects me," she said. "I am also pretty inarticulate while speaking and writing gives me the opportunity to process my words, and I can choose my words more fittingly."
Shortly after arriving at the college in Fall 2003, Armbruster began working at the Handwerker Gallery, quickly moving from checking the gallery's light bulbs to editing and formatting the artists' essays. During her second year at the gallery, Armbruster and Cheryl Kramer, assistant professor of art history and director of the gallery, began to organize the "Thursdays at the Handwerker" series. The series provides a platform for upcoming artists from the college and the community to present their creative work.
Kramer said aside from scheduling, Armbruster manages the shows, which includes designing posters, coordinating artists and making introductions.
"[Kalia] brought order to chaos," Kramer said. "[She] demonstrated that she could make abstract ideas and concepts tangible."
Rachel Wenrick, assistant professor of writing, coordinates the series with Armbruster, and said she was impressed with Armbruster's presence and poetry at their first meeting.
"Kalia is open, honest and offbeat in the best possible way," she said. "She's been instrumental in making the entire 'Thursdays at the Handwerker' series such a success."
Last semester, Armbruster received the Ithaca Humanities and Sciences Fund to attend the Wolfsonian Institute's Conference on University Art Museums in Miami. The conference discussed the role of galleries and museums in colleges and universities, and how they play a role in the education of students and in encouraging artists and young professionals.
"I have worked at the Handwerker for three and half years now, and we have developed in many ways," she said. "I love working at the gallery because I like doing things that change. It has taught me how to work with professional artists."
Armbruster was also in charge of this year's Handwerker Gallery Senior Exhibition and was chosen by her adviser, Mary Beth O'Connor, assistant professor of writing, to read her poetry at the Whalen Symposium in April.
"What most knocks me out about Kalia's poems is her originality in the juxtaposition of images and her uncanny knack for creating startling metaphors and similes," she said. "She's often funny, which I love, and always poignant."
Senior Megan Atchley said in addition to being a good writer, Armbruster is an incredible friend.
"Kalia and I have lived together for the past four years, and she is definitely one of the strongest women I know," Atchley said. "Consequently, [she] has been the most amazing support system I've ever had."
Armbruster plans to spend the summer in Ithaca after graduating and said she hopes to find a job similar to the one at the Handwerker. But her work will always mean the most to her when others identify with the feelings she translates into writing, she said.
"Everything I write about has to do with the body in some way," she said. "I feel a lot of emotions are rooted in the body. When something emotionally affects me, it manifests itself in a physical feeling as well, and that is when I usually have to sit down and write about it."