With the increasing prevalence of Twitter and Facebook in the lives of college students, Ithaca College has joined in the fun. When students and others interested in the college have questions, the college's social media accounts can quickly lead users in the right direction.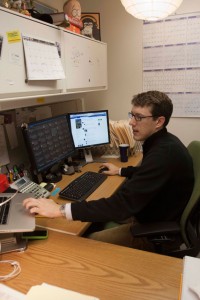 The Office of Marketing Communications began using Twitter and Facebook in 2008, and the college has since gained more than 6,000 Facebook "likes," and almost 4,000 Twitter followers. The college has increased its efforts in using both sites to interact with prospective students, current students, faculty and alumni.
Dave Cameron '96, coordinator in the Office of Marketing Communications, is one of the primary people who maintain the college's Twitter and Facebook. Cameron said these accounts allow the college to broadcast news and respond to the campus community. The popularity of these web tools makes it easy for the college to target its audience because people are already familiar with them, he said.
"Rather than trying to create new things of our own, we just go where people already are," Cameron said. "So Facebook has a lot of current students obviously, as well as a lot of alumni and people who might be interested."
Junior Angelina Castillo, student assistant in the Office of Marketing Communications, said part of her job entails helping Cameron and others by occasionally posting to the Twitter and Facebook accounts.
Castillo said using the college's Twitter and Facebook accounts allows her to let other people know about events and arts at the college that she thinks are relevant.
"I guess [I tweet about] things that … I would want to know about or that my friends would want to know about," Castillo said.
Castillo said the websites have strengths and weaknesses, and the college is able to tailor its message to either format.
"Things get posted on both because not everyone is on both Twitter or Facebook," she said. "A lot of things on Facebook are events and things that are coming up, whereas Twitter is
casual interaction and help and stuff like that."
Castillo said Intercom and e-mail messages don't allow the college to create a dialogue with the campus community like social media does.
"It's good that one or two people operate them because you get a sense that there's a person behind it rather than an institution, which is nice," Castillo said.
Senior Seth Nenstiel, who has been using Twitter since 2007, said he likes being able to communicate with the college when he has questions and concerns. He said he tweeted the college about the bad wireless service in his Garden Apartment and was pleased to discover the college had listened.
"They said they'd talk to people about that, and the Internet seems to have improved,"
Nenstiel said. "People are actually listening."
Castillo said many of the tweets are from students like Nenstiel who have questions, comments or even photos. Alumni also tweet the college often.
"We get a lot of responses — we have probably 20-30 retweets a day," Castillo said. "We have a lot of … people tweeting pretty pictures of the chapel pond, which we then retweet and the alumni get a kick out of."
Cameron said though there is no record measuring how the Twitter and Facebook
appeals to prospective students, he said having a more conversational experience with Twitter helps them learn more about the school.
"Say for example, if somebody has been accepted to the school and we might see that they've put that out on Twitter, and we can reply to that, congratulate them and that makes a really special experience for them," Cameron said.
With more and more college students creating social media accounts, Cameron said it's important for colleges to also get involved.
"It's how people connect, and especially as more and more people start using smart phones or other mobile technology, these are the tools that we use to communicate with those," he said.
Cameron said while there are no solid plans yet to expand the college's social media presence, it is open to expanding to include similar websites in the future.
"Facebook and Twitter themselves keep evolving, and there are things like Foursquare and the sort of geo-social apps that we're starting to look at as well and are starting to be used by other colleges," he said.
With the number of followers and "likes" climbing constantly, Cameron said social media at the college has proven to be a successful part of the college's marketing strategy.
"It's a wonderful tool for us to reach out and help extend the community beyond the campus," he said. "That's really its goal. It's the best tool that we have for sharing the IC experience, for sharing stories about [the college] and letting people know how awesome Ithaca is."