Two food trucks near Cornell University — The Hot Truck and Louie's Lunch — are fighting the City of Ithaca's Board of Public Works against a recent $2,153 permit charge that the vendors believe is unfair.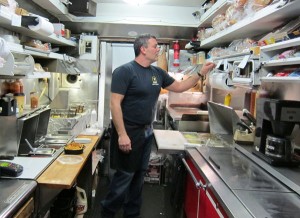 Last year, the city recognized that the food trucks never purchased a permit to use city property since they opened in the early 1900s.
The city hired an appraiser to calculate the exact cost of the permit, according to city clerk Julie Holcomb. The fees apply to anyone using city property. However, because the food trucks have been on city property for more than a century, the owners are arguing that their businesses are "grandfathered" and therefore believe the fee shouldn't apply to them. Holcomb said if the trucks go out of business, the city will not allow any more food trucks.
"They're allowed to stay there until they sell their businesses, and then they will disappear," she said.  "They won't be replaced. It's not a business they can sell to somebody else because you can't really sell city property to somebody else."
William Gray, public works superintendent, said the trucks slipped under the radar when the city first initiated permits for vendors.
"We feel bad that we haven't been collecting money all along for use of that land," he said. "There are very few places where you can park at a curbside for 50 years and not have been towed, ticketed or otherwise removed."
In a letter to the BPW, The Hot Truck owner Albert Smith asked the board to waive the fee based on the truck's long history with the city. Louie's Lunch owner, Ronald Beck, also appealed the fee in June.
According to the same letter, Smith originally bought the truck's equipment for $16,500. The business and location cost Smith $125,000.
Both owners repeatedly refused to comment on the repercussions of the permits due to the undecided nature of the permits.
Though Gray said he sees the permit fee as necessary city legislation, he acknowledged that the trucks are an important part of the town's culture.
"I would be sorry to see them go," he said. "They certainly are an institution; they've been there a long time."
Some students said the food trucks are a convenient stop for those without meal plans. Cornell senior Pierre Chwang said he buys dinner from Louie's three to four times a week.
"I'm not on a meal plan, so I basically just cook and buy anything I eat," he said.
The Board of Public Works will vote Monday on a resolution to the vendors' appeals.