When Freshman Shaquanna "Star" Thomas brought her baby with her when she returned to her dorm after Thanksgiving, she knew the next few weeks would be difficult.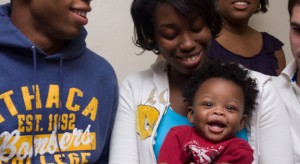 At the end of the semester, she would be moving off campus, but until then she had to find a way to keep her infant son, who had previously been staying with her mother in North Carolina, with her in campus housing.
But after three days of keeping her son, Darius, in her Terrace 4 room, she was told Friday he had to leave by the following Monday at 5 p.m.
"I was like, 'I don't know what to tell you,'" she said. "He's here. It's not like I can put him on a bus and say, 'Darius, go home.' Darius is 10 months old."
If Darius was going, she had to go too.
"I just went from being a normal college student to a homeless teen mother," she said.
Thomas and Darius' battle with Residential Life began in February when she sent an e-mail asking if the college provided family housing.
"I would like to bring my son with me and I was wondering if it could be possible for me to still live on campus?" she wrote. "If it isn't possible could I be assisted in finding accommodations for us because I would really love to experience Ithaca, as it was the only college I applied to."
An e-mail sent back from a staff member in the Office of Residential Life only read, "I am sorry, but our Residential program does not have a family housing option."
Thomas said she knew the college's policy was that all freshmen had to live on campus. Though she stated she had a son in her e-mails to Residential Life, she was never told she was exempt from that policy because she had a dependent child. Instead, she said she was told she could apply to live off campus and was directed to the Residential Life off-campus quiz and application form.
Bonnie Prunty, director of residential life and judicial affairs, could not immediately be reached about the college's e-mail response to Thomas.
She filled out the quiz and form and received an e-mail response in May that said, "We have received your off campus application but we will not be able to honor your request to live off campus because you are a first-year student. You will need to select on campus housing in July. Please let me know if you have any questions."
At that point, Thomas didn't think she would be able to come to Ithaca.
"I didn't know then that as a mother I didn't have to live on campus," she said. "I was very upset they didn't inform me of that."
Despite the letdown, Thomas' mother urged her to attend the college anyway while she took care of Darius in their North Carolina home. But when Thomas went home for Thanksgiving, she learned that her mother could no longer care for him, and she returned to campus after the break with her luggage and child in tow.
On Dec. 1, Thomas told Pat Walsh, her residence director, that Darius was in her dorm. A few days later, Walsh said housing Darius there was a violation of Residential Life's guest policy, which does not allow guests for more than three nights.
Walsh said he was unable to comment on the situation because sharing specific information about a student violates the Family Educational Rights and Privacy Act, which protect the records and identities of students.
Thomas stayed with Darius in her room for three nights before keeping Darius with friends as a "guest" in Rowland Hall, Terrace 7 and off campus.
Thomas has been able to take care of a baby and be a college student the last few weeks because of friends who watch Darius when Thomas is in class — what they refer to as being "on baby duty."
Since she began moving around, friends have willingly assisted Thomas — from playing with the baby while Thomas does homework to letting her bathe Darius in their bathtubs.
Finding friends to watch Darius has hardly been a problem for Thomas. When it has, she said her professors have welcomed her son to class.
Freshman Gabrielle Grant, Thomas' roommate, watches Darius at night while Thomas showers.
"It's hard raising a baby in and of itself, but having to go to class and then having to come back and think about taking care of the baby while still having work to do, you need good friends who are willing to help you," she said.
Thomas' mother has also been instrumental in helping her raise a child and pursue an education. Her mother puts money on a debit card every month so Thomas doesn't have to worry about paying for diapers, food and other necessities.
Brian McAree,* vice president of student affairs and campus life, said the college never told Thomas she was being kicked off campus.
"We understand if [Thomas] wants to live with her child — no question about it," he said. "We are not evicting her. We're saying if you want to be with your child and live someplace, it can't be in our
traditional residence hall housing."
Prunty said Thomas' attempt to comply with the guest policy by having Darius stay in different rooms every three days is still prohibited.
"It's a violation of the spirit of the policy," she said. "People can't have guests who move into a residence hall and stay an extended period of time. They're not our student, and that's who we provide housing for."
Thomas disagrees with the interpretation of the policy because it does not directly state guests can't stay in other rooms after the three-day period ends.
On Monday, when Darius was supposed to leave campus, Star and two friends urged McAree to help. Eventually Thomas was told she and Darius could both stay on campus and move to Emerson Hall until the end of the semester.
McAree said flexibility was reasonable because there were only two weeks left in the semester. Thomas has an off-campus apartment for the spring.
"Trying to be sensitive to the situation she was in, I decided to make an exception to our policy for the next two weeks to allow her and her child to remain in the residence halls," he said.
Though the past week's uncertainty has been a trying time for Thomas, she said the battle allowed her to find more supportive friends.
"This literally brought together a family," she said. "My friend always says, 'It takes a college to raise a baby; it takes a village to raise a baby.' I love them. They're my greatest support. I want them to know how much I appreciate them."
*Thomas gave McAree permission to discuss the details of her situation.