Though the Fulbright Scholar Program faced major budget cuts last year, and may face more this year, Ithaca College's program is seeing a rise in applications.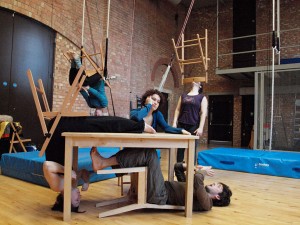 There were 21 students who applied for a Fulbright grant through the college this year, more than twice the number of applicants in each of the past eight years. Meanwhile, federal funding for the program was cut by $16.4 million last year. It could face further cuts in 2012.
Fulbright scholars receive a grant to teach, perform research or pursue advanced degrees in a country of their choice, usually for about a year. The federal government funds the majority of the budget each year for the Department of State's Bureau of Educational and Cultural Affairs, which oversees the program.
Hugh Egan, the college's Fulbright program adviser, said the program has been successful in attracting applicants and rewarding grants, compared to other scholarships affiliated with the college.
"Fulbright has been a particularly successful endeavor on this campus," he said. "And that doesn't mean winners every year but that often means one or two a year."
Just 20 out of 90 small institutions with master's programs had more applicants in its category in 2011-12.
To receive a Fulbright scholarship, students must complete a written application including a personal statement on what they wish to research.
Applicants are then evaluated on several categories, including their knowledge of the host program and country, ability to represent the U.S. abroad and their motivation to participate in the Fulbright scholar program.
The committee sends an evaluation of each applicant to Fulbright, which then selects who will receive the grant.
Amy Cohen '08 was accepted to the U.K. program for the 2009-10 academic year to study the contemporary circus as an art form in the U.K. She said the most important aspect of the program was making connections with other scholars, including forming a production company with another student from the program.
"My expectation was that I was going to be this solo, wanderlust researcher, and I ended up having a greater sense of community than I could have ever imagined," she said.
Even with a threatened budget and increasing number of applicants, it may not affect applicants. Host countries usually provide grants to students in addition to State Department money. Private companies and foundations often give money to students studying or teaching in certain fields as well.
Michael Scott-Kline, director of the Fulbright Awards Programme for the U.S.-U.K. Fulbright Commission, said U.S. funds account for about one-third of the grants, while the British government and private companies each pay one-third of the grants.
"We're uniquely placed since we have a diversity of stakeholders, to hopefully make available a wide range of awards to Americans and Ithacans in particular — we hope — to come to the U.K. to study at the post-graduate level," he said.
Contributions from foreign governments increased by $10 million to $89 million from 2009 to 2010.
Though Cohen did not have any financial trouble, she said she experienced a lack of support from the college. She said she felt a better Fulbright community could help make students aware of the program's benefits.
"I came back wishing that Ithaca had that sense of support and awareness of what an incredible opportunity it was," she said.
Scott-Kline said the number of applications from larger institutions greatly outnumbers small liberal arts colleges. He said larger institutions are better at bringing scholars back to campus so future applicants can hear about their experiences.
Egan said improvements to the program can be made, even with a higher number of applicants.
"What I would like for us to do is use what we've got with Fulbright as a model for how we might get interest in other awards started as well," Egan said. "But I would like to develop Fulbright even further."