Fulbright scholar Wee Eng Hoe is gathering ammunition from two distant countries to challenge an age-old educational institution: gym class.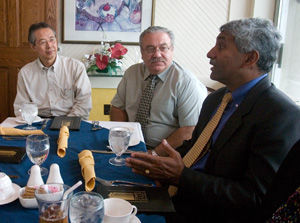 Hoe, an international Fulbright fellow, arrived at Ithaca College last month to conduct research on the implementation of successful physical education programs in Ithaca's elementary and secondary schools with Raj Subramaniam, associate professor of health promotion and physical education. Hoe's research, conducted first in Malaysia and now in the United States, will challenge global physical education practices that fail to facilitate active lifestyles in today's youth.
"Cross-culturally, we would like to see what are good things here to bring back to Malaysia," Hoe said.
The Fulbright scholarship program, which is funding Hoe's research, was established in 1948 and allows scholars to conduct research or study internationally in hopes of facilitating greater understanding among nations.
Hoe, who was formally welcomed to the college at a reception Tuesday, said he sought Ithaca as his host university after teaching with the textbook "Foundations in Physical Education" by Deborah Wuest, professor and chair of the graduate program for health promotion and physical education.
"I discovered that Ithaca has got a long tradition in physical education … and a very strong foundation in graduate programs for physical education," Hoe said. "I am very proud to be here."
Hoe, a former athlete and coach of basketball, volleyball and squash, holds a doctorate degree in physical education from the University of Malaya in Kuala Lumpur, Malaysia. He has lectured at the University of Technology Mara in Selangor, Malaysia, for the past 5 years.
He said personal, unfulfilling childhood experiences in physical education and a love for athletics drive his commitment to developing strong physical education programs.
"We didn't get to learn things that [were] supposed to be in the curriculum," Hoe said. "For that reason, I feel I [needed] to do something."
Hoe said though physical education is compulsory in Malaysian schools, administration annually fails to prioritize it.
"Given a chance, if they could take away P.E. from the school curriculum, they would," Hoe said.
Childhood obesity is escalating in Malaysia, due in part to the availability of cable TV and video games, he said.
"Kids are not being encouraged to be involved in physical education during their free time," he said. "That's why this trend of obesity is actually on the increase. … Their lifestyle could be described as sedentary," he said.
Hoe said he plans to appeal the Malaysian Ministry of Education when he returns to increase standards for physical education programs and instructors, and hopes his research will inform educators in Malaysia about alternative teaching methods.
"There's no data on cross-cultural study on physical education with the U.S. and Malaysia," he said.
Hoe will also speak to students in the health sciences department to broaden their understanding of international physical education standards.
James T. Grey, assistant professor of sport management and media, said Hoe's instruction will challenge his students to think about physical education and athletics in a global context.
"It's good to have college students exposed to a professor who, while sharing the same language and some of the same cultural traits, has a different worldwide perspective," he said.
Subramaniam and Hoe are both strong advocates for physical education as a combatant for obesity and an agent for perpetuating lifelong health. They said they are concerned that a lack of administrative support and qualified instructors have marginalized physical education, and with increased quality instruction, all students would have the opportunity to find forms of exercise they love.
"The goal of P.E. today is not to produce athletes," Subramaniam said. "The goal is to produce physically educated individuals."
Junior Sara DeCuir, a physical education major in Subramaniam's Curriculum and Methods for Elementary Physical Education course, said gym class philosophies are evolving.
"The shift has changed from competition to building up the potential of the student … and having them actually enjoy it and carry it through a lifetime," DeCuir said.
The evolution of physical fitness philosophies has yet to globally influence instructors, Hoe said, but he hopes his research might help to raise awareness, cultivating a healthier and more active rising generation.
"One of the components of healthy lifestyle is getting involved in physical activity," Hoe said. "We are on the road to success."