Imagine traveling through a virtual womb with the responsibility of protecting the fetus from anything that could potentially harm it.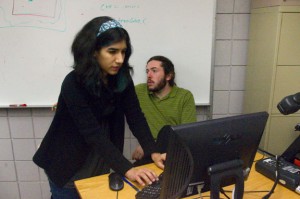 This is "Embryonic," a new video game created by Ithaca College's Game Development Club that won the group first place at the Rochester Institute of Technology Microsoft Game Design Competition on Feb. 13. The game has also just gotten them to round two of the national Microsoft Imagine Cup in Seattle.
With the cancellation of the game development major in the Roy H. Park School of Communications, students formed the Game Development Club as a forum to practice their interests.
Junior Ashley Alicea, vice president of the Game Development Club, started as a biology major but intended to become a game development major when the major was proposed. After it was canceled, she switched to computer science with a planned study in new media.
"To me, it was always just a game," she said. "It's something you play. But as I got more educated about the industry, I realized it was actually really big. It's a multibillion-dollar industry. I want to do this for the rest of my life."
At RIT, students had to create an idea and present a prototype of a game that adheres to the theme that must be completed in 48 hours.
Alicea said the club is used to a time limit – anywhere from 24 hours to months.
This year, the theme was, "Imagine a world where technology helps all the country's problems." Alicea said they chose to focus on prenatal health and created "Embryonic."
In the club's game, players act as Autobots inside the womb, where they have to protect the embryo from anything that might be dangerous. The game is designed in hues of blue, with the baby being the largest central aspect of every level. The player shoots laser-like beams out at harmful invaders that float across the screen around the baby. The player travels through different levels that symbolize the stages of development with different tasks, such as removing cancerous cells, until the baby is born. The player must protect the baby from getting caught in his or her crossfire.
Alicea said the game was not developed with a specific target audience in mind.
"Really anyone who is interested can play this game," she said. "It caters to a lot of different people."
The game was created in HTML5, the new mark up language for the web. Since it is a relatively new technology, many college students have not learned how to work with it yet.
"We didn't know how to work with HTML5," she said. "We decided to go for it for this competition."
After the theme was announced, the group brainstormed ideas for a game. The ideas were put together to form a game design document that lists the story, programming and art. The group then split up to work on separate sections of the game and brought all sections together to polished it into a finished product.
Because of their first place finish, the club received an Xbox 360, Kinect and game development software.
"We couldn't believe it," Alicea said. "We were really confident in our game, but we were really nervous too."
Senior Marc Howard competed with the club and said while it was an exhilarating process, it was also incredibly stressful.
"As the end approaches and you have 10 hours of work left to do in 2 hours time, everyone goes into high speed and everyone rushes to get everything done at the last minute," he said. "Somehow it always works out, and you finish just in time to upload it before the deadline."
David Schwartz, game design and development professor at RIT, mentor for the participants and judge at the competition, said he was very impressed with the club's work.
"The IC team did a phenomenal job, starting essentially from scratch and quickly picking up new technology while simultaneously nailing their game idea," he said. "In particular, the other reviewers and I felt that the IC team seemed to really get the idea of presenting a game idea in support of a social cause and truly balanced fun and education."
The club also plans to submit "Embryonic" into the Microsoft World Competition.
Jeffers said he loves game design because it is a chance to create media that is unlike any other.
"You can actually do something; you can actually change your environment — make it something greater than it is," he said. "It's a great way to educate people."
Alicea said she is hoping the club's success will give it a better name with the community.
"It's also an issue that the school doesn't take us as seriously as they should, especially with the cancellation of the major," she said. "We see this as a way to show everyone that we're a force to be reckoned with. This is a big deal."