Janet Green '79 grew up wondering if there was something wrong with her. As a child born with an enlarged clitoris, Green said jumbled memories of being exposed in hospitals and paraded in front of doctors characterized the early years of her life. Before Green even left the hospital, she had already undergone her first operation to change the appearance of her genitals.
"What your parents say to you is 'I love you just the way you are,'" she said. "When you are a child who finds out that your body has been changed in ways that are abnormal or not necessarily about your satisfaction, … you feel like this is just lip service."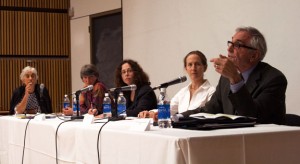 Green has congenital adrenal hyperplasia, a condition medically classified as a disorder of sexual differentiation, or unusual genital anatomy. Like most females with CAH, Green was born with an enlarged clitoris — larger than one centimeter — at birth. She received surgery to reduce its size 53 years ago. The procedure, which is still performed regularly by surgeons, is meant to make the child's genitals appear more "normal."
These operations are the specialty of Dr. Dix Poppas, a pediatric urologist and professor at Weill Cornell Medical College, whose controversial research measuring the sexual sensitivity of young girls has attracted national attention.
A 2007 research paper co-authored by Poppas and published in The Journal of Urology outlines the ways Poppas thinks the clitoris can be cut without compromising the patient's ability to reach orgasm later in life. The paper also describes ways Poppas gauges the surgery's success — by stimulating the clitoris with a cotton applicator or vibratory device and asking girls to rate their level of sensation on a scale of one to five.
According to the study, Poppas administered tests to girls as young as 5 years old under the surveillance of their parents. Patient advocates and scholars question how these tests, which potentially subject young girls to serious psychological harm, are being regulated.
Ellen Feder, professor of philosophy at American University, co-authored a Bioethics Forum article published in June that attacked Poppas' practices. Feder said none of the psychologists she spoke with thought administering these tests to young girls was developmentally appropriate.
"It strikes most people as an exploitative situation — a situation in which a girl would feel vulnerable or powerless," Feder said.
A Weill institutional review board conducted an investigation of Poppas this fall to address concerns with follow-up testing and respond to media criticisms of the surgery itself. Poppas declined to comment on the investigation or the controversy surrounding his research.
The investigative committee chaired by Ralph Nachman, dean of clinical research at Weill, released a statement outlining results of the investigation on Oct. 4. The institutional review board ultimately concluded that both the surgery and sensory tests were part of standard clinical treatment and were not subject to Weill's prior approval.
"Currently there are no standards, but we felt that it was an appropriate clinical evaluation in a patient," Nachman said.
Anne Bradley, spokeswoman for the Federal Office for Human Research Protections, said the office has since requested more information about Poppas' research.
"We're awaiting information before there's any more to be said," she said.
Anne Tamar-Matis, executive director of Advocates for Informed Choice, said if the OHRP decides it has jurisdiction of the case, it would be the final judge determining the legal and ethical implications of Poppas' research.
"Cornell will decide what they want to do about this, but they will not be the last word on whether or not any action is taken," Tamar-Matis said.
Junior Cornell student Ida Bernstein read about Poppas' research this summer and was concerned about the ethical considerations it raised. She invited leading voices in the debate to participate in a panel discussion Oct. 4 at Cornell.
"Dr. Poppas is only one specific example of what doctors are doing all over the country — what we consider to be a national issue," Bernstein said.
Feder, Green, Nachman and Tamar-Matis participated in the panel that was mediated by Carla Golden, professor of psychology at Ithaca College, and attended by a committee of students from IC Human Rights alarmed by the potential of surgeries to violate human rights.
Poppas declined to participate in the panel. Nachman said the university determined Poppas' presence could detract from the debate's integrity.
"We didn't want to subject him or the audience to a shouting match," Nachman said.
Nachman represented Weill on the panel, which was dominated by those critical of Poppas' research. Referring to the absence of a parental perspective, Nachman referenced a letter from the Congenital Adrenal Hyperplasia Research Education and Support Foundation objecting to the panel.
"There is a big lesion in this room today," Nachman said. "The parents of the children involved with these procedures are not here."
Dina Matos, executive director of the CARES Foundation, said the foundation was never asked to participate. In the letter, the foundation calls the panel a witch hunt and asks that Cornell postpone the panel until it included a variety of perspectives.
In response to criticisms about the surgery being purely cosmetic, a mother from the Pittsburgh area said she had a different reason for having the procedure done on her daughter.
"We didn't do it so she'd look pretty. It was so she could lead a happy and healthy life."
Anne Carlin, secretary of IC Human Rights who studied Poppas' research and attended the panel, said she wonders if parents are levelheaded enough to judge what is best for their daughters.
"I question whether they are fully informed of the potential outcomes of these surgeries," she said.
Green said she hopes parents take the time to protect girls born with disorders of sexual differentiation from feeling a sense of shame or isolation like she did.
"My parents did love me," Green said. "But they didn't think, and doctors told them that they may not be able to love me unless I really looked like the little girl that I was. Each of us deserves to feel loved and accepted for whatever we are."