In Ford Hall last Thursday, Ghana native Sulley Imoro moved in perfect rhythm, aligning with the beat his students played out on African drums. He was strong, yet graceful. When he hit a kalabash, a large hollowed-out gourd, his hands drummed at varying speeds, but he made each movement look smooth and effortless.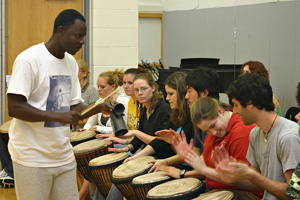 "I choose to [dance] because I love to do it," Imoro said. "I love to share it with those people who don't understand the culture and where I am coming from."
Imoro arrived in Ithaca in August to work with Baruch Whitehead, associate professor of music education, as the School of Music's artist in residence. Imoro, with Whitehead, has spent the past seven weeks teaching African Drum and Dance Performance Practice, a course that teaches students about drumming, singing and dancing in the African tradition.
For Imoro, last week's performance was second nature. In Ghana, whenever there is a high-profile visitor, including former United States President Bill Clinton, the Ambassador calls Imoro and his ensemble to dance in front of crowds that can reach into the thousands.
"He is a natural treasure of Ghana," Whitehead said. "We are very fortunate that he was able to get out and travel here."
Imoro started to learn African drumming and dance from his father when he was 8 years old. His father, also a popular dancer, was known throughout Ghana. Imoro said he was eager to follow in his father's footsteps.
"Anytime in the village when we didn't have entertainment, Father would bring
the drums out and play," he said. "Sometimes we didn't have light in the village, and if the moon was bright, we would come together and play and dance."
In Africa, Imoro is a dance instructor for the Dagara Music and Arts Center in Medie, Ghana, in West Africa. He is the director and founder of the "Mbanba" Cultural Troupe of Tamale and an instructor for the dance ensemble at the University of Ghana at Legon. He has performed throughout Africa, Europe and the United States, and for more than 20 years he has taught African drumming and dance classes in Ghana and at American colleges. He is also a featured dancer for the Ghana
Dance Ensemble.
Whitehead said the college's relationship with Imoro began four years ago when he first took students to Ghana during the summer. Students worked with Imoro at the Dagara Music and Arts Center as part of the college's international studies program.
Senior Dan Assael studied at Dagara in the summer of 2006. He studied traditional African music, immersed himself in African culture and drummed as often as possible. Assael said seeing homes made of straw exposed him to the realities of poverty.
"But the hospitality and the happiness of the people were incredible all the time," he said.
Last week's performance served as a closing for the class and a showcase for the students. Students, directed by Whitehead, performed the dances and drumming they learned with Imoro in traditional outfits from Imoro's village.
"I think the performance was certainly high energy, the adrenaline kicked in, and people were very pumped," Whitehead said. "I really think they took it up a level."
Whitehead said he feels fortunate to have facilitated the collaboration with Imoro and his students.
"[Imoro] is a person that … really gives 110 percent," Whitehead said. "I think that inspires the students to do so."
Imoro wears a T-shirt and slacks while he teaches classes, but at the performance he stood out in his traditional turquoise Ghanaian dress. While his style of dress is completely different for teaching and performing, Imoro has the same amount of passion for both.
Senior Gabi White said Imoro's class is very inspirational, energetic and free spirited.
"He really enjoys every moment of [teaching] and you can see that," she said. "I just love looking at my professor and seeing him grinning, full teeth bared, while I am being taught — if only my math teacher could do that."
Imoro said he wishes he could stay at the college longer but said he will continue to teach in the future. He said his hopes are to spread his culture throughout American universities and high schools.
"I've been glad to work at Ithaca College," said Imoro. "Some of African dance is hard [but] they are doing it … the [students] have been great to me."