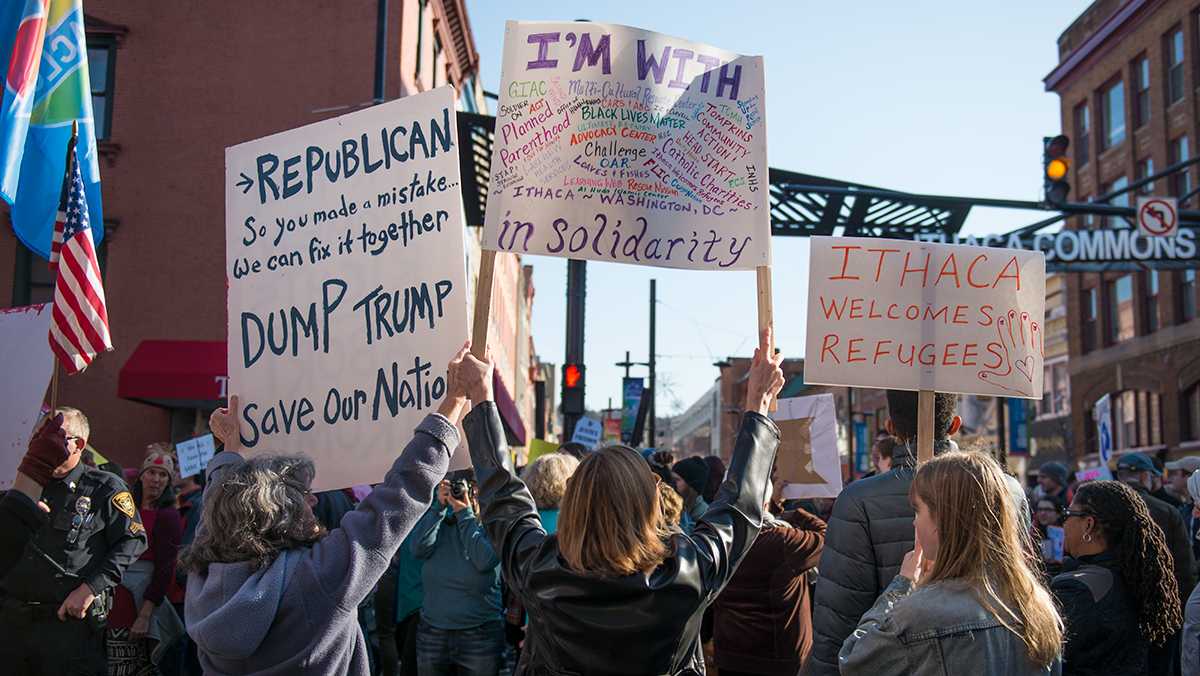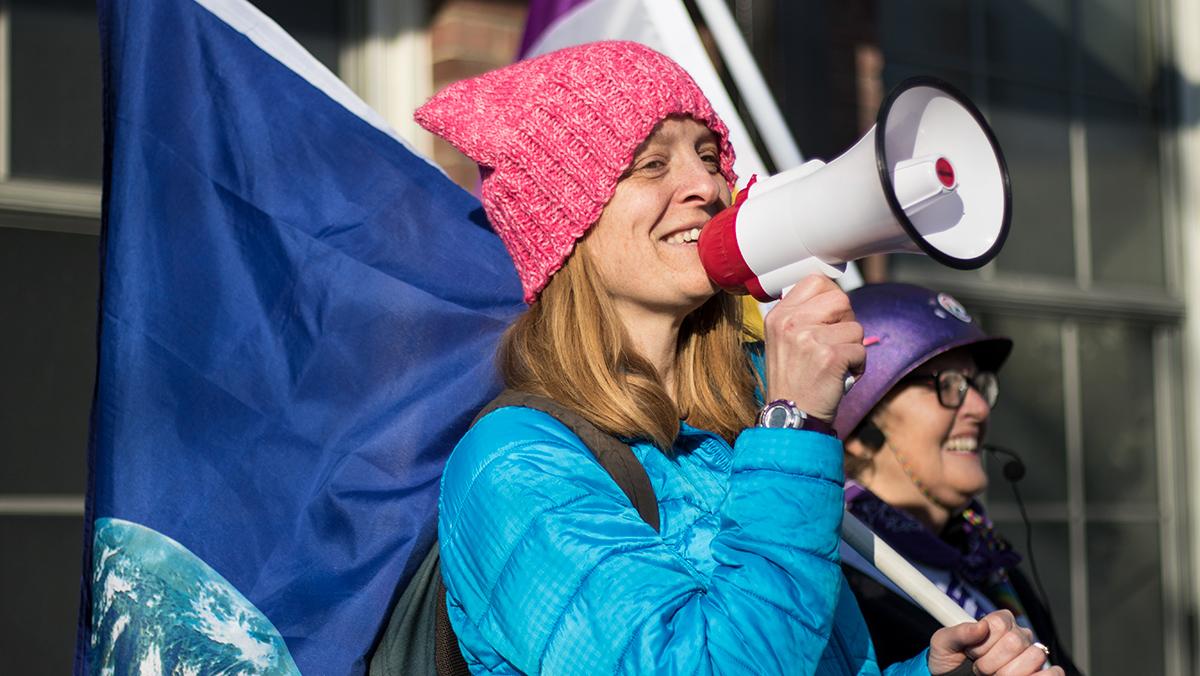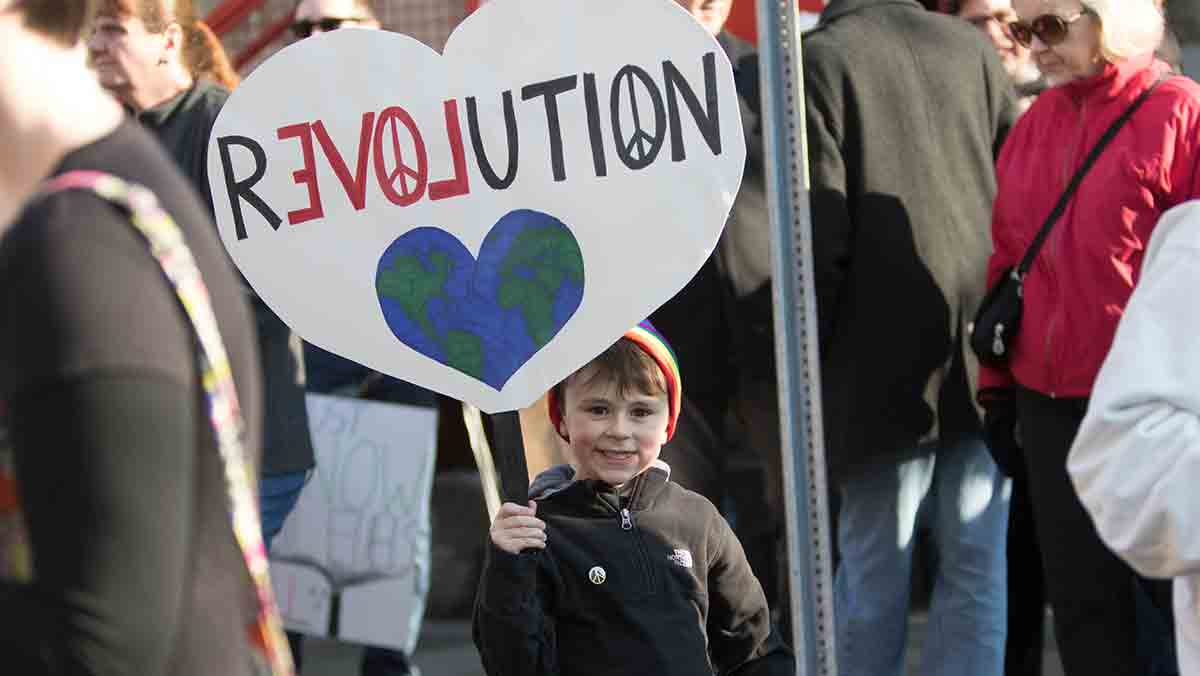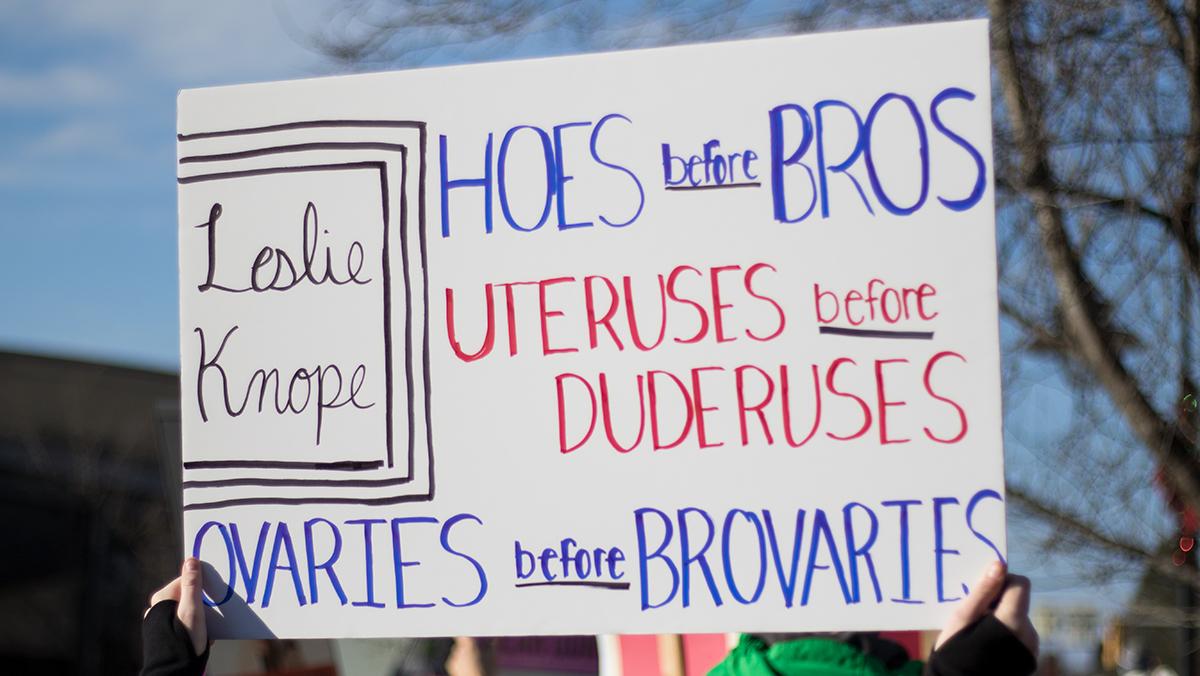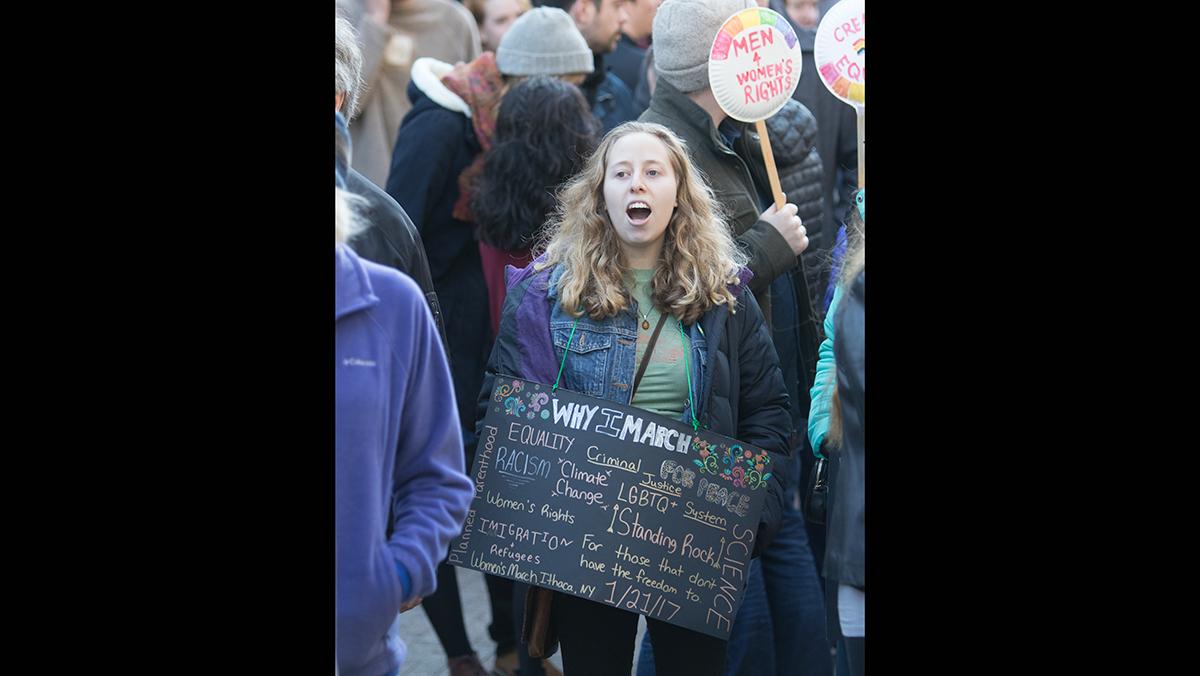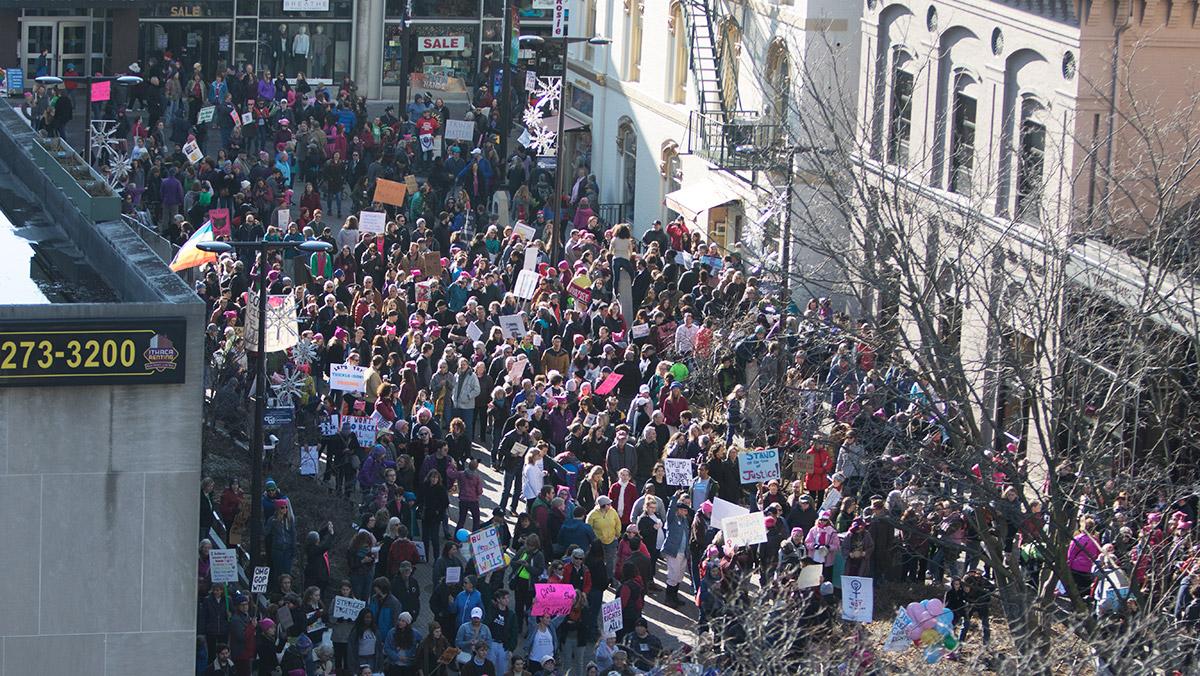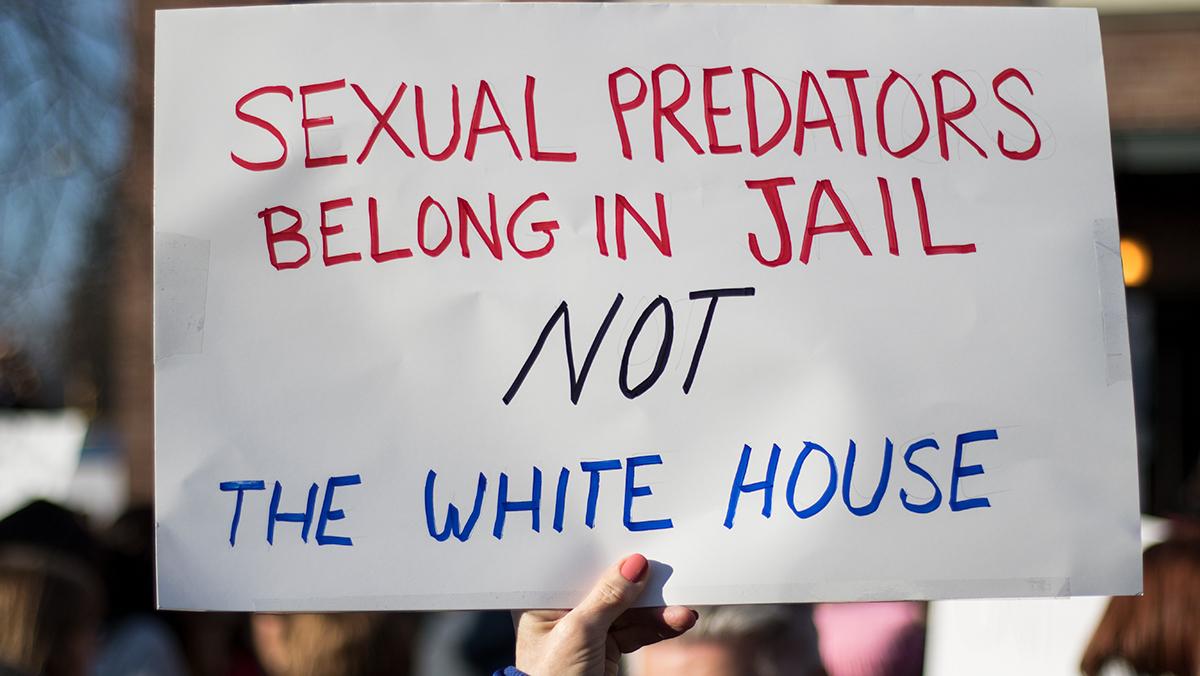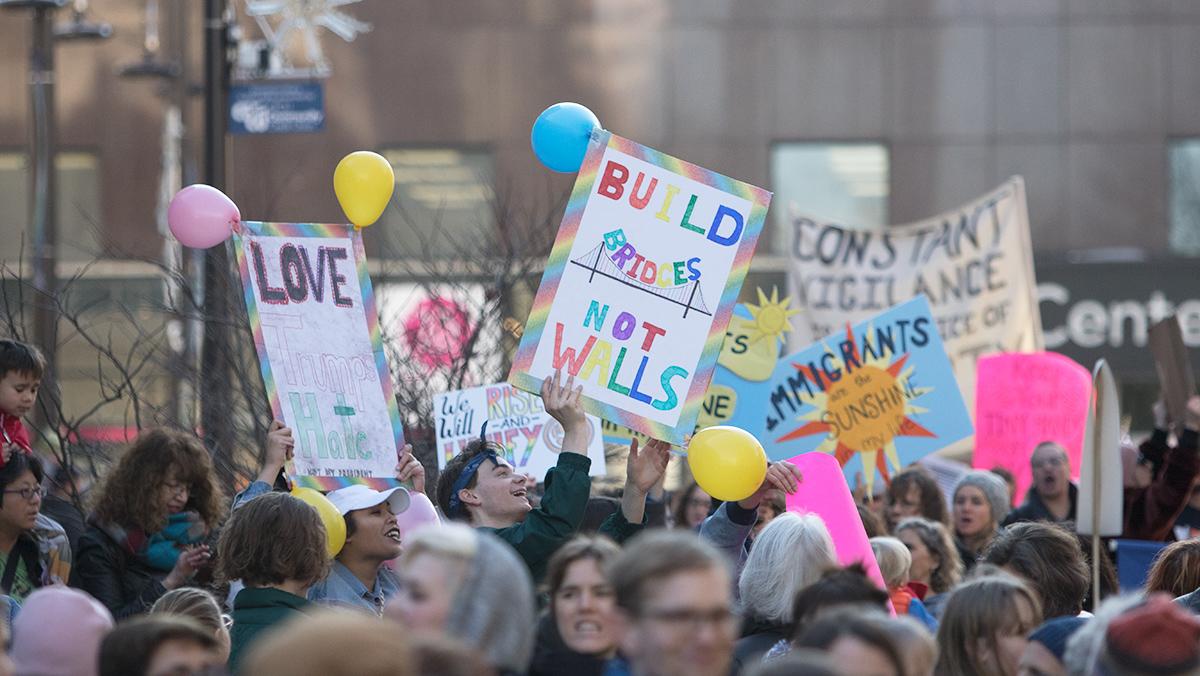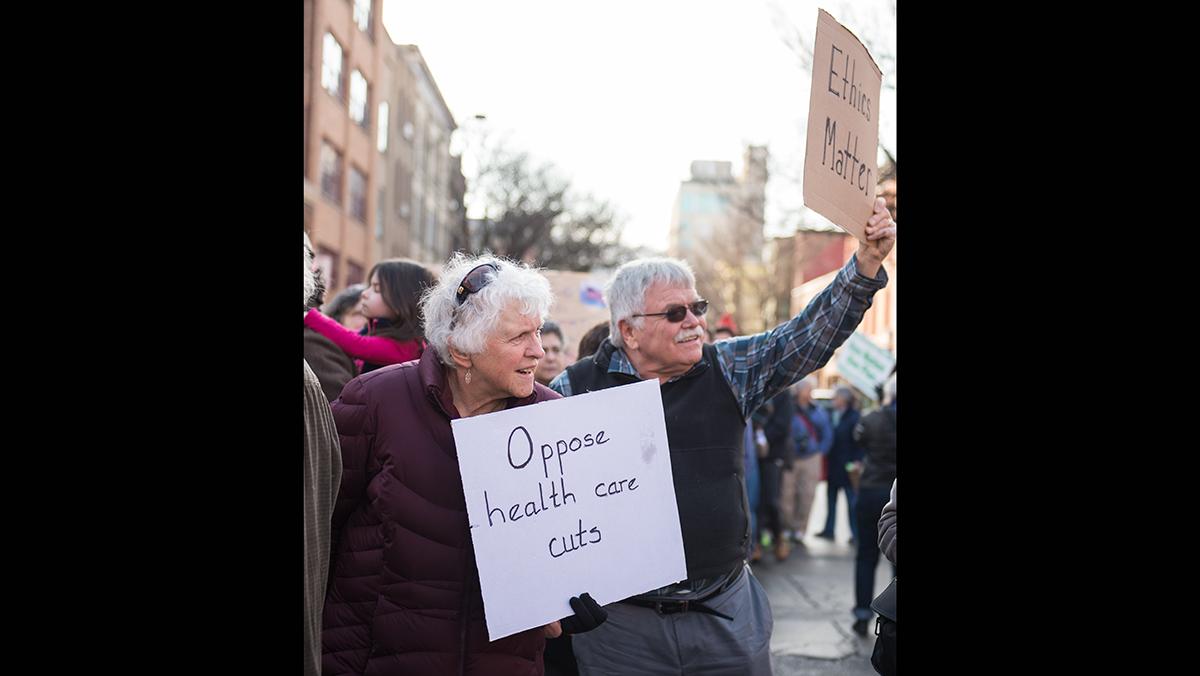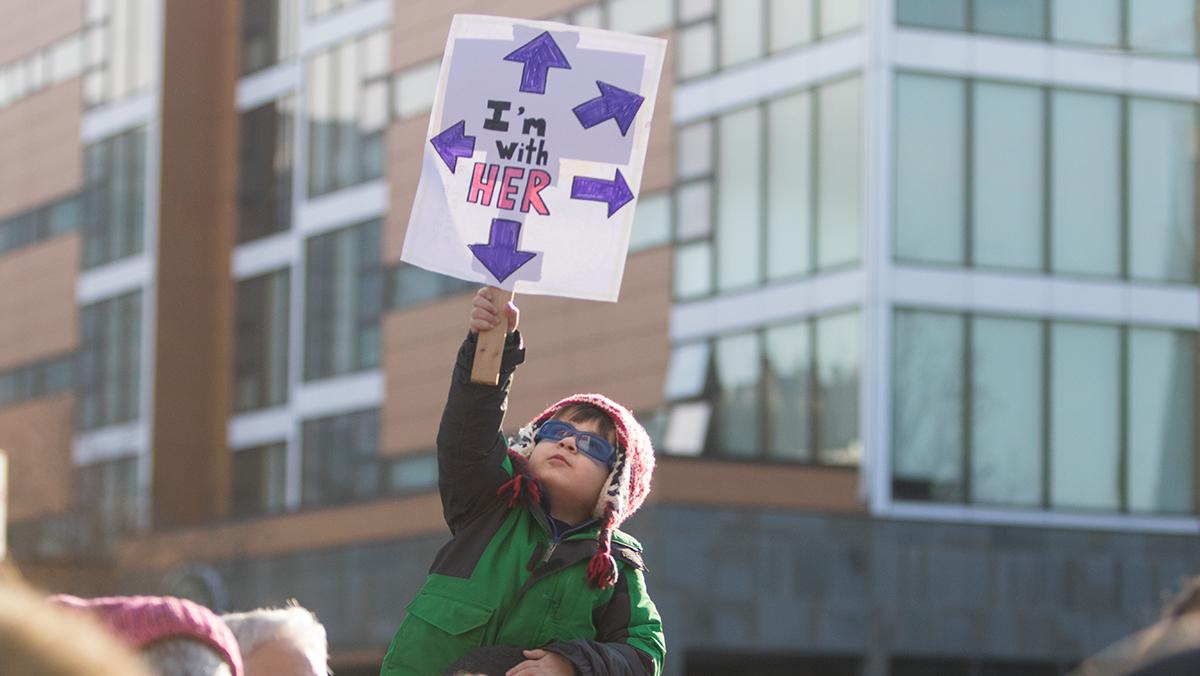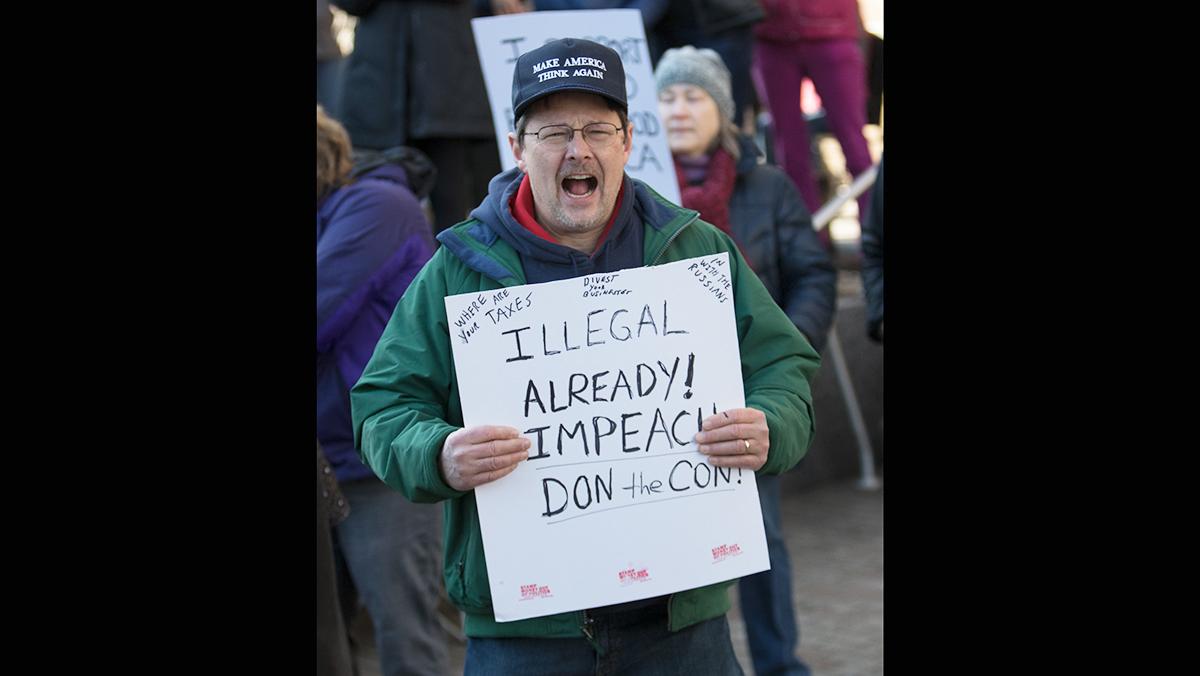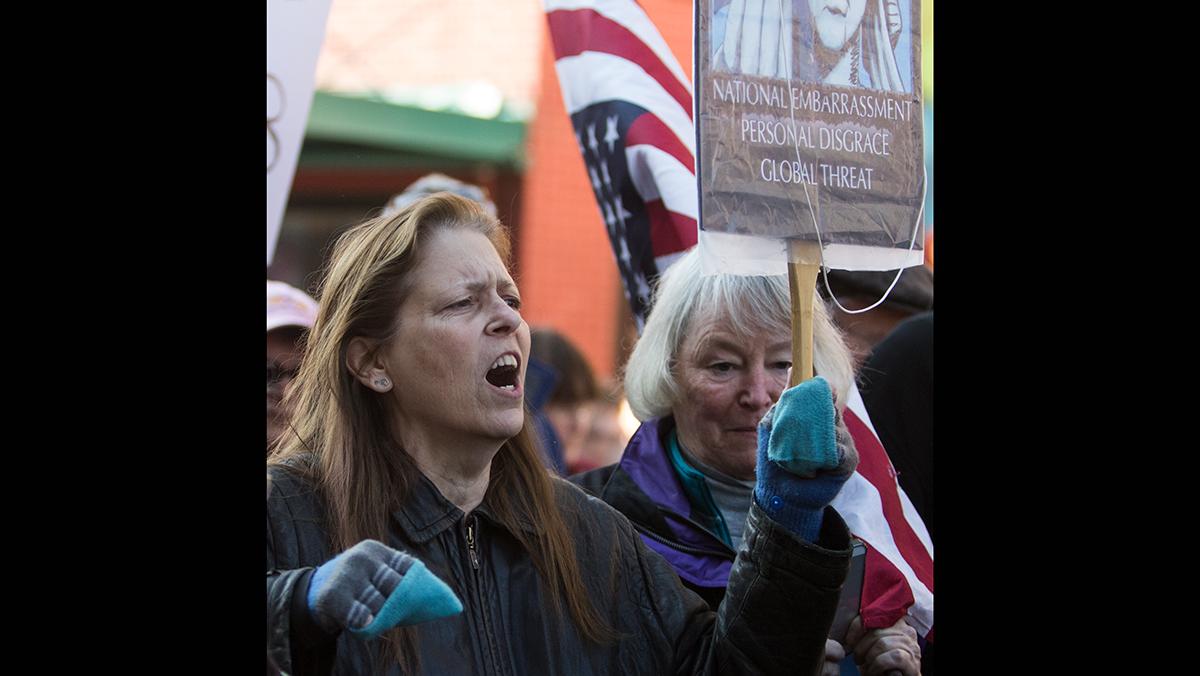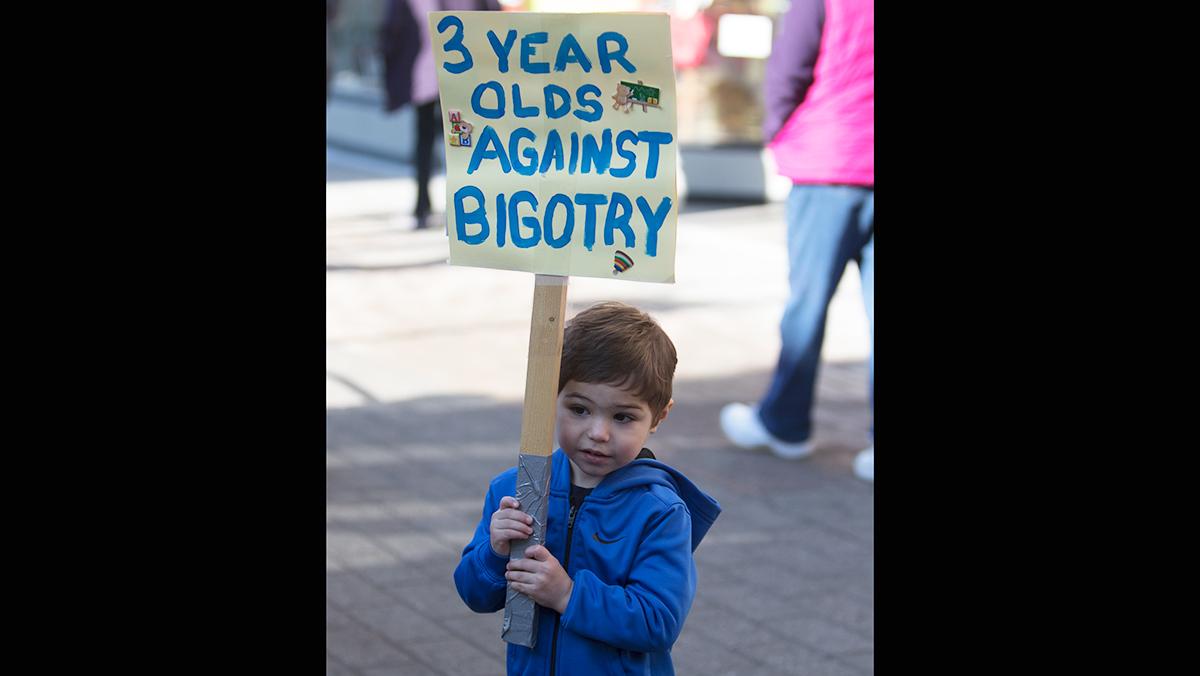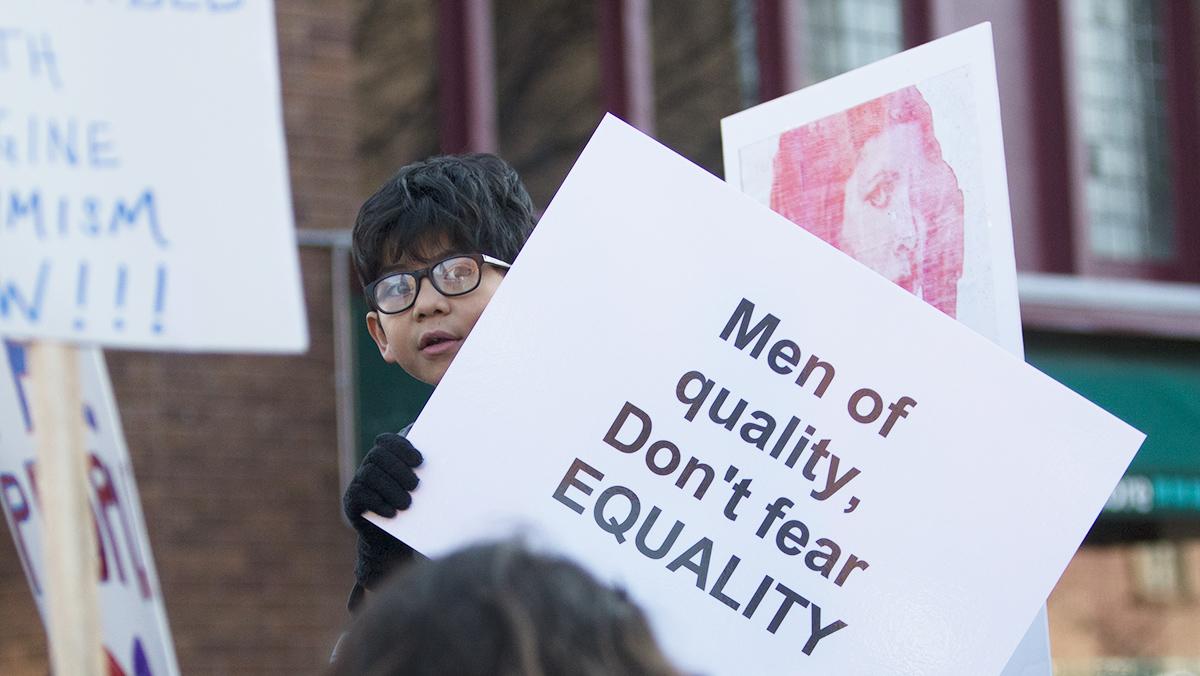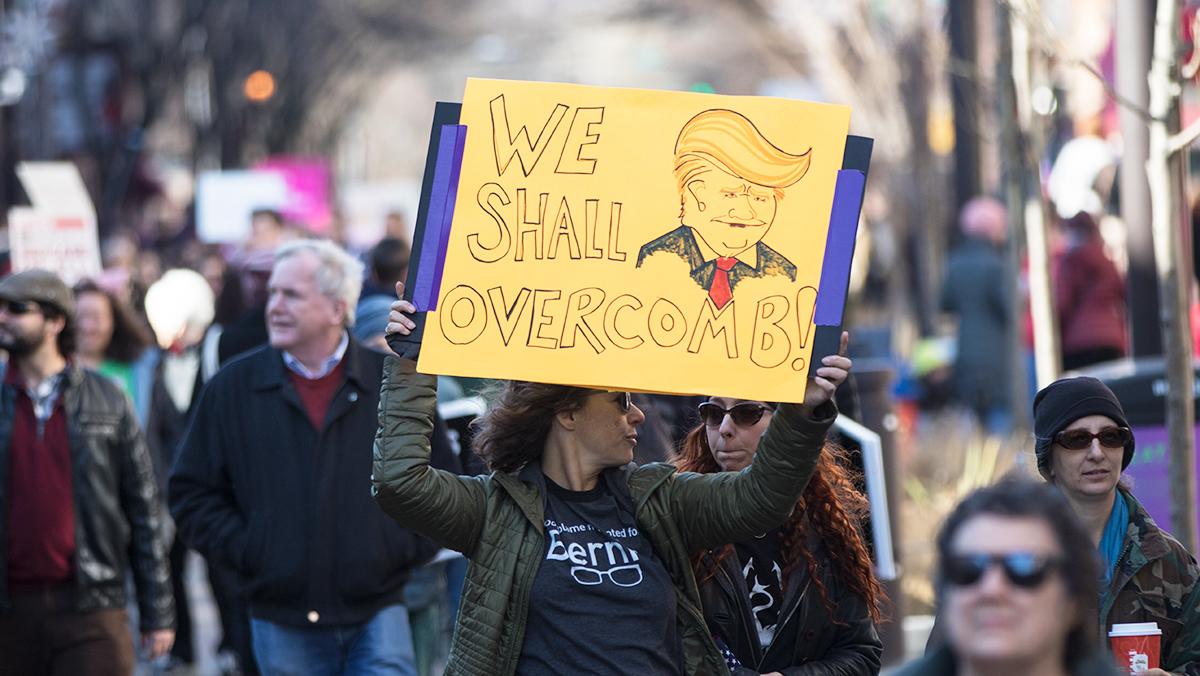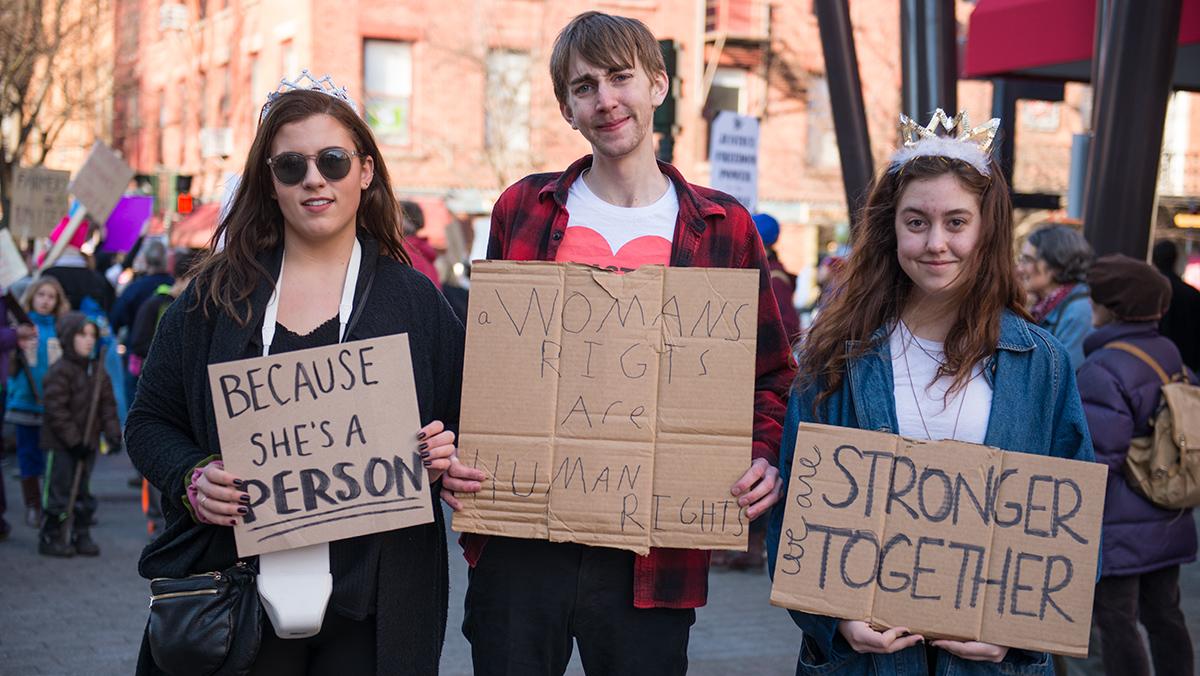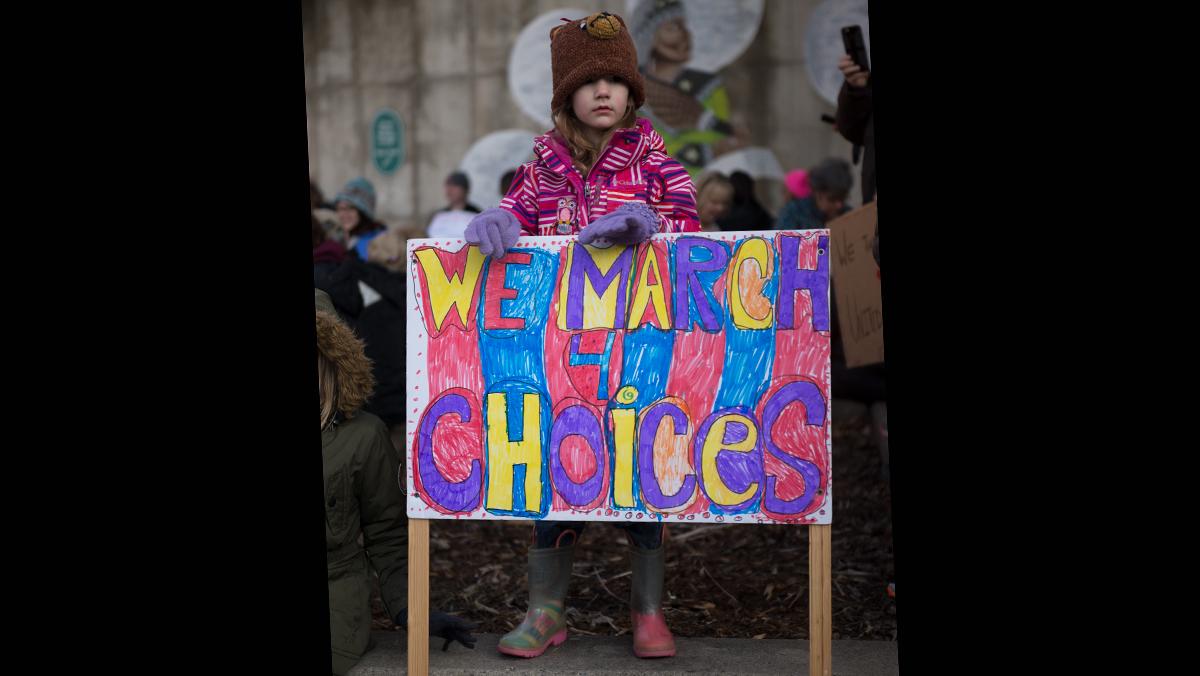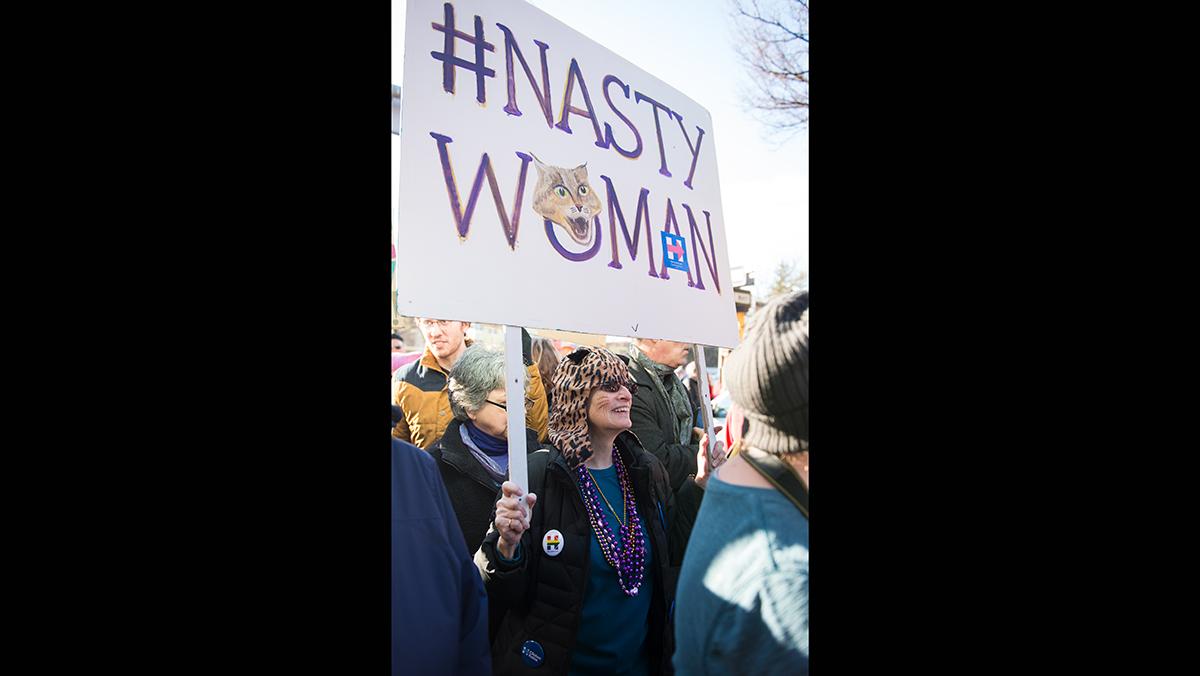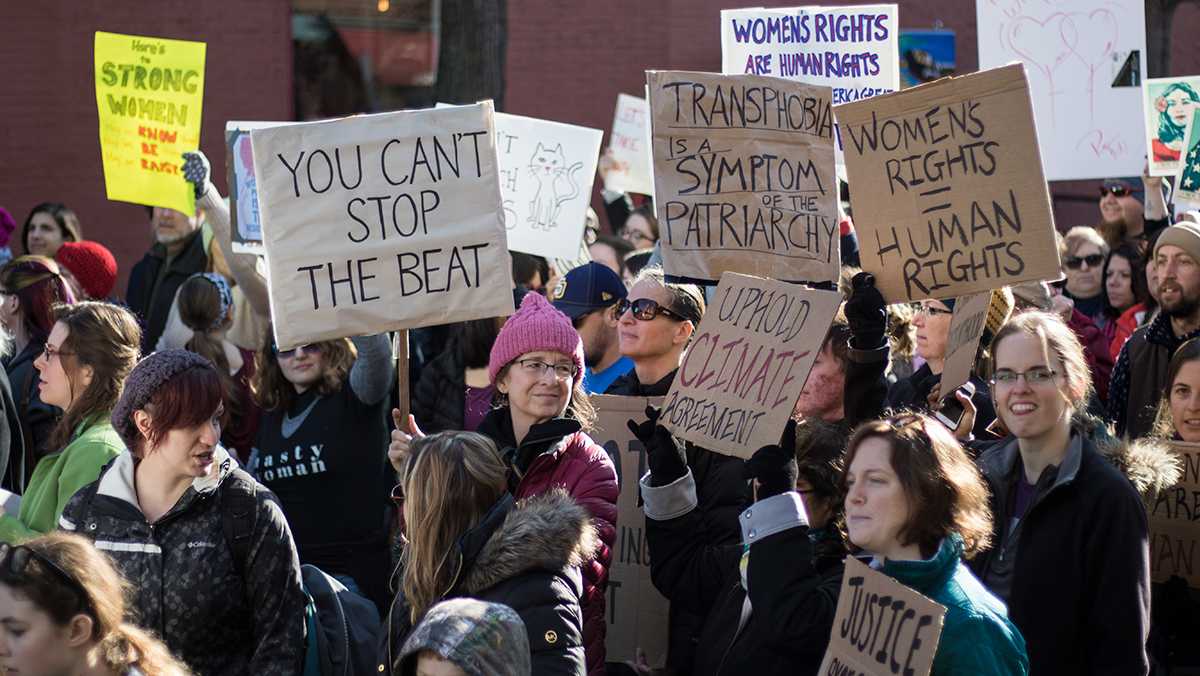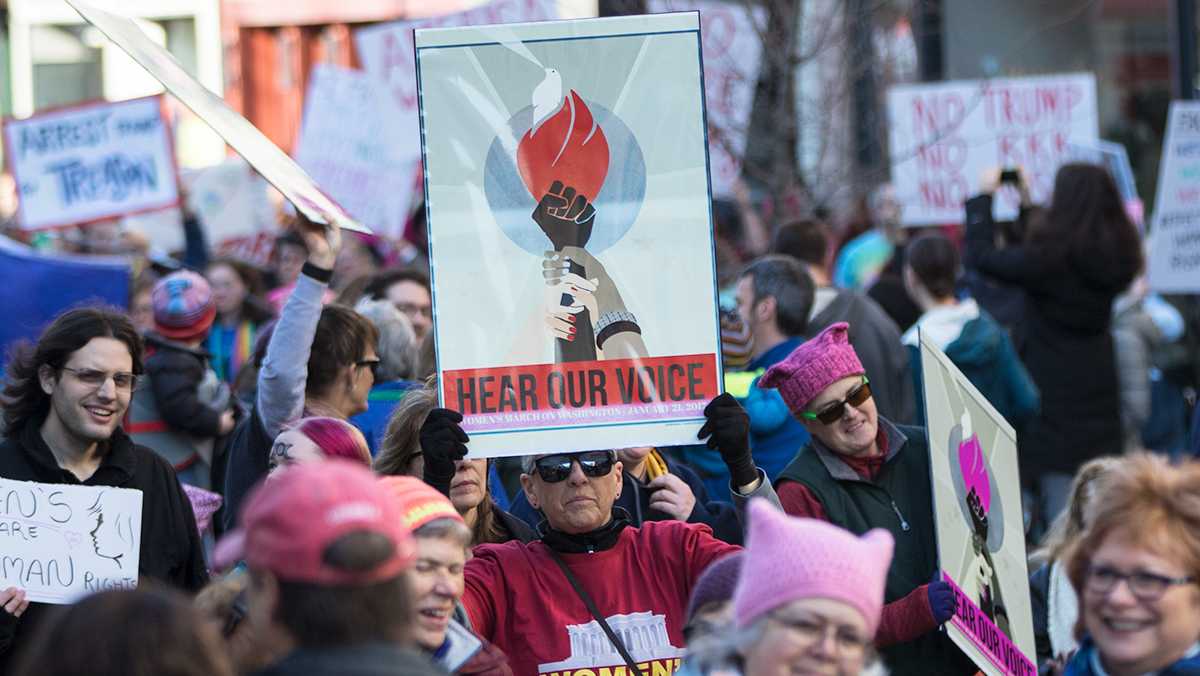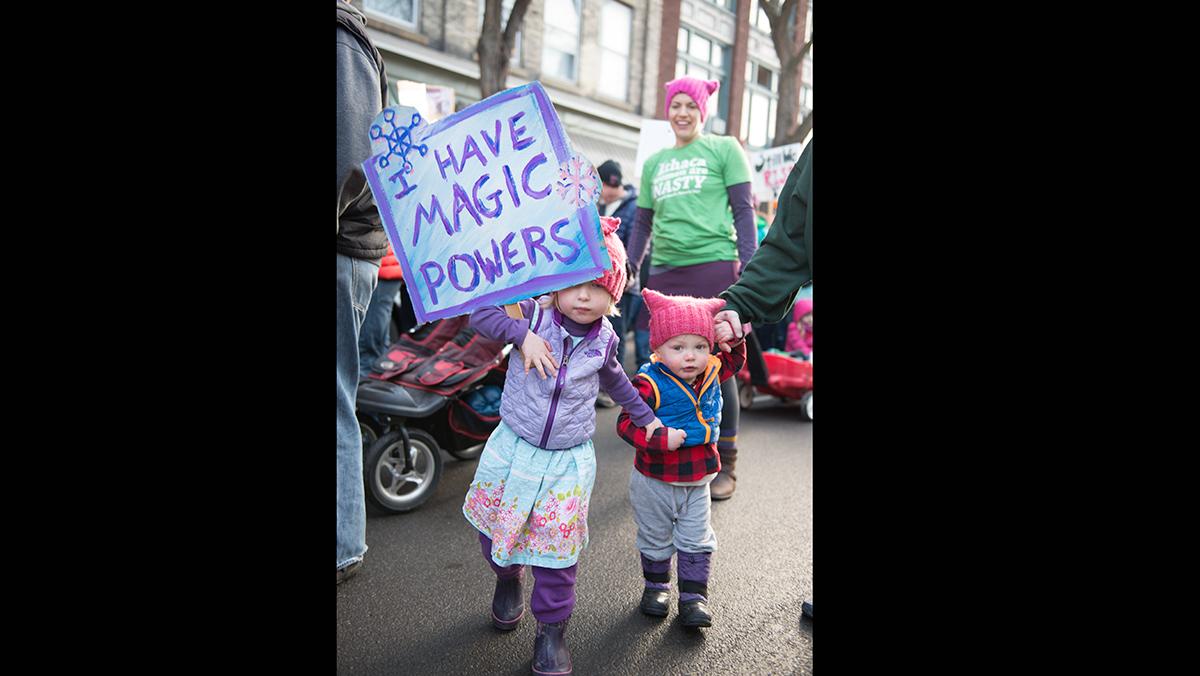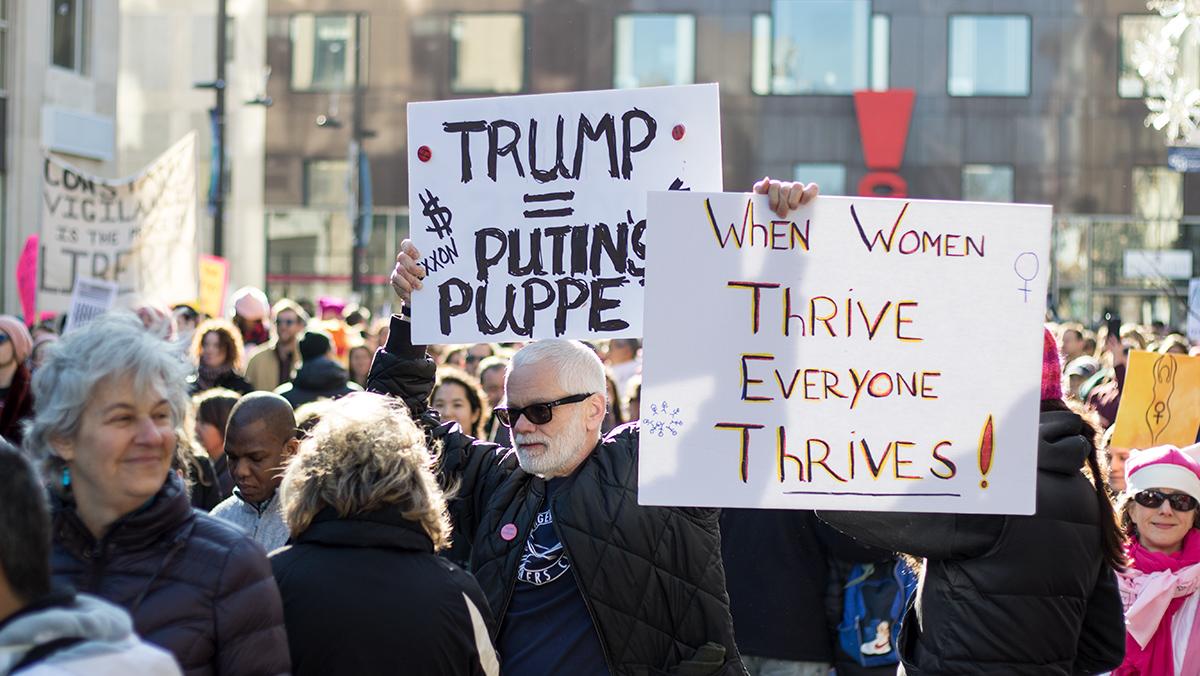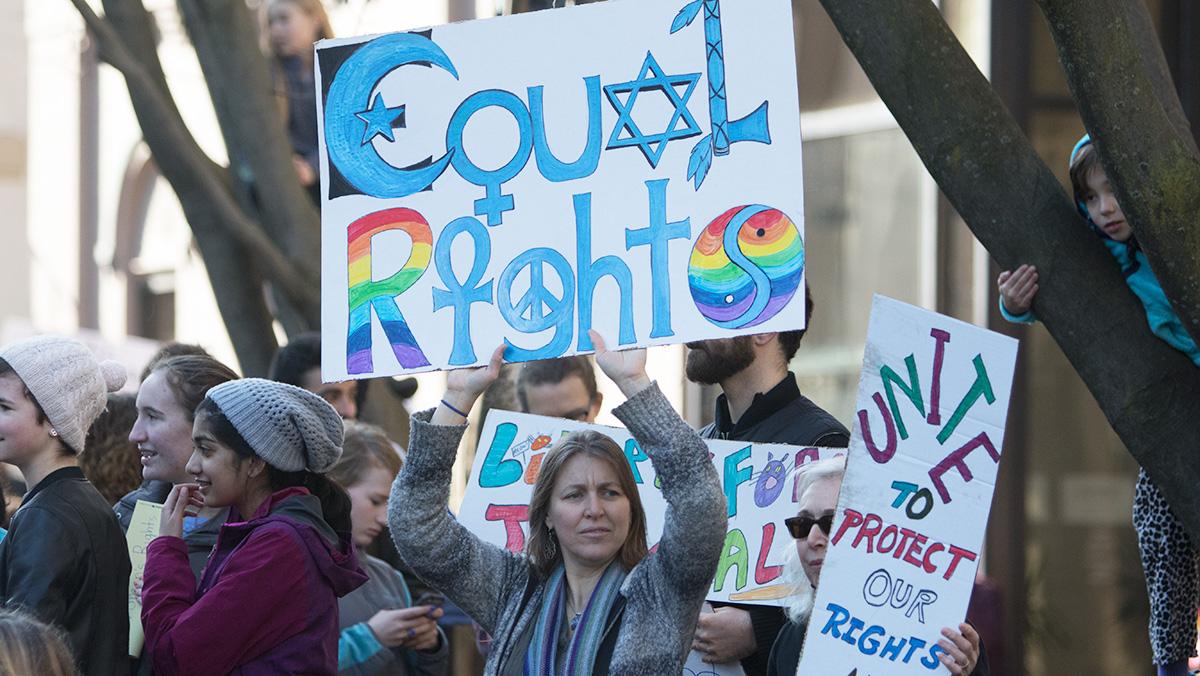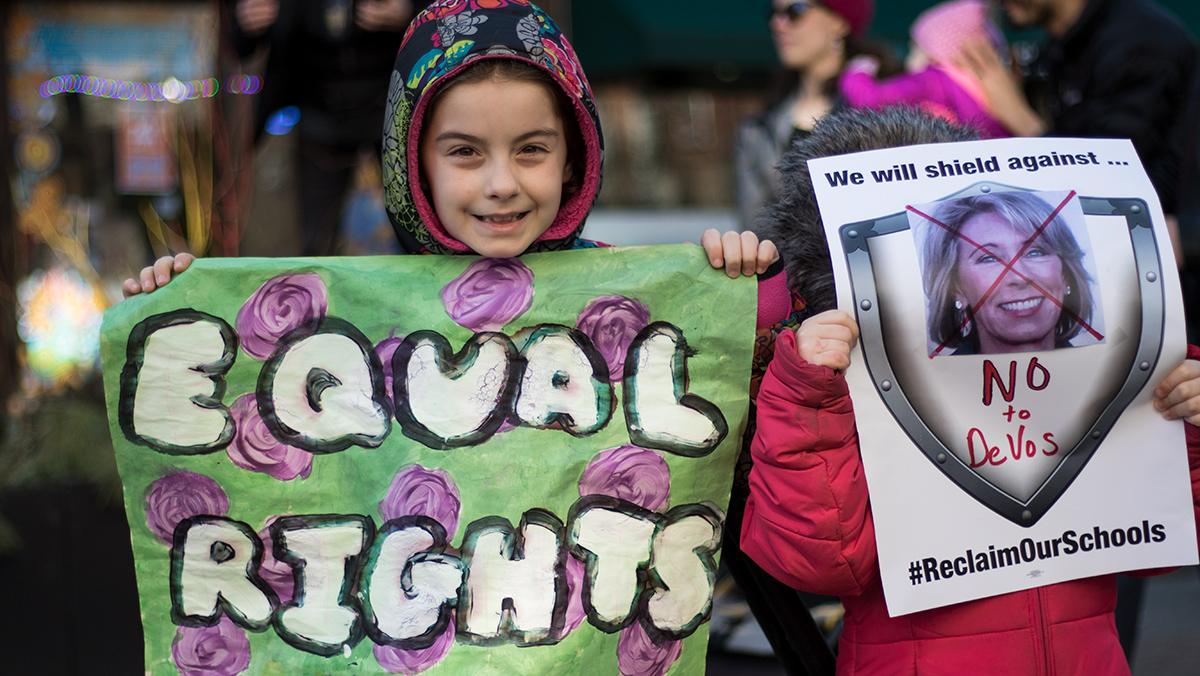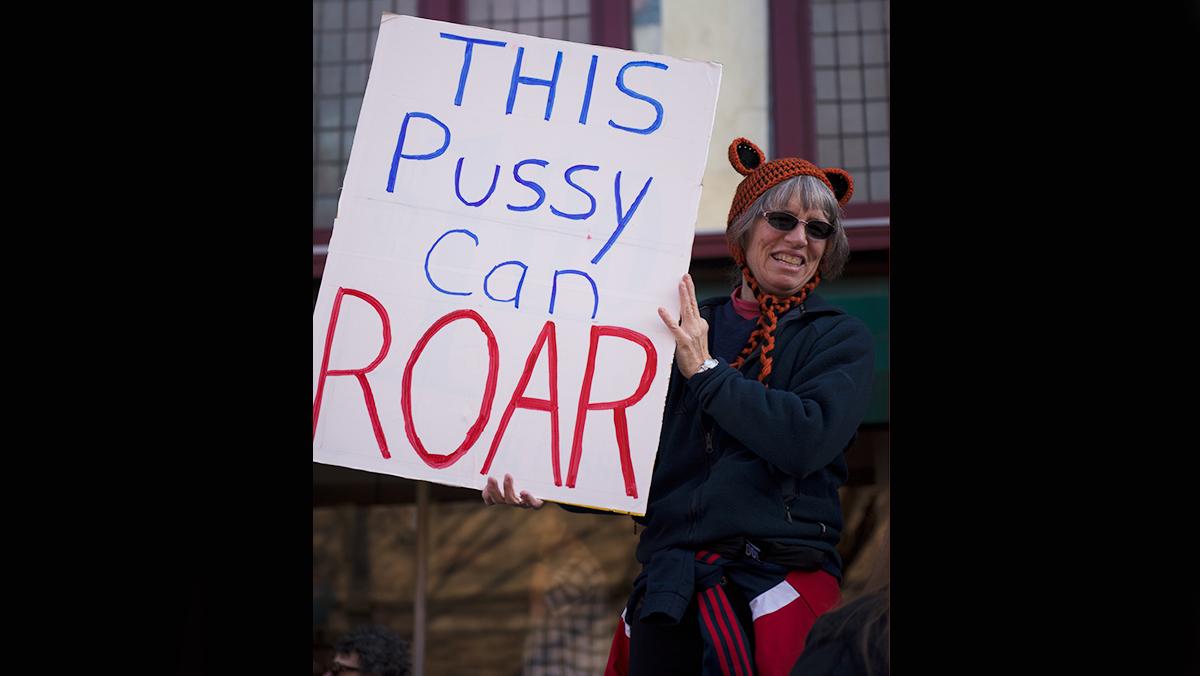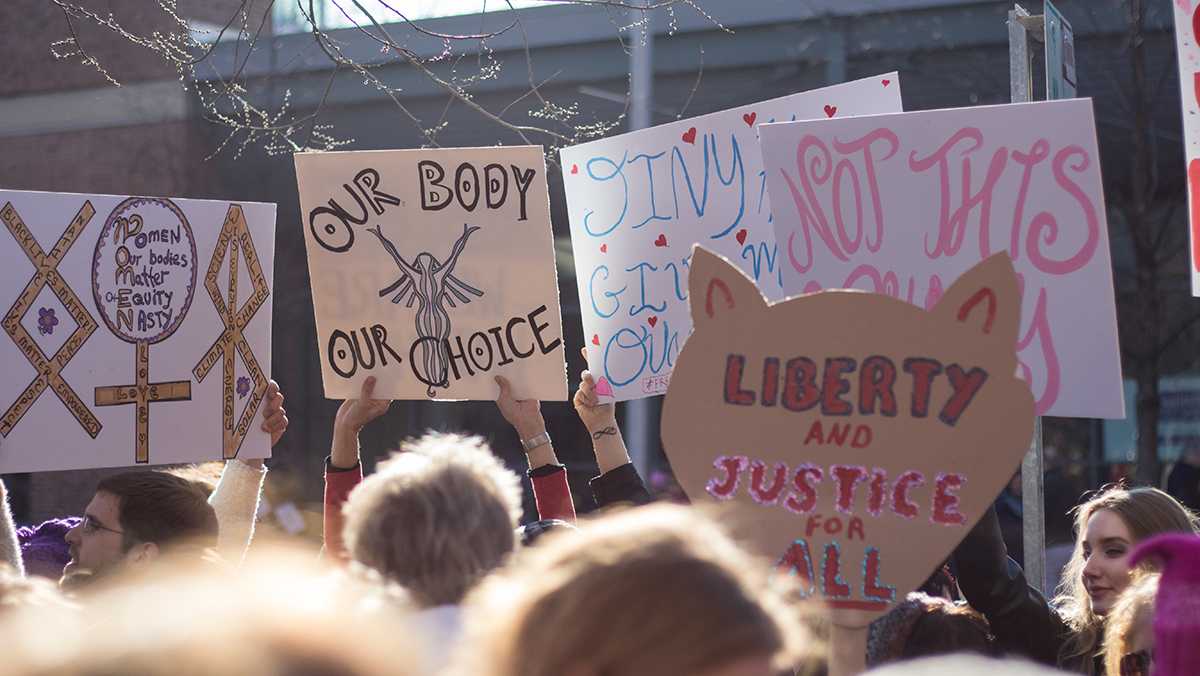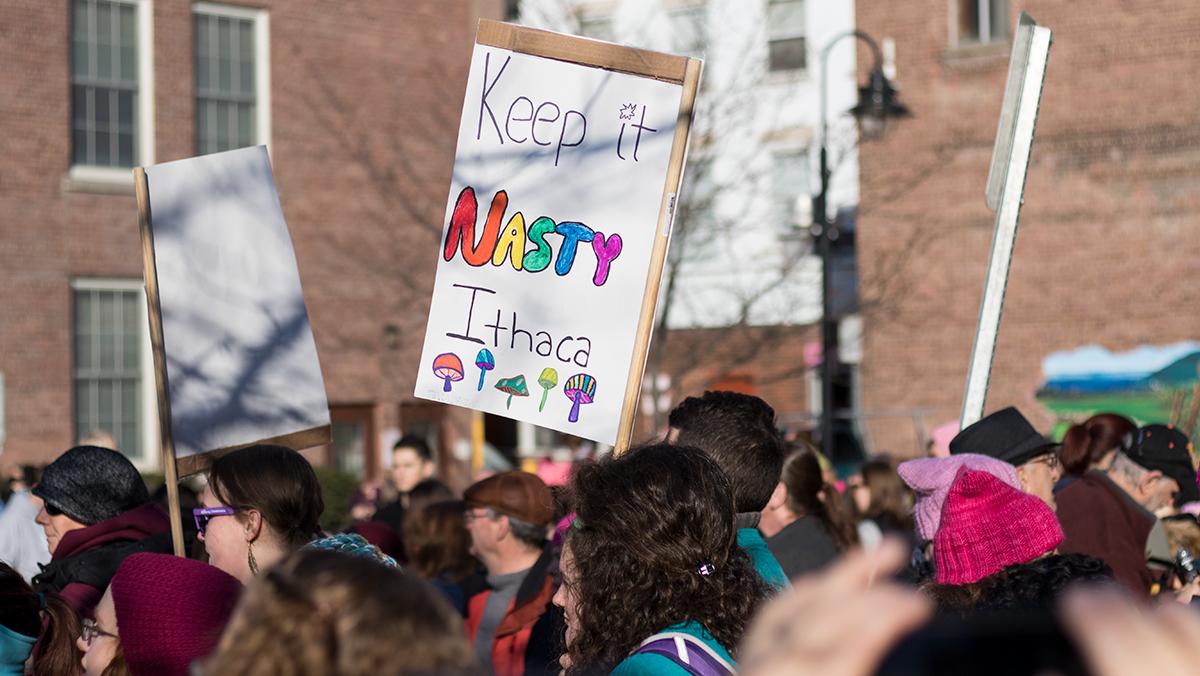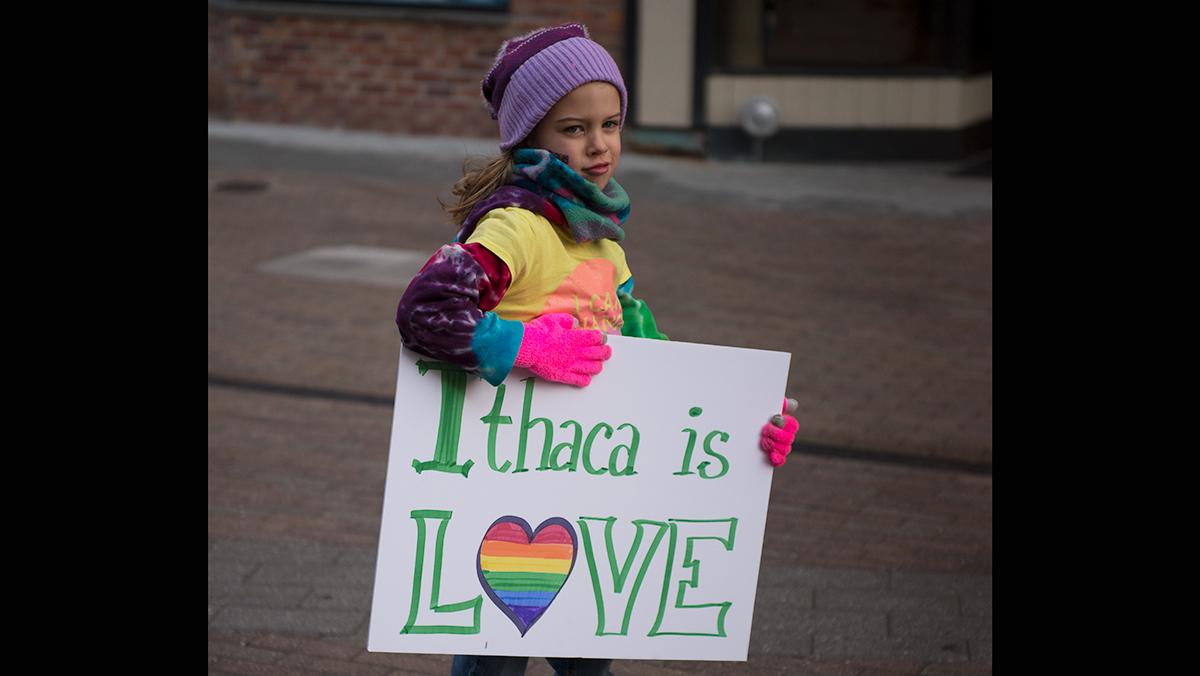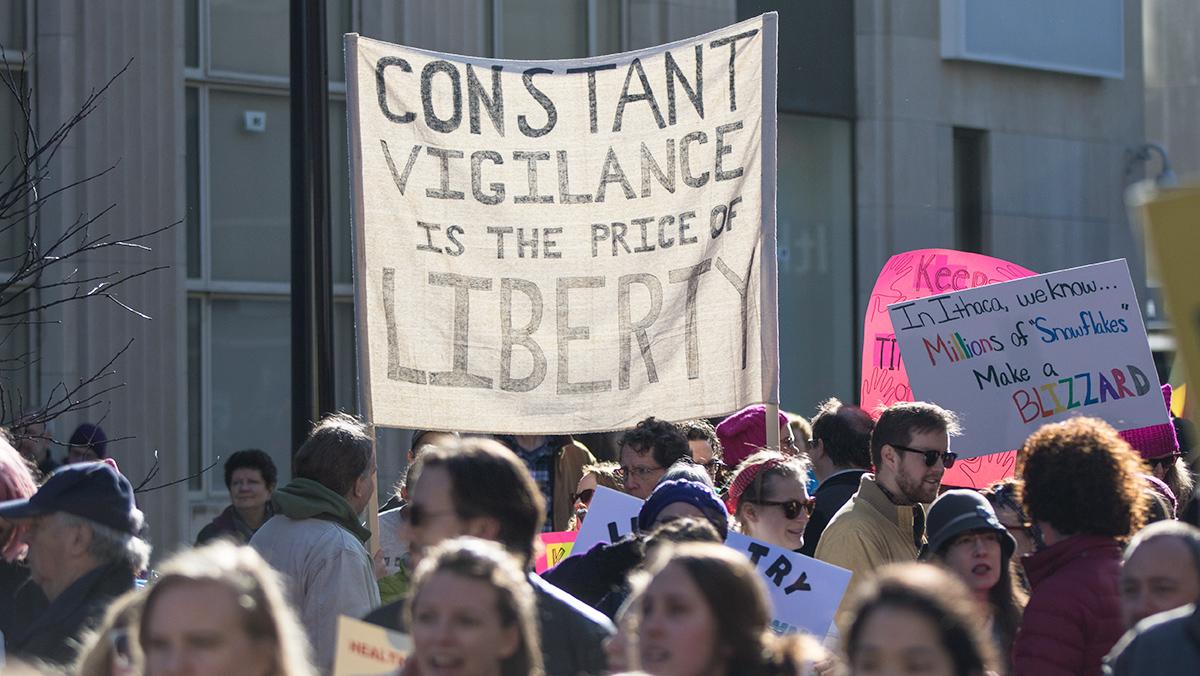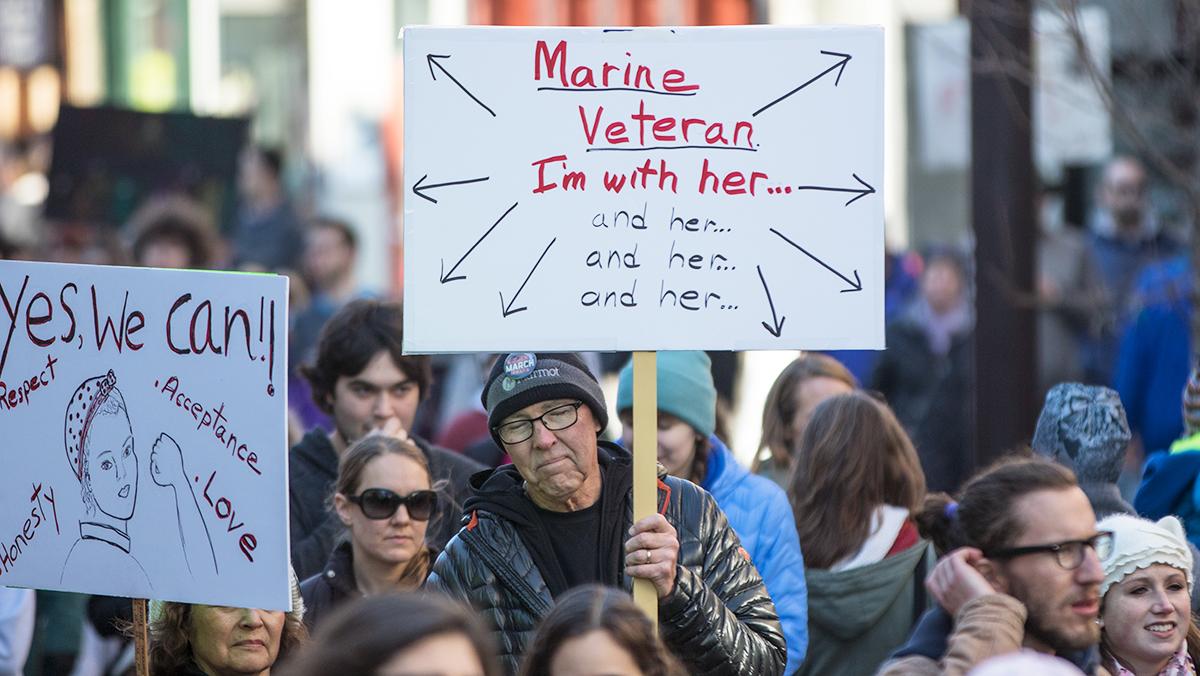 Community members gather at Ithaca Women's March on Jan. 26 in solidarity with marches across the world. CONNOR LANGE/ THE ITHACAN
In a crowd of an estimated 10,000 people, a 4-year-old boy sat on his mother's shoulders and held a sign that read, "My Body, My Choice." Across the way, a gray-haired woman held a sign with the phrase "Granny's Rights Are Human Rights."
Thousands more marched in the streets of the City of Ithaca on Jan. 21 for the Ithaca Women's March, organized in solidarity with marches in cities across the country and the world. Following the inauguration of Donald Trump as the 45th president of the United States, these "sister marches" of the Women's March on Washington were held to support equality and justice for all people, even as far as New Zealand, Tanzania and Antarctica.
Ithaca local Aurora Golden-Appleton, 14 years old and one of the organizers of the Ithaca Women's March, said she was inspired to organize the march after being discouraged by the results of the election.
"It was really important to me that we came out, as Ithaca, together as a community to show that we are going to stand up for our rights," she said. "We'll stand with members of our community whose rights are threatened."
The 1-mile march route began at Ithaca City Hall, went up to Dewitt Park, down Buffalo Street for several blocks and concluded on State Street past The Commons. Protesters carried signs with phrases ranging from "Respect Existence or Expect Resistance" to "My Ovaries Are Over It" to "Build Bridges, Not Walls." Throughout the march, participants also yelled out call-and-response phrases. At one point, one protester yelled, "My body" and others responded, "My choice." Another common chant heard throughout the march was "Not my president."
Amanda Champion, an Ithaca resident who also co-organized the event, addressed the crowd from the Bernie Milton Pavilion during the rally held on The Commons after the march. In her speech, she emphasized the community created from marches across the state of New York — 17 of them — and the world.  
"You can fight against the wrongs you face, and I'm here to tell you you don't have to fight alone," Champion said. "We are not alone."
There were also musical performances and speakers at the rally. Angela Riddell, CEO of Planned Parenthood of the Southern Finger Lakes, spoke about the importance of supporting Planned Parenthood. Republican-controlled Congress is currently aiming to defund Planned Parenthood because the organization provides abortion services.  
"Planned Parenthood stands to lose a lot, but our patients stand to lose more," Riddell said. "We're going to fight like hell for them."
Sophomore Maddy Horowitz said that after graduating from Ithaca College, she plans to go into health and physical education, which includes teaching sexual education. In some school districts, sexual education is excluded from health education. She said she is marching for her future students' right to affordable contraceptives.
Another Ithaca College student, junior Gabriel Shapiro, said he marched to support the people who were negatively affected by the election.
"I wanted to join together with all of my friends and my family and the people I love in Ithaca who face completely different odds than they did before Trump, who faced unequal odds in our society before Trump and who are now going to face an even more deeply divided society," Shapiro said.
Two small groups of protesters also attended the march, one with signs expressing anti-abortion views and the other consisting of eight people expressing their support for Trump. The anti-abortion group had two members and was surrounded by people attending the Women's March holding signs in support of Planned Parenthood.
Peg Kuchukian, 72, of Elmira, who also attended the Women's March, has had experience protesting before — she marched in support of Roe v. Wade in Washington in 1973. She had some advice for young women:
"Keep working; don't give up," Kuchukian said. "Don't let this man and his cohorts take away what we fought so hard for you. And don't take it for granted. Know that it can be taken away from you."
Sophomore Vanessa Zimmerman said she attended the march because she wants to be on what she sees as the right side of history, and she said she hopes the outcome of the march goes beyond the conversation it creates.
"A conversation is just the beginning, and this sparks conversation that leads to action, and that can lead to policy change and lead to rewiring the way our country thinks and works," Zimmerman said.
Ithaca Mayor Svante Myrick, who wore an "I Stand with Planned Parenthood" sticker on his lapel during the march, said the march is important because it lets people who are feeling persecuted in Ithaca know that they are not alone.
"So long as I'm here … Ithaca is going to be a safe place," Myrick said. "This will always be a place where we will respect individual human and civil rights. … The only thing we cannot tolerate is intolerance."