Life isn't a spectator sport for Mara Alper, a dynamic professor and documentarian who dedicates her energy to whichever cause she deems most important at the moment.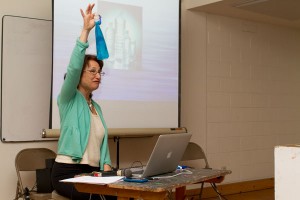 "I'm very spirited in every sense of the word," Alper said. "I consider being creative one of the best gifts you can be given. It just makes life very interesting."
Alper, associate professor in the television-radio department, is known for her documentaries, interesting courses and most recently her efforts to raise awareness about the importance of valuing and respecting water.
During her 20s, she lived in a Cretan cave and studied puppeteering. Thirty years later, she began focusing on how she could bring public awareness to the value of water through her classes and Take Back The Tap, a club dedicated to raising awareness about depleting freshwater sources and the damaging effects of the population's reliance on bottled water.
Alper said investing in bottled water is investing in misfortune for future generations because bottles collect in landfills and represent wasted resources that could have been utilized for other purposes.
"My goal is to get people to respect water rather than take it for granted and respect the water particularly by not buying bottled water," Alper said.
Junior Jess Wunsch, secretary of Take Back The Tap, said Alper helps recruit members and offers guidance in meetings.
 "Mara has been the driving force behind us," Wunsch said.
Freshman Leonard Slutsky, treasurer of Take Back The Tap, said that he became interested in water activism after taking Water Equals Life, a summer course that focused on the importance of fresh water, with Alper and recognizing how water issues are serious and need to be spread to the Ithaca community.
"Mara is really the inspiration for the club, you know, she's really, really passionate about water," Slutsky said.  "You can tell because she is so resourceful, and she has been doing work with water in Bali and informational programs downtown and just here on campus."
Her documentaries and installations have been viewed all over the world and have provided her the opportunity to travel to Bali, Greece, Mexico, Japan, Europe, Hong Kong and Singapore.
And as far-reaching as her travels, her films have explored widespread topics, including astronomy, Huichol art, incest, forgiveness and healing.
After a trip to Bali last year, Alper redirected her focus to water conservation, classes and the club on campus. Alper aims to educate her students about all aspects of water. She taught Media & The Environment: Water Issues in November and an online summer course, Water Equals Life, which is now called Water and You: Perceptions/Reflections.
"I'm a teacher, what I do is teach, the way for me to approach this was through teaching things about water," she said.
For her next endeavor, Alper is working on "Sacred Waters of Bali," a documentary which focuses on the perception of water as a cherished resource. The film was inspired by a trip to Bali where she observed how Balinese treated water as a crucial element in religion.
"If you carry water in a bucket on your head, you value and respect water, you don't waste it," Alper said.
She said her motto, "Have video, will travel," ensures that she never misses an opportunity to document something. It was this motto that made it possible for her to include an interview with Archbishop Desmond Tutu from South Africa on forgiveness in one of her films after spending half a day waiting for him to appear at Cornell University.
"I do documentaries on whatever is interesting to me at the moment, and they're pretty much all social issues," Alper said.
Freshman Rebecca Norton, one of Alper's students, said she appreciates how Alper set aside a day to go to the Farmers Market with the class to practice different filming techniques.
"She likes her students a lot," Norton said. "I definitely think she's there for you in class."
Alper said she decided to teach at the college because she wanted to be in an interesting area.
Annette Levine, associate professor in the department of modern languages and literatures, worked with Alper on the subtitles for a documentary and said she has a lot to offer the community.
"Mara is a very generous person with her time and her energy and her knowledge," Levine said. "She has a lot to share with the rest of us."