Only months after graduating from Ithaca College with a degree in speech-language pathology and a minor in gerontology, Gina D'Addario '11 is learning in a new classroom — this time with a much younger crowd.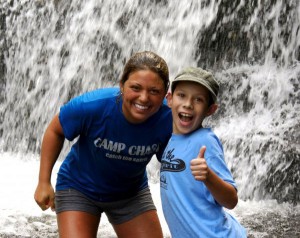 D'Addario joined "Mentoring And Tutoring Charter High," a full-time residential fellowship program that matches applicants with schools to help foster educational growth.
Staff Writer Allie Healy spoke to D'Addario about her time at the college, her decision to join the program and her plans for the future.
Allie Healy: How did the education you received from Ithaca College prepare you for your job?
Gina D'Addario: All of the fieldwork experience that I had with my major is
tremendously helping me now. I did a lot of volunteering at different homes for the elderly, a self-help school for kids and a clinic for speech pathology. All of those jobs involved working with people and the community, which definitely helps me with what I do now.
AH: How did you find out about the MATCH program?
GD: I was seeing someone in the Boston area, who I met when I was studying abroad in Rome. When I was up in Boston, a friend told me about MATCH. I applied to the program, though it was highly competitive. I ended up getting into MATCH after a very intense interviewing process. I decided to do MATCH because it was a one-year program and put graduate school on hold.
AH: What's a typical day like for you?
GD: I work over 60 hours a week — it probably isn't legal how much I work. From 6:30 a.m. to 7:15 a.m. I get the kids on the bus and then I head to school. I have six hours of tutoring a day, consisting of three two-hour sessions. I teach them math and English. Then I set up for the eighth grade lunch and take down the sixth grade lunch. Afterwards I have my final tutorial session before I coach soccer from 3 to 4 p.m. A lot of the time there are games after school, so I don't get home until very late.
AH: Is coaching mandatory?
GD: Tutors can sign up to instruct enrichment activities, and I signed up to be a coach. I went through another intensive interviewing process for this position. As a coordinator, I help figure out the logistics and schedules, coach practices and get proper equipment. This is the first year MATCH has a sports program, so it's kind of a free for all.
AH: What have you learned from working with middle school kids?
GD: One of the main lessons that I have learned is that you need to get back in the head of a middle school student. You forget about how much they go through at this age. I really had to put myself in their shoes and look back on how it was when you were their age with all the drama and gossip.
AH: Have you been able to do anything outside of the program?
GD: I just got accepted into the AmeriCorps program, which is an additional 15 to 30 hours of work a month on the weekends. I will be doing some community service projects and then for a month in July, I will teach fourth graders.
AH: What are your goals for MATCH?
GD: The ultimate goal is to close the achievement gap. It's getting the seventh graders who are at a fourth grade reading level at an eighth grade reading level by the end of the year.
AH: What do you want to do after you leave MATCH?
GD: I'm hoping to apply to grad school. I want to go for special education and I want to focus on autism. Otherwise, I plan on working in a school next year maybe as a one-on-one with children with autism.
AH: What has been one of your favorite moments while tutoring the students?
GD: I am tutoring a seventh grader and he definitely has severe ADHD. He is not medicated, so every day with him is a challenge. He has been suspended three times this year, most recently last Thursday. I got really defeated about it — I hate seeing him have to go home all the time. Friday, I was in his homeroom making phone calls to sports teams and one of the desks that was near me had his history test on top of the stack. So I took a look at it and it was a timeline test that listed events from beginning to end and described events such as 'I am born' and 'My sister was born.' The last event was 'I met my tutor.' So I opened up the packet and underneath it said, 'Fun first day, she is great, I am happy.' There was a picture that said, "Me and Miss D." There was a drawing of us shaking hands and that touched me. It made me realize that even though they don't say it, they care.