In the middle of a push for Ithaca College to redefine its institutional mission, administrators are faced with making a decision that could affect the fate of the college's graduate program.
The administration is currently considering whether the Division of Graduate and Professional Studies should decentralize and become a component of the individual schools, overseen by the deans of those schools, or whether a centralized graduate school should be created with a permanent dean and administration.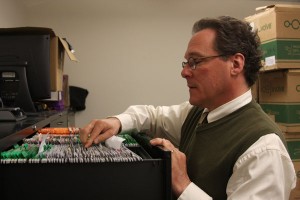 Greg Woodward, dean of the music school and chair of the task force looking at the administrative structure of the graduate studies program, said the task force will provide a report to the provost at the end of the semester regarding the strengths and weaknesses of both structures.
"It seemed like a natural time, because of the absence of a full-time dean [of graduate studies], to take a look at the administrative structure and make sure it is shaped the way the college wants it to be shaped, with the most efficient use of people, resources, time and energy," Woodward said.
Woodward said though the task force's decision will help determine only the immediate shape of the graduate administrative structure, he thinks the college needs to determine if the graduate program should continue to grow moderately or if a big step should be taken in a new direction to create a full graduate school or specific graduate schools.
"There's nowhere else to really grow in small ways," Woodward said. "We've come to a place in the college's history of graduate studies where we've kind of maxed out the potential of what we can offer right now."
Rob Gearhart, associate dean of GPS, said the college looks at new initiatives for the program each year.
"If further expansion of graduate programs is best for the future of [the school], then we can look at various options for growth and find the best one," Gearhart said.
Gearhart said GPS received 637 applications this year, compared to 574 last year, an increase of 6.6 percent, and has been growing, gradually but steadily, since 2000.
Currently, GPS is divided into three programs: the graduate program, which offers master's and doctoral degrees; the professional program, aimed at people who are not looking to receive a degree but are interested in learning career-building skills, such as networking and program evaluation; and study programs, offered to people who are not matriculated at the college but who are interested in taking some of the courses offered at the school.
The college began offering graduate courses in 1943, beginning with music and physical education programs. New programs, including health promotion and physical education, sport management and adolescent education, were added in 2005.
Richard Schissel, an associate professor of speech-language pathology and audiology for undergraduates and graduates, said he thinks decentralizing the graduate studies program would be a mistake.
"Over the last 30 years there has been a move to provide a greater sense of identification to the graduate programs and to establish a separate leadership structure for the graduate program," Schissel said. "We're beginning to see the fruits of that: We're getting higher-quality students, we're getting an identity, [and] we're becoming a destination for graduate students."
Suzanne Brock, a speech pathology graduate student who completed her undergraduate education at the college, said she is extremely happy with the current program.
"The professors are knowledgeable — they know what they're talking about," she said. "You also get a lot of fieldwork experience."
Linda Hanrahan, chair of the graduate program in education, said she believes the small graduate education program at the college is much stronger than programs offered at larger institutions where they may have 500 students in their programs.
"We're at that point where each year we get more applications, and that puts us in the difficult but positive situation of having to be more selective in admission," Hanrahan said. "Our goal this year is to admit a class we feel really good about … about 20 people who are well qualified, academically talented, committed to equity and excellence in public schools, who we think are going to become good teachers."
Nicole Hartz, who completed her undergraduate education at the college and is now working to receive her Master of Arts in Teaching degree in adolescent education, said she doesn't think she would be affected if the task force decided to decentralize the graduate program.
"I don't feel like I'm part of this big, huge program," Hartz said. "I feel like I'm part of the M.A.T. program, and [the programs] are already very separate."
The GPS program launched the IC Grad Peers site, similar to the IC Peers Web site created for undergraduates, last Friday. Charleen Heidt, program research and marketing manager for the graduate and professional studies program, said the site will enable accepted grad students to meet before arriving on campus.
"Once they get here they'll be part of a community in their program, but we would like them to form a community and an identity across all programs," Heidt said.
Heidt said creating a more centralized structure for the graduate and professional studies program could help create a stronger community among graduate students and help attract more students to the program.
Park Dean Diane Gayeski, who was interim dean of the GPS program from 2008 to 2009, said she would like to move forward with an executive master's program in the Park School for students who are already working in the communications field. The program would consist of intensive, long-weekend courses offered in Los Angeles, Washington, D.C., Ithaca and other locations where the college has connections.
"You might study broadcast regulation and intellectual property in Washington, where the FCC is," Gayeski said. "Or you could do something on new genres in entertainment media in Los Angeles."
However, the program would be introduced gradually, beginning with seminars and building up from there.
"It's a big idea — it's not something the college has done before," she said. "I think the college is being prudent in not jumping headlong into areas that are untested for us — especially in this kind of economy."
Gearhart said the GPS program's current task is to continue along the path of moderate growth.
"The modest growth in graduate programs is going to always keep us as a primarily undergraduate institution," Gearhart said. "But we see some real value in the kinds of graduate programs that we have … they offer some real benefits to the institution as a whole."