Nestled in a corner between Williams and Phillips halls is a harvest of free food students rush past every day. Green beans, tomatoes, carrots and broccoli are just some of the vegetables are produced every year in the Ithaca College Environmental Society's (ICES) organic garden.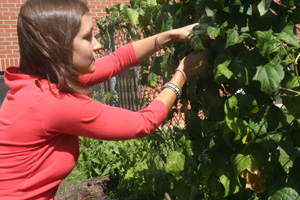 One of ICES main goals is to educate students about the benefits of living conscious of the environment through programs such as the garden. The organic garden, guarded by a chain link fence covered in wildflowers, has been a project of ICES since 2003.
ICES member Jack Haurin, a senior environmental studies major, and three to four other members of ICES keep the garden in shape during the summer by mowing, weeding and watering.
Senior Jennifer Chen, an environmental studies and politics double major, experienced first hand last summer the benefits of gardening while taking care of the plot.
"There's just this feeling you get when you're eating [the produce]," she said. "I took care of this the whole summer and now I'm benefiting from it and it
feels good."
Haurin has helped take care of the garden since he joined the campus group as a freshman.
"The garden is pretty fun, it's a free meal every time you walk past it," he said.
Chen, like other members of ICES, is an inexperienced gardener. But the work she put into the land has taught her how much fun gardening can be, she said.
"I would plant a flower and it would just die," she said. "Now its nice to see how everything just comes up. I never realized that it was this easy."
Senior Todd Ashley added 13 oak logs to the garden this fall, which he will use to harvest shitake mushrooms. Ashley said mushroom logs would offset the destruction of forests.
"You can generate 500 logs from a single tree," Ashley said. "If you did that, you could produce $35,000 a year for selling mushrooms as an alternative to harvesting the timber."
The logs are drilled and plugged with pegs of shitake mushroom spawn that are waxed over to keep out moisture, Ashley said.
If the logs are effective, they have the potential to harvest 12 pounds of mushrooms per log every year, Ashley said.
Co-President Rita Kerr-Vanderslice, a junior sociology major, said she hopes to make the garden more accessible to students.
"We really want people to know it's there and why. And to know that it's acceptable if they need some fresh produce," she said. "It's not just there for ICES members, it's there for the campus to use."
Kerr-Vanderslice said food should not have to be filled with chemicals in order for it to be edible all year round. She believes buying organic and local is the only way to lower the expensive prices that may accompany such produce.
"There are ways we can grow crops and not disrupt our entire ecosystem," she said.
She and other ICES members promote Ithaca's local Farmers Market and the cooperative market GreenStar when shopping for environmentally safe food.
Mark Darling, ICES adviser for the past 14 years, said he keeps a close watch on the progress of the organic garden.
"Some folks were pretty amateur-ish this year but they did a pretty good job [with the garden]," he said. "I want to make sure it still looks nice and still serves its purpose of educating the folks of the community about the existence of organic produce."
Kerr-Vanderslice said ICES will also sponsor workshops to educate students about eco-friendly practices, such as the benefits of using natural cosmetics as opposed to those corporately made.
Based on the success of the sustainable living program the terraces, initiated by ICES in 2005, this year a college Circle apartment 15-02 will participate in sustainable conscious living, Haurin said. Like the sustainability building, students in the apartment will promote composting and sharing of meals among occupants.
Darling said he hopes ICES will show students there are alternative ways to buy food and live sustainably.
"I hope that they can learn to live a little lighter on the planet," he said. "That they build an awareness that there's more that goes on than what they learned in suburbia. And that we're all a part of the web of life."