Tompkins County residents are among the healthiest people in New York state, according to a new study.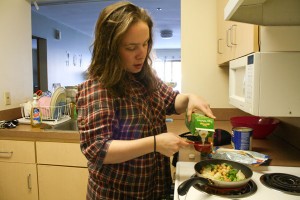 The study, funded by the Robert Wood Johnson Foundation, rated Tompkins County third among the state's 62 counties. Obesity, drinking, physical environment and access to healthy foods are some of the factors that determined the rankings of the study released Feb. 17.
The University of Wisconsin Population Health Institute started ranking counties in Wisconsin in 2003. The Robert Wood Johnson Foundation, an organization that works to improve the health and health care of Americans wanted to take the idea to a national level after seeing its effectiveness in Wisconsin. The study was conducted in all states.
Karen Odegaard, media relations representative for the Population Health Institute, said ranking counties is a way for each county to see its population's health problems and strengths.
"We wanted this to be on a level where people could come around a table and work together to start addressing some of the health challenges," Odegaard said.
Counties surrounding Tompkins County received lower rankings. Cortland County is ranked 53 and Cayuga County is 49. One area Tompkins exceeded in was its low number of smokers. In Tompkins County 14 percent of the county population smokes compared to 29 percent in Cortland County and 27 percent in Cayuga County.
In the category of physical environment, Tompkins County was ranked sixth based on factors including air pollution, access to healthy foods and liquor store density.
Odegaard said she agrees geography affects a person's health and hopes that this ranking system motivates communities to look closely at their county's health.
"Where you live does clearly affect your health," Odegaard said. "It influences how healthy we are and how long we're going to live. The county health rankings are a call to action [for communities]."
In nearby counties with lower health ratings, there have already been community meetings to address issues, according to Peggy Turner, who works for the Family Health Network in Cortland and Cayuga counties.
She said at the Cortland County meeting they talked about the doctor deficiency that contributes to the poor health of the county.
Turner said surrounding communities should look to Tompkins County as an example of good health and healthy habits. In Tompkins County, access to healthy foods is at 40 percent. Nearby Schuyler County only has a 7 percent access rate.
Joe Romano, marketing manager for Greenstar Natural Foods Market, said it is Greenstar's mission statement to offer healthy and natural options for the community.
"We have come away from natural foods, and [as a nation] we have gotten into more processed, packaged foods," Romano said. "So many foods are just a cocktail of salt, sugar and fat."
Romano said Greenstar tries to bring in local farmers as much as possible and attempts to not support bigger companies who do not have the consumer's health in mind.
"When [big companies] package food for you, they are feeding you," Romano said. "They are choosing the proportions of carbohydrates, sugars and fats. And in the end they are putting those in there not for your purposes, but for theirs … so it can stay on the shelf longer."
Senior Elissa Goldman, the Ithaca College Nutrition Club president, said she was not surprised to hear that Tompkins County was ranked third, since there are many local opportunities to eat healthy and be sustainable.
"We have a farmer's market; we're all about nutrition … we have more than one health food store, and there are plenty of healthy eateries downtown," Goldman said.
Goldman said the Nutrition Club works to keep students aware of eating healthy and being sustainable and have worked with Ithaca College Dining Services to offer healthier options, such as whole-wheat pasta and trans-fat-free peanut butter.
Theresa Lyczko, director of the health promotion program in Tompkins County and public information officer, said despite the county's health rankings it also has areas where it can  improve, such as clinical care, which is ranked 33.
Lyczko said maintaining the high rating needs to be a community effort.
"Continuing to do what we're doing, working better and engaging other partners to do the same [is how we can improve]," Lyczko said. "There is no grand plan. It's participation from everyone who lives here."