Courtney Clemente: In 2004, you helped create "Let Hip Hop Heal," which is a campaign that promotes the positive side of hip-hop. In what ways have you seen hip-hop positively impact the youth, especially the young black community?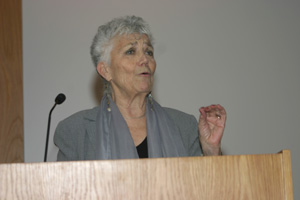 Ingrid Frank: Unfortunately, a lot of hip-hop's impact has been negative. But my husband and I had such an example of its positive impact by accident. A couple of years ago we got caught in a throng of thousands of kids pouring into Central Park for a free Nas concert. The kids were all in such a good mood, and they were all so nice. Then it started to pour, and Nas sang to them loud over the rain so everyone could hear it, and it had such a positive effect on those kids. They were all sharing their umbrellas, even though they couldn't get in to see the concert. They were smiling at each other. We thought after that it felt like an urban Woodstock. And that was really our first experience. Because, you know, we're both in our 70s. We're not exactly typical hip-hop fans.
CC: In the '60s, you were an activist during the Civil Rights movement. How did that experience affect you and what made you get involved?
IF: I got involved because I was a Jewish refugee from Nazi Germany, so I had felt in my own skin what it felt like to be discriminated against. And then when I came over here … I very soon began to notice in many, many ways that blacks were treated very much the same way in America at that time as Jews were in Germany: undesirable. They were not allowed to go here, they were not allowed to go there. It's amazing to me when I look back and see the changes that have been made. I didn't like the way Jews were treated in Germany, and I certainly didn't like to see the same thing done here. In 1968, I was arrested for working on Dr. Martin Luther King's Poor People's campaign. We were campaigning for fair housing and jobs and anti-poverty legislation, and I got arrested and spent 10 days in jail. Those were 10 of the most interesting days of my life. A white, middle-aged, middle-class lady doesn't usually get a chance to go to jail. I considered it a great privilege.
CC: You're here for Ithaca College's weeklong celebration of Dr. Martin Luther King Jr. In what ways do you see King's message of nonviolence, peace and racial equality alive today?
IF: There are so many different people standing up for so many different things, [and] so many different things going on in so many different places. They aren't getting the kind of publicity they deserve because these aren't mass demonstrations like there were in the 1960s, but there are thousands and thousands of people still standing up for justice. There are thousands of people who are unsung who are carrying Dr. King's dream. Those of us who were there when he made that speech, all of us still have a little piece of that dream in our hearts.
CC: What is one area you would like to see college student activists more involved in?
IF: I would have to say battling against the war in Iraq and [its] expansion. I would love to see the colleges do the same thing they did during the Vietnam War — the colleges closed down, the students got so involved. And you know, it's usually not the college students who have to pay the price of this war. I hate the thought of a draft, but I must say, it is so often the poor people who join the service because of the health benefits or because of the education benefits. They are the ones who go out and end up paying the price because of lack of options. I would love to see more students stand up for an end to this ridiculous war.
CC: What is the most important message you hope to convey to students?
IF: I would quote [New York] Congressman Charles Rangel, "Whenever you see injustice, silence is not an option." You have to stand up and do something about [injustice]. That's what I'm urging people to do, stand up whenever they see injustice. Dave Chappelle had another quote I want to leave with the audience: "You should have some values that you won't sell at any price." If you live according to these words, that alone will help to change our world. I am thrilled that Ithaca College is … encouraging its students to devote their lives, or at least a piece of their lives, to trying to heal the world. I have great admiration for Ithaca College.