Many Ithaca College students have been left scrambling to find alternative housing after their applications for Circle and Garden apartments were turned down by the Office of Residential Life.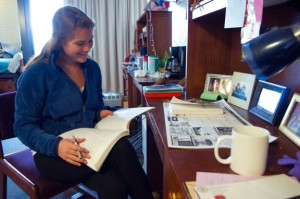 Linda Koenig, assistant director for housing services and communications, said students' applications were turned down because the applications far exceeded the number of available apartments.
Koenig said this year 249 of the 337 applications for the Circle Apartments were turned down. The Office of Residential Life turned down 464 of the 580 applications for Garden Apartments. Thirty-five more applicants received Circle Apartments this year than last year, but 160 fewer applicants were awarded Garden Apartments than last year.
Bonnie Prunty, director of residential life and judicial affairs, said it is possible that more students were not awarded apartments this year because of the over-enrollment of the current sophomore class.
The expansion of the Circle Apartments this spring should help address the apartment concerns in the future, Prunty said. However, she said the expansion was not conceived to accommodate the large sophomore class.
"We had been speaking about an expansion to the Circles even prior to the larger entering class in 2009," Prunty said.  "We wanted to build additional apartment space so we would be able to accommodate more seniors and juniors in apartments, which would leave more room in traditional halls."
Koenig said on-campus apartments are awarded based on the number of semesters completed by each of the students as well as a random lottery number generated for each student in the fall by the Office of Residential Life. When more groups than available apartments have been at the college for the same number of semesters, the random numbers are used as a tiebreaker.
"We might have 30 Garden Apartments to give away and 31 groups with three semesters each, so I have to break the tie between those groups, and I use that random number to do that," Koenig said.
Sophomore Nathan Breton said he thinks the system of awarding apartments should not be just an arbitrary decision.
"They call it an award, and that is exactly what it should be," he said. "You should be able to prove yourself to your school through your GPA and extracurricular involvement."
Sophomore Shane Gordon said she was denied both a Circle and Garden apartment this year after receiving a Garden last year. She said she planned to move off campus, but applied for the Garden with a large group of friends after realizing she wanted to study abroad in the spring.
"I'm going to be abroad next year for my spring semester, and I wanted to stay on campus because it would be easier not dealing with bills and a lease," Gordon said.
Sophomore Anna Kimble said she expected to receive either a Circle or Garden apartment as a rising junior after a group of six of her friends received a Circle last year as rising sophomores, but she was denied for both.
"I don't really understand how residential life works," Kimble said. "If class standing is the main factor, then why would my friends who had less completed semesters on average get a Circle last year when we did not?"
Koenig said it isn't unusual for students to be disappointed by the doling out of Circle and Garden apartments, and those who were not initially awarded an on-campus apartment can put themselves on the wait list beginning April 4.
"The Circle and Garden application process is really competitive and that brings disappointment to lots of students," Koenig said. "People who are hoping to get one of those awards often don't because [the apartments] are so popular."