The School of Health Sciences and Human Performance continued its search for a new dean yesterday afternoon when James Graves, the second of four finalists, presented to the Ithaca College community in Klingenstein Lounge.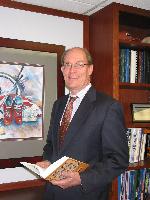 Graves, presently a professor of exercise and sport science and dean of the College of Health at the University of Utah, graduated from the college in 1977 with a bachelor's degree in biological sciences.
In his presentation, Graves, who said he did not plan on making major changes at the college, focused on his experience at the University of Utah. Graves said the university places a heavy focus on research, and faculty work all over campus on different research projects. Graves said he plans to bring this communication between disciplines to the college to help foster good teaching.
"We're all in this together," Graves said. "Everyone involved with the college needs to come together."
Graves also focused on how to prepare students for the changing field of health care, emphasizing interdisciplinary education, cultural competency, mutual respect and clinical team experience.
Ken Kutler, director of intercollegiate athletics, said he was impressed by Graves's experience and understanding of the college.
"He's certainly been around the block," Kutler said. "He slighted me an inch in being an IC graduate. He has a grasp on what HSHP is here."
If offered the position, Graves said he would spend his first year listening to faculty and staff and learning the ins and outs of the college, a point similar to one stressed by Ming Li, the first finalist, in his presentation last week.
Graves said he wants to develop an understanding of how the campus community interprets the IC 20/20 strategy, the college's vision plan for the next decade approved by the board of trustees last summer. He said he hopes to determine feasible goals, as they relate to IC 20/20, and begin a dialogue with faculty as to what the initiative means to them.
Srijana Bajracharya, professor and chair of the health promotion and physical education graduate program, said she enjoyed the clarity of Graves's presentation.
"He was very well organized and comprehensive," Bajracharya said. "It was really well put together."
Ming Li, department chair and professor of sports administration at Ohio University, presented last week. William Stewart, associate dean of academic affairs at the College of Applied Health Sciences at the University of Illinois, Urbana-Champaign, and Linda Petrosino, professor and dean of the College of Health and Human Services at Bowling Green State University, will present this Thursday and Feb. 13, respectively. All presentations are at 4 p.m. in the Campus Center's Klingenstein Lounge and are open to the campus community.