As the 2012 presidential race heats up, a new campus organization, IC Democrats, is bringing awareness to the Democratic perspective and educating students on the importance of political activism.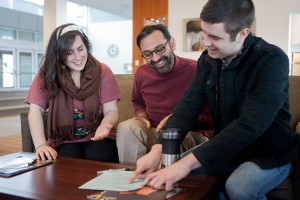 The Democratic interest group, still in its infancy, was formed by junior Rob Flaherty, who last year served as communications director for Mayor Svante Myrick's campaign and is vice president for Student Government Association. Though it is currently in the planning stages on Facebook, Flaherty said he has high aspirations for the organization.
"We're hoping to do campaign training, canvassing and also provide a forum for people who want to talk about issues and politics in the 2012 election," Flaherty said.
The group plans to offer training to the campus community on how to run for office, campaign effectively and get involved in public service. Flaherty also said they hope to engage in canvassing for President Barack Obama.
"We're pretty excited about the potential for the organization," Flaherty said.
The tentative adviser for the group is Govind Acharya, Institutional Research Analyst at the college and chair of the City of Ithaca's Planning and Development Board.
"Today's college student is tomorrow's leader in politics, business and society," Acharya said. "Not getting involved now is the worst thing a student can do."
Once the group gets up and running, Flaherty expects a great turnout because of the college's Democratic sway.
"We definitely acknowledge that the campus environment leans a little more in our direction," Flaherty said.
A study released in January from the Cooperative Institutional Research Program at UCLA found that though college freshmen hold increasingly liberal views on many issues, the heightened interest in social issues doesn't equate to more political activity or enthusiasm. Only 10 percent of students surveyed said they had worked on a local, statewide or national campaign during the past year.
Sophomore Jenny Barish, cocreator of the group, said she wants to support the president's grassroots movement and expand political dialogue beyond the classroom into "an informal setting among peers."
"There have been a lot of bumps in the road, but I think we need someone with his intelligence and rhetoric to continue making those changes," Barish said. "Change takes a long time, and I think [Obama] needs another term to continue doing big things."
Flaherty said he hopes to join with the already-established group, IC Republicans, to politically educate the campus community through possible debates or joint forums.
"At the end of the day, public service is an honorable thing whether you're right or you're left, Democrat or Republican," Flaherty said. "There's a lot of common ground that can be found in empowering college students to get involved in the process, regardless of their politics."