The Ithaca College Organic Growers showcased their summer harvest outside Emerson Suites on Friday in an attempt to increase eating habits and sustainability among the campus population.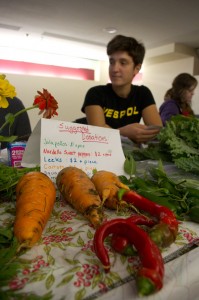 The colorful vegetable varieties, which included leeks, Swiss chard, Jalapeno hot peppers and other vegetables, were displayed on a stall in the lounge outside Emerson Suites, attracting an audience of dozens of college students and faculty members interested in selecting from the college community garden's offerings.
Senior Hayley Stormon, co-president of Organic Growers, said the purpose of Friday's event was to distribute their produce to people outside the club.
"We are looking for other places for the produce to go because right now, the only thing we have to do is eat it," Stormon said. "One of the reasons it was founded was just to teach kids how to grow organic food and then teach them what a joy it is to eat local organic food that you had a part in."
Junior Madison Vander Hill, education coordinator and co-president of the Organic Growers, said the harvest also included carrots, garlic and Nardello sweet peppers.
Vander Hill said attendees were not charged for the vegetables, but the club brought in about $100 in donations over the course of six hours.
"We haven't quite decided what to do with it," she said. "We are hoping to invest in some more fruit trees. We have peaches now, and it would be awesome to get apples or pears or something like that. "
She said, however, that the main goal of the harvest was to raise awareness about the garden and demonstrate to attendees the vegetables the garden can produce.
Vander Hill said the objective of the Organic Growers club, which is run and managed by students, is to maintain the college's community garden located on the lower part of campus near of the Office of Public Safety. The club hires two paid interns to maintain the garden over the summer.
Junior Anthony DeVito, a student volunteer at the club, said he enjoys the change of pace the garden provides from a typical classroom.
"Just being around the plants is very refreshing after being around books all day and all week," he said.
Stormon said the club aims to encourage good eating habits among students.
"As students especially, we are really alienated from food," she said. "It is really important to know where your food comes from and to eat locally. I think it's a small shift, but if it's done everywhere, then it's a huge thing."
The Organic Growers will showcase their display again between 9 a.m. and 3 p.m. on Oct. 11 and Oct. 12 in the North Foyer outside Emerson Suites.
The Organic Growers of Ithaca College meet in Room 118 or 119 of the Center for Natural Sciences at noon every Thursday. For more information about the club, email gardenic@gmail.com.