Tomorrow, Ithaca College will host the third annual IC Kicks Back, an alcohol-free event to celebrate the last day of classes.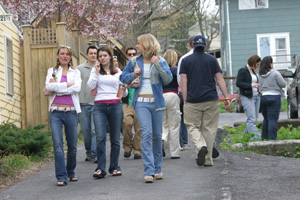 From 2 to 6 p.m. on the Campus Center Quad, the event will feature a barbecue, inflatable games and a performance by Motion City Soundtrack, sponsored by the Bureau of Concerts. Zack Ford, president of the Student Government Association, said having the concert should help draw students.
In the past, students have celebrated at a block party on Prospect Street, but Ford said he hopes IC Kicks Back will become an alternative tradition.
"We didn't just want to get students off Prospect Street," Ford said. "We wanted to give students some other choice [of celebrating the end of classes]."
Before students began flocking to Prospect Street, the last day of classes was celebrated by seniors jumping into the fountains. Though it was never officially sanctioned by the college, the Fountain Day tradition lasted 10 years before the administration moved the celebration to Senior Week in 2000 because of injuries and student intoxication, according to a 1999 article in The Ithacan.
Those problems have now moved to Prospect Street. Ithaca Police Chief Lauren Signer said the block party was broken up last year around 4 p.m. when students started to throw beer bottles at police. Signer said two-thirds of the department's 67 sworn officers will be patrolling the Prospect Street area tomorrow.
"It's not a normal complement of people," Signer said. "But we need officers detailed to deal with the large crowd." Signer said officers will begin patrols around 7 a.m., with additional officers phasing in and out all day. According to the Ithaca Police Department's records, 57 students were arrested from Prospect Day through the end of finals week. Signer said the main goal is to keep people safe.
"Most of the day, we're tolerant. We're not looking for trouble," Signer said. "Once we feel it's no longer possible [to keep students safe], then we'll move people out."
Senior Ian Baird, a Prospect Street resident, said he has been to every Prospect Day party but one and plans to attend this year. He said the police presence won't be a deterrent for students who want to party.
"I still feel a lot of people will head down there [to Prospect Street]," Baird said.
Baird said he feels the police unfairly target students, especially if only a few are causing trouble.
"Most students are just there to have fun," Baird said. "If the cops come and break up Prospect, I'm planning on having people at my house."
Investigator Tom Dunn of the Office of Public Safety said he hopes students will follow the new tradition of attending IC Kicks Back.
"The great thing about a college environment is that every four years, traditions change," Dunn said. "It's not like [Prospect Day] is a hundred-year-old tradition. It's recent."
In its first year, 1,800 students attended IC Kicks Back. Ford said he didn't know how many people went last year, but said students have shown "general satisfaction" with the event.
"You can say IC Kicks Back and people will know what it is," Ford said. "That's the sign of a tradition."