Over the weekend, Ithaca College's Mock Trial team faced its first competition and took everyone — even themselves — by surprise when they qualified for nationals in Hamilton, Ohio, next month.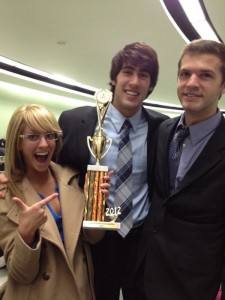 Junior Helene Weiss, a cofounder of the team, said they went in thinking they weren't going to place, and that they almost left before the awards ceremony.
"We didn't even imagine we had done so well and I was about to leave and Chris said, 'What if we win something, let's just stay,'" Weiss said. "Then, when they were calling down the names of schools, we were sixth out of eight teams that were advancing, and we beat Cornell by one ranking, so we were amazed."
The team, which formed this semester, will join about 200 schools in the national mock trial competition from March 20 to 22. They were the only new team to face off in Buffalo, N.Y., last weekend, and one of eight to move on to the next round in Ohio. About 680 teams around the country entered the regional competition at 25 locations.
Michael Whelan, the group's adviser and assistant professor of communication studies, said he was tremendously satisfied with the team's results.
"The students looked like [when] Roberto Benigni won the Oscar [in 1999] and he jumped over the people in front of him," he said. "It was one of those moments where glee was evident."
The IC Mock Trial team had only three weeks to prepare its case, which is the same for every team in the region.
The team competed with the fictitious case of State of Midlands v. Danny Dawson, according to the American Mock Trial Association. In the case, Dawson, the defendant, had operated a vehicle and was being charged with murder and driving under the influence.
Weiss said the team members who do best are the ones who can act quickly.
"The best team players are the ones that can think on their feet, think fast, get out of any situation, figure out the problem and figure out 'How can we turn this around and make it work to our case,'" she said.
Teams must come up with swift responses, know legal terms and be convincing performers as well. Junior Kyle Schiedo, president of the team, said mock trials are 50 percent performance-based and 50 percent trial-based.
"All the characters are designed so that each side of the case has a way to attack them and then a way to help them so it's a very turbulent kind of trial because there are so many things that go both ways for every character and on both sides of the case," Schiedo said.
Weiss said the team members need to step in and take the roles of different witnesses, which can be anyone from a doctor or subject expert to a sad friend.
Junior Carly Halpin said she never realized how intense mock trial meets were.
"I didn't realize how much of a contact sport mock trial was," she said. "It's almost an adrenaline rush."
For the next round of competition at nationals, Weiss said the group will start holding meetings and memorizing all the rules of evidence to rework and perfect every part.
Junior Chris Barnes, treasurer of the team, said over the weekend he learned the team has what it takes to compete with more experienced schools.
"It was really an overwhelming feeling of pride and success and just really a good feeling that our hard work the last month or so has paid off," he said. "I am very excited about applying that hard work again to a whole new level of competition and seeing how far we can really go. I don't think we're done yet, I think we have it in us to keep going."
Right now, funding for the new team comes from the Ithaca College Forensics Program, and an anonymous alum gave the team $1,000, Whelan said.
In the next round, Whelan said he wants the team to be even more competitive.
"Last time I said it would be a tremendous victory to move on," Whelan said. "It would be an astounding victory to move on in the finals in Minnesota in April."