The Ithaca College community will soon begin to see the college's 10-year vision plan take shape as tangible changes to the institution go into effect this academic year.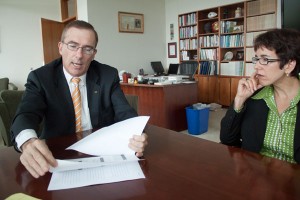 This summer, the college's board of trustees approved IC 20/20, a 10-year strategic plan to enhance the student college experience and be a step ahead of other colleges and universities.
The plan, assembled from the recommendations of eight committees, suggests three main themes: creating an integrative core curriculum to broaden the diversity of courses and off-campus opportunities in each course of study; redefining professor's duties to allow more flexibility to include students in projects outside the course curriculum; and requiring more community engagement and volunteerism by students.
Students will see the first effects of the plan when a pilot program for communications and business students launches a New York City Center and accepts its first class. The program was originally scheduled for this fall but moved to the spring because of lack of time and resources, Marisa Kelly, provost and vice president of academic affairs, said.
Kelly said a China Center and a strengthened program in Washington, D.C., in collaboration with Cornell University would join the list of offerings in the future.
Kelly said the second change the college will focus on during the next few years will be the integrative core curriculum.
The new curriculum is aimed at increasing collaboration between schools and adding requirements for students to take more courses outside their particular school. The IC 20/20 plan states that this will use a "themes and perspectives approach" where liberal arts courses will focus on a real-world issue, such as environmental sustainability, and explore different perspectives on the issue at hand.
Kelly said a new student excellence center for advising students about taking advantage of school integration will most likely be operational next fall. She said advising will be mandatory and will complement faculty advising.
To compete with public colleges and universities, small private liberal-arts colleges must market programs that translate to the working world or risk students perceiving them as out-of-touch and overpriced, according to a 2009 Chronicle of Higher Education study.
President Tom Rochon said integrative curriculums are a current topic of national discussion in forums of higher education, but the college will be the first to institute one.
"The general education ideas in IC 20/20 around an integrative general education are nationally path-breaking [and] truly transformative," he said. "We're setting our goals extremely high."
Rochon said IC 20/20 is a vision en route to becoming a plan, and the college has not decided on all the specifics. He said it mainly outlines what the college wants to accomplish by 2020, which is to provide students with skills to succeed in a world where the economy and technologies are ever-changing. Rochon said that level of proficiency is the ultimate goal.
He said the plan provides needed direction for the college as an institution and will help it keep with the changing times.
"The vision taken in its totality — if accomplished — will project Ithaca College to a position of adapting to the educational needs of the 21st century more than any other college or university that I'm aware of," he said.
Laurie Arliss, professor and chair in the communication studies department, said she and her department played a large role in recommending the new curriculum.
"There are still details to work out, but the theme and perspective approach seem to be getting people thinking about what they teach in new ways — and in exciting ways — to bring [theme and perspective] together," she said.
The plan also seeks to increase diversity throughout the campus by setting a goal of reaching 20 percent African, Latino/a, Asian and Native American students by 2020.
Rochon said increasing diversity has always been a goal of the college's, but adding the 2020 deadline and definite quota will make  diversity move further and faster.
Kelly said the plan does not mean the college is operating poorly, but that it needs to find a new vision for succeeding in the future. She said many initiatives draw on programs already used  to strengthen and broaden them.
"To have a complete break from things that we were doing would suggest that somehow we were doing nothing, while clearly that's not the case," she said.
Rochon said the college will figure out more details in the next three years, and the last six years will probably focus on implementing a clear plan by 2020. He said the class of 2015 will see the beginnings of the plan but most of it will likely begin after they graduate.