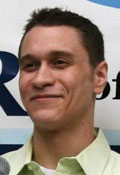 Independent candidate Christopher Kusznir announced he would withdraw from the Ithaca mayoral race and endorse Democratic candidate Svante Myrick at a press conference this morning.
"I believe it would be contrary to the best interests of our city to continue to campaign for mayor at this time," Kusznir stated.
After the birth of his daughter Madison Lee on Oct. 6, Kusznir said, he realized his priorities must lie with his family and he cannot devote the efforts the City of Ithaca needs in a mayor.
"To continue this campaign with the knowledge that I would not have the capacity to devote the time and energy our city deserves in its mayor would be the epitome of selfishness," he said.
Kusznir thanked his supporters and urged them to join him in support of Myrick. Though he said the two do not always agree, they have been working together to discuss what's best for the City of Ithaca.
"While Mr. Myrick and I disagree on a number of issues, I have been impressed with both the consistency of his policy agenda and the work ethic he has demonstrated throughout the campaign," Kusznir said.
Myrick said he and Kusznir will continue to discuss what is in the city's best interest in the coming year.
"I look forward to continuing to talk with Chris, listen to him, learn from him as I've learned from all the voters in the City of Ithaca," Myrick said. "I believe together we can help move the city forward."
Kusznir advised his followers not to turn their support over to progressive independent candidate Wade Wykstra. Though Kusznir said he believes wastewater treatment, which Wykstra, the City's Board of Public Works Commissioner, has frequently addressed in his campaign, is an important issue, he said there are other problems Ithaca's next mayor must address.
"Wade Wykstra is a candidate for a safer time," Kusznir said. "For our time, we need a change maker."
Irene Stein, Tompkins County Democratic Committee Chair, said she's excited Kusznir is backing Myrick.
"I am very pleased that Mr. Kusznir is throwing his support to Svante," she said. "More and more people are beginning to and will realize that Svante has exactly what it takes."
Kusznir's wife Katrina and daughter Madison Lee were present at the conference to support him in his decision to put his fatherhood first.
"I hate for Chris to give up on something he's passionate about, but at the same time, you underestimate how much a newborn is going to impact your life and how much your priorities to change," Katrina said while rocking Madison Lee in her arms.
Kusznir said he is still passionate about helping the city and he looks forward to working with Myrick moving forward, but he said he wasn't sure, if elected, he could devote as much attention to the mayoral job as the city's residents deserve.
"This gives me the ability to put my family first in my life," Kusznir said. "The truth is, you never really know how your priorities are going to change until you really see your newborn baby."