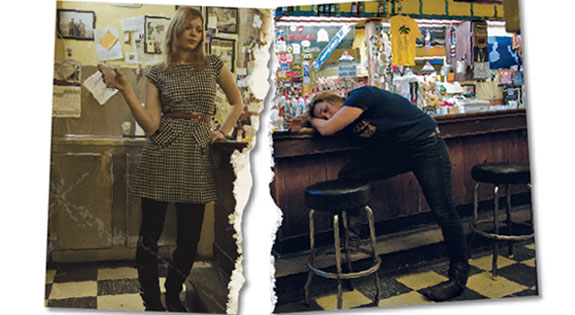 Bars are closing. Students are going out later. A "night out on the town" doesn't mean what it used to.
After more than 70 years of serving both students and local Ithacans, the long-standing Royal Palms Tavern in Collegetown will close at the end of the month after a steady decline in business over the last 10 years.
The Palms' long wooden bar, standing between a line of stools and countless bottles of booze, was once a place where students could be found after classes, construction workers during their lunch hour and where, on any given night, anyone would come to have a drink.
Joe Leonardo, who took over the bar from his father and uncle in the early 1980s, said he has seen a shift in the way people socialize at bars as students seem to be coming out later every year  and spending less time at the bar, causing a steady drop in revenue.
Leonardo said over the past year, he has made more than 90 percent of his business in less than three hours of the week. He said business at the bar thrives during the 45 minutes before the last call.
"People don't come out until midnight and 10 minutes after midnight there's a line down the street," Leonardo said.
Diana Drucker, a 1974 graduate of Cornell University and a realtor, has been a regular at the Palms since 1970 and said the style of late-night drinking has drifted from a more social atmosphere to a late-night stop.
"It was appropriate to hang out at bars," Drucker said. "Professors would sometimes hold seminars at the bars after class."
Drucker, who has become close with the Leonardo family over the years, said she was never a big drinker, but the Palms was always a place she could go, nurse one beer for a couple of hours and hang out with good company. When she got there in the early '70s, there were old-timers there who had already been drinking at the Palms for decades. Drucker said she was less than pleased that the bar she had been going to for 40 years was closing its doors.
"I'm heartbroken," Drucker said. "It's a dive, but it's my dive bar."
The Palms will be the third bar in Collegetown to close down within the last year following Dino's, an Ithaca College Wednesday-night favorite, and Johnny O's.
William Kerr, senior scientist at the Alcohol Research Group at the Public Health Institute, said drinking culture as a whole is increasing in the United States, but in the college-aged group, students don't drink as much as people did five to 10 years ago at the same age.
Trying to pinpoint the beginning of the decline, Leonardo said he saw a significant drop in business after smoking was banned from all New York restaurants and bars in 2003. Raising the drinking age was also a factor in the decline. It was originally changed from 18 to 19 in 1983, but was then raised again to the current legal drinking age of 21 in 1985.
"The smoking law hurt us a lot more than the drinking age," Leonardo said. "We had a good townie crowd, and when the drinking age got raised we were very strict on IDs, and this place became an exclusive place for people of age to get in and couldn't wait until they were 21 to get in here."
Senior Joey Maran has been going to bars for a year and a half and said he likes to go just before midnight so he can have some time to enjoy himself before the rush comes in. Maran is a bartender at The Nines in Collegetown, so he experiences the scene from both sides of the bar.
"As far as the social aspect of going to a bar, it has become the norm for people to go out later," he said. "Going to the bar has also become a way to end the night rather than a way to have your night. I think that people are drinking to excess. People are not going for one drink, they are going down for a bunch of drinks in a short period of time to try and get the best bang for your buck."
Kerr said the pregame culture is something growing more popular in the current college generation, largely due to economic pressures that weren't present in the previous generation.
"That's sort of the poor economic outlook of young people today," he said. "It seems to be dampening their drinking or partying behavior."
Senior Nina Davidson said she likes to pregame before going to the bars so she can save money.
"People have been drinking for a couple of hours [before going to the bars], and then they want to change up the night," Davidson said.
Leonardo said because students have been pregaming more before going out, he has had to kick out more people over the past three years for being more rowdy and out of control.
"Kids have always got drunk and acted not on the best of behavior, which is understandable in the environment I grew up in, and I understand that, but it seems to be getting worse and worse," Leonardo said. "I think it's just because kids don't know how to drink, they don't know how to handle themselves when they're drinking."
According to Kerr, the generational interest in drinking beer is decreasing and the interest in wine and spirits is increasing. The American Freshman Survey, a study conducted by the Higher Research Institute at UCLA, reported that 35.4 percent of 2011 incoming freshmen were beer-drinkers. The 2010 freshman class, however, contained 8 percent more beer drinkers, and the 1982 class had 52 percent more than today's freshmen. This was just before the drinking age was raised from 18 to 19.
Tommy Boles, owner of 2nd Floor Bar, which is located on The Commons, has been in business for six years, and though he took a small hit during the 2008 recession, business is beginning to pick up again. 2nd Floor Bar is a popular bar for students from the college and is packed with students after midnight every weekend. Boles, who worked in Micawbers Pub before it shut down a couple of years ago, said he sees students who have trouble handling themselves during a night of drinking.
"Kids aren't being introduced to drinking when they are younger, and no matter what, it is going to become available," said Boles. "A lot of these kids are not prepared."
The Palms' lease ends at the end of the month and the property has already been sold to a contractor. Leonardo said that alumni of old who have feelings of nostalgia for the Palms have been making pilgrimages back to the old watering hole to have one last drink in a place full of history.