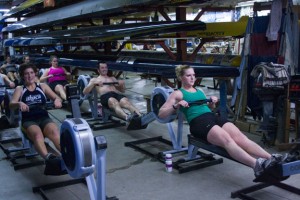 Participants will keep eight "ergs," or rowing machines, constantly in use for eight consecutive hours. Members of Habitat for Humanity will keep two of the ergs spinning themselves, while the crews will use the other six. The row will take place in the North Foyer on the upper floor of Campus Center from 8 a.m. to 5 p.m.
The crews have raised more than $22,000 so far. Habitat for Humanity has been raising money as well, and the crews will match up to $5,000 of this total for the charity. The rest of the funds will go to providing gear and travel uniforms for the teams, their spring break trip to Georgia and a planned expansion for the teams' boathouse on Cayuga Inlet.
The women's crew co-captain and senior Jiné Andreozzi said each team member will row in half-hour increments, and those who are not rowing will still stick around the area to support their teammates.
"People will go to classes and then come back in between their classes and see how everyone is doing," she said.
Dan Robinson, head coach of the men's crew, said every member of the teams provided 20 addresses to him or Becky Robinson, head coach of the women's crew. Each address provided received a flyer in the mail that asked for a donation. There is also an empty space on the page where athletes can write a personal message.
Participants who are members of Habitat for Humanity can send out the same fliers as the crews, and Robinson keeps track of the Habitat for Humanity donations as well.
The women's crew co-captain and senior Amy Gefell said Row for Community acts as a team bonding experience at the beginning of the spring season.
"I like it because it gives the entire team a starting point for the season," she said. "We train all year long, so it's a little tricky to differentiate between when you go from training to actually getting into the season."
Row for Community started at Kansas State University with then-Wildcats assistant coach Sandra Chu. When she later became the head coach at William Smith College, she expanded the fundraiser to other high school and college crews in New York state, including the college.
Junior men's crew member Zach Doell said the crew enjoys being affiliated with an established event that benefits a well-known charity.
"It says a lot about the team that everybody is so happy to do this," he said. "We could probably easily raise enough money for the team activities, but it's just really nice to give back to the less fortunate people around here."
In each of the past three years, this crew program has surpassed $30,000. With a smaller crew this year, Becky said the program is unlikely to hit this mark again.
"I don't think we will hit [$30,000]," she said. "But we will probably be between [$20,000 and $25,000], which is still good."
Senior Brett Matlack said Row for Community helps bring exposure to the team, which doesn't gain much attention since it doesn't practice or compete on campus like other varsity teams at the college.
"Most rowers on the team don't have experience before they come to college, so we can get new recruits for the team," he said. "It's really helpful for us."