Local residents gathered in solidarity today outside Bank of America to protest the supposed greed of corporate banks in conjunction with National Move Your Money Day.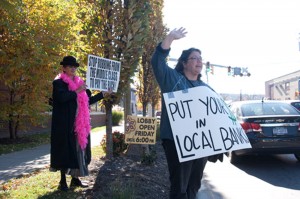 Ithaca residents and members of the Finger Lakes MoveOn Council and the Tompkins County Workers' Center met at 11 a.m. at the Bank of America on Route 13 and marched down the road to Alternatives Federal Credit Union to show their support for local banks.
About 75 protesters marched toward the credit union, and more than 30 stayed for another hour to picket at the credit union. Many of the signs they held displayed messages urging other residents to switch to local banks to keep money in the area to foster the city's financial growth.
Elizabeth Salon, an Ithaca resident and former Bank of America customer, said she was first convinced to make the switch after she was hit with a hidden fee.
"I used to be a Bank of America credit card holder with working assets, and one of the first tricky things they ever did to me was that they started changing the date that the credit card bill was due to trick me," she said. "It caught me several months in a row, and I was hit with a $35 fee for being late each time. When I called them about it, I objected, and they finally did put it back onto a routine, but I just thought that what they did was not right."
The protest was also organized to show support for the Occupy Wall Street protests occurring around the country. Many of the participants said they were also protesting what they said is a broad curtain of corporate and governmental greed, and want their voices to be heard.
Kathy Russell, an Ithaca resident who will go to Washington, D.C., tomorrow to protest the Keystone XL Pipeline expansion, said she banks with the local bank Tompkins County Trust Company because she believes it is more reliable than corporate banks. She said it was encouraging to see people making the switch and coming together to try and make a difference.
"It's exciting to see that so many people from such diverse backgrounds and age groups are all standing up in solidarity this season and making their presence known," she said.
The movement also comes on the heels of Bank of America's recent repeal of its monthly $5 cardholder fee. The fee was dropped after Molly Katchpole, a 22-year-old Washington, D.C., resident, began an online petition urging the bank to get rid of the fee. The petition received more than 300,000 signatures within a month and forced bank executives to issue a repeal.
Dennis Osika, a retired reserve officer living in Lansing, N.Y., said the protest's large turnout helped solidify its purpose.
"The focus of today's protest was to draw attention to the greed of large banks that have betrayed the trust of the people and undermined the financial security of the country," he said. "In addition, our country is being run by a few wealthy people and their corporations, so the people basically have no representation."
Though the protest concluded around 1 p.m., many participants said they plan on taking further steps toward revealing the disparity of wealth distribution between classes, particularly with high-power bank executives receiving major bonuses during the country's financial crisis.
Salon said the time is right to take action because the government is not working as effectively as it could to help citizens in their current state.
"The fact that all the money has been congregated in this one percent just infuriates me," she said. "I am seeing children who are suffering because of it, so I'm in solidarity with all of it. It needs to change."