In an attempt to enhance students' learning experiences, Information Technology Services is now providing portable podcasting equipment to interested faculty and staff members on a loaner basis.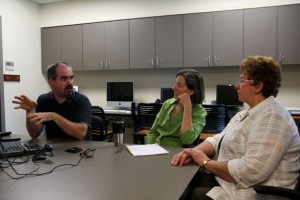 ITS possesses three kits that can be signed out for up to seven days, and each kit includes a Microsoft Windows laptop, relevant software, a webcam and a USB microphone, Beth Rugg, manager of user support services at ITS, said.
"I think from an I.T. standpoint we're always trying to make the technology accessible to our user community, and we thought this was [the] logical next step," Rugg said. "Provide some loaner equipment so people just didn't have to purchase the materials themselves."
The loaner program gives faculty members flexibility in where to use the materials, as kits are available to be signed out and used in the staff member's office or home or even in the Center for Educational Technology's sound-recording booths in Job Hall, Rugg said.
After recording the audio or video content, ITS is recommending that faculty members post that content on the iTunes U "media repository" because of its larger storage capabilities, Rugg said. Then, the content's producer could link to the page on Blackboard, she said.
Mark Hine, digital media coordinator at ITS, said the initial software will not be complicated. Hine said video podcasting primarily uses the webcam for recording and QuickTime Pro for editing, whereas the simpler audio podcasting uses Free Sound Recorder for recording and Audacity for editing.
"There are people who are really engaged and excited by the idea, and this is, sort of, the first step," Hine said. "The software is very basic right now, and we want to gage its use and really get feedback from the user community as to how they're using it and what they need to go beyond the basics."
Hine is working with interested faculty members by providing podcasting kit demonstrations, as well as teaching Introduction to Podcasting sessions alongside Marilyn Dispensa, instructional technology coordinator at ITS. The hourlong sessions provide faculty members with a background of the content in the kit and examples of ways in which to use the different materials.
Hélène Larin, associate professor and chair of the physical therapy department, was one of two staff members who attended Hine's Sept. 7 podcasting workshop. Larin said she hopes to use the technology to visually demonstrate certain therapeutic techniques being discussed in class.
"I want to explore the possibility of including it as another educational strategy in my courses, as well as maybe using that as far as communication among the faculty," she said.
Senior Kyle Devins said, as an athletic training major, podcasting would be a beneficial method for professors to demonstrate "treatment techniques" and "therapeutic exercises" that are taught in class but may be forgotten shortly thereafter.
"I feel like it could definitely be a good learning experience, but it would depend on how the information was available because … if it was right on Blackboard, that would probably be a good learning tool," he said. "But, if … you had to go to its own website or something like that, I feel like it would be more difficult to access, and less people would use it just because it would be kind of inconvenient."
Hine said, while startup interest may be sparse, he hopes faculty members will eventually use the podcasting technology to engage in Web conferencing with international students and professors, for instance.
"One of the primary goals is to enable faculty and staff to create content and for that content to enhance learning," Hine said.
The podcasting equipment can be signed out at anytime by using the online loaner system at www.ithaca.edu/its/services/loaners/longloan.