While they may not have the opportunity to celebrate Rosh Hashanah with their friends and family from home, students found their own family of worship with the Hillel community on campus today.
About 70 students and faculty gathered in Muller Chapel to celebrate the first full day of Rosh Hashanah, the Jewish New Year, with a service at 10 a.m., followed by Tashlich, a quiet meditation outside by the pond, and lunch in the Terrace Dining Hall.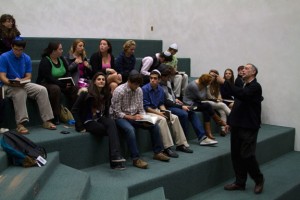 Jewish chaplain Michael Faber presided over the services this morning and said the campus Jewish community aims to create a sense of family during these religious holidays.
"All of these Jewish holidays are best celebrated with family," Faber said. " But we come together as a community and a large family of people who know each other and hold this in common."
Rosh Hashanah is a religious holiday that signifies the first day of the seventh month of the Hebrew calendar – the beginning of the Jewish New Year. According to tradition, Rosh Hashanah celebrates the emergence of human beings and consciousness into the world. Traditional Jews cite this year as the 5771th anniversary of the human world.
Rosh Hashanah marks the first two out of 10 days of penitence where Jews clear all judgment and reflect on their lives as the New Year begins.
"It's a period of deep, intense reflection, prayer and penitence," Faber said. "Because it's the New Year, it becomes the occasion of 'How is it with me? What kind of life am I leading?'"
At Ithaca College, the Hillel community began their celebration when Rosh Hashanah officially began at sundown yesterday with a service and special kosher meal in the Terrace Dining Hall, which about 100 people attended. Services will continue tonight at 8 p.m., and another service is scheduled tomorrow at 10 a.m. to celebrate the second day of Rosh Hashanah.
While Faber acknowledges that many students may not regularly attend services or look for a religious experience, he says Ithaca College's Muller Chapel represents a site of worship for the community.
"We gather together whether we're religious people or not, whether we believe in God or know a word of Hebrew or not. Still, this is one of the ways communities of Jews gather together," Faber said.
Freshman Evan Annis said his parents encouraged him to temple since he was young and has plans to go tomorrow after attending the service today.
"The service reminded me of mine back home," Annis said. "I'm proud of being Jewish and going to service on the high holidays is a good way of showing it."
Throughout the service, students came and went, as singing rang through the chapel. To involve service members, Faber invited attendees to gather around the Torah to read. He invited students to spend a few moments outside by the pond to reflect.
"I'm interested in students being more conscious," Faber said. "I hope people get a sense of being part of something with other Jews on campus."
While senior Brett Maley is not Jewish, he came to the service to celebrate Rosh Hashanah with his girlfriend, senior Jenny Steiger. Both said they were impressed with the high attendance at today's service.
"In college it's important when people come because it's no longer your parents forcing you to do something," Steiger said. "It's how you choose to involve religion in your life."
This story was updated at 7:33 p.m.