Students met with representatives from organizations ranging from the SPCA of Tompkins County to the federal government at the Job, Internship and Volunteer Fair from 5 to 8 p.m. today in Emerson Suites.
Representatives from about 50 organizations spoke with students and accepted résumés for jobs and internships at the annual fair, which was sponsored by the Office of Career Services.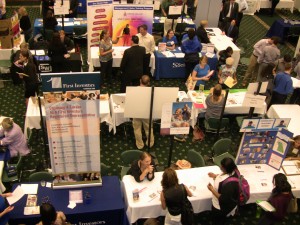 Kristin LiBritz, employer relations coordinator for Career Services and organizer of the fair, said the event was meant to provide a variety of opportunities to appeal to students of different interests. She said Career Services spends most of the year bringing in employers for the fair, specifically ones that have a need for college students and fresh recruits.
"We have to balance interest and demand from recruiters as well as interest and demand from students," she said.
Thomas Armbruster, a representative from the U.S. Department of State, was one of the many representatives at the event. He said since Secretary of State Hillary Clinton announced a three-year hiring initiative called Diplomacy 3.0, the Department is looking for an increase in college-aged employees to fill new positions.
He said though a college degree is not required for hiring at the department, some students become aware of foreign affairs in college and acquire the necessary skills for the job.
"We're looking for people who are motivated, want to represent the U.S. and are willing to live overseas two-thirds of their career," he said.
Katrina Schickel, representative for Tompkins County Office for the Aging, said the office participated in the fair to look for student volunteers to visit homes of elderly citizens. She said the office is trying to meet and keep company with senior citizens in the county.
"The commitment is very minimal, but it's very important for our senior [citizens]," she said. "[Our office] provides a really important service."
Some students who attended the fair looked for opportunities to expand their job experience before leaving Ithaca College.
Senior Kirstie Ingmundson said she wanted to find non-profit organizations to work for after school and was pleased with the offering at the fair.
"I looked at the list of organizations, and I did a little bit of research before coming here and found that there were even more that I was interested in after I came here," she said.
Sophomore Oren Bennett, a business administration major, got a head start on his summer internship hunt by preparing a list of financial organizations to visit at the fair. He said getting an internship is important to him as learning experience, but that he wanted to make sure it would also be pleasant experience.
"Obviously I'm not going to do it if I don't enjoy it," he said. "You don't want to spend your summer doing an internship you probably wouldn't like."