Jose Antonio Vargas, a Pulitzer Prize-winning journalist, brought the national immigration debate to the forefront of the Ithaca College community this week by outlining his own journey of "coming out" as an undocumented immigrant living in the United States.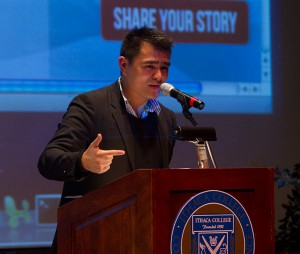 More than 250 students and community members gathered Monday in Emerson Suites to listen to a discussion led by Vargas, a guest speaker brought by the Park Center for Independent Media.
Vargas spoke about "coming out" in an essay he wrote for the The New York Times Magazine titled "My Life as an Undocumented Immigrant." Vargas described how he was sent to the United States from the Philippines at 12 years old did not discover his undocumented status until he was 16. His essay spurred national debate about immigration issues and spearheaded his own activism through the website DefineAmerican.com.
He is known for his coverage of the HIV epidemic in the U.S., which was adapted into a documentary. He also received a Pulitzer Prize as part of the Washington Post team that covered the Virginia Tech shootings in 2007.
Vargas said he revealed his undocumented status against the advice of 30 lawyers because he felt it was his obligation as a journalist to share his story and keep others from believing they do not belong in the country.
"In some ways, we take risks in order to liberate ourselves," he said. "Writers will tell you that the best stories are the stories that are specific enough that it becomes universal."
Though more than 1 million undocumented immigrants have been deported from the U.S. under the Obama administration, Vargas said, he remains untouched because he is "privileged." The government, he said, ignores his status to avoid controversy.
"People aren't touching me," he said. "That speaks to the fact that at the end of the day, they don't really want to deal with it, or me."
Maura Stephens, associate director for the Park Center for Independent Media, said this was one of the few events where students seemed "ready to go out and start a movement."
Stephens said she knows people who are undocumented herself, and said Vargas' speech is relevant to many students at the college.
"You would never even know they weren't born in this country," she said.  "They've been here so long it's not even an issue anymore."
One in 10 children are growing up in a mixed family, in which at least one member is undocumented, Vargas said. Most of these families are active members in the community and economy.
"Now none of this matters," he said. "I just got back from Alabama, which just passed the hardest and strictest immigration law in this country, which actually [Martin
Luther King Jr.]'s son has said, 'reeks of Jim Crow segregation.'"
Sophomore Kathy Perez said she admires Vargas' courage to "come out" to the world despite the likelihood of deportation.
"I do know some illegal immigrants who are in hiding every day and he's brave enough to be out about it — not only to the Ithaca community but to The New York Times too," she said.
Vargas said everyone should be involved in immigration conversations.
"You have a responsibility to connect the dots for someone who can't," he said. "You, as a conscious person, have a responsibility to be completely awake because there are too many who are sleeping."