While much of the college campus is franticly studying for finals and finishing up papers, the senior class is preparing for something much larger — Commencement.
With only two and a half weeks left until graduation, festivities are already under way, and seniors are reminded to enjoy this time but to celebrate safely.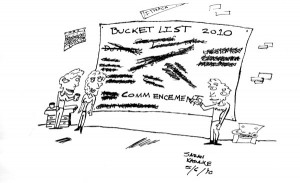 Many seniors, such as the group of housemates who are working to accomplish their "bucket list" in this week's Accent section, have created goals they want to accomplish before graduating. Seniors are encouraged to gain inspiration from the group's bucket list and work to accomplish all they want to do before they graduate. The end of an undergraduate career comes just once for most, and taking advantage of the moment will only make the experience more special.
While barhopping and parties are signature aspects of the final moments spent as a college student, seniors should celebrate cautiously as they get through the next couple weeks. Students should be aware of personal limits and their surroundings to ensure personal safety.
For many, senior year has been a time to celebrate, opting for lighter class schedules in exchange for more free time. As the year winds down, seniors should ensure that they have completed all the required coursework and assignments to be able to graduate on time.
The weeks before Commencement offer seniors a time to relax and escape from the pressures of college life. During these weeks, seniors should not only celebrate, but also spend some time carefully thinking about future plans. Seniors are encouraged to speak often with their parents, friends and professors to discuss all potential postgraduation paths.
Commencement is a special moment for the Ithaca College community, the graduating students and their families. The Ithacan congratulates seniors on their accomplishments and hopes that the next few weeks are full of safe and incredible memories.