Ithaca College dropped from the grade of A to B in the 2011 green report card's food and recycling category after being unable to provide statistics on local and sustainable food.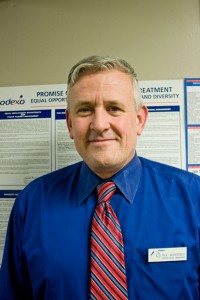 The grade, which is given by the Sustainable Endowment Institute, compares colleges throughout the country and assigns grades to schools based on their environmental friendliness.
Rob Foley, senior research fellow at the SEI, said criteria for the report card changed this year. The institute was seeking hard data instead of asking general questions, he said. Full credit could only be given to schools that provided this data.
"As I look at Ithaca's dining survey, there is a lack of information in certain areas, namely the local food purchasing and sustainable food purchasing," Foley said.
Foley said the college's grade may have dropped in relation to other colleges.
"If other schools increased their programs in food and recycling and were able to report it and [the college] stayed the same, then Ithaca's grade 'dropped,'" Foley said.
Jeff Scott, general manager of Sodexo dining services at the college, said he and a student intern filled out the dining hall survey used to grade the college. Scott said he did not have the necessary information compiled. In the future he said he doesn't anticipate having the same problem.
"It's more, at that point in time, just not having everything ready," he said.
Scott said he is focusing on reducing the carbon footprint of all the dining hall facilities by improving habits of employees in using energy, implementing preventative maintenance for equipment, and updating lighting and ventilation systems. The new systems will reduce energy consumption in the dining halls by 25 percent and lower energy costs by 20 percent within the first year.
"We did a complete audit of all our pieces of equipment and building systems that use energy," he said.
Paul Warrender, retail operations manager for dining services, said dining services will continue to expand recycling and composting by using biodegradable plastics.
"We've reduced the number of non-compostable plastics that we've used, so it's not going to a landfill or an incinerator," he said.
Scott said he is looking to phase in a policy that would replace inefficient equipment with eco-friendly models within five years.
Scott said he hopes changes will lead to a higher score on next year's report card and reduce the college's environmental impact.
"If we can get better equipment that breaks down less, it's better service," he said. "It's better for our employees to work with, and long term we're using less energy."