Candidate for provost and vice president of academic affairs, Abiodun Goke-Pariola, spoke yesterday at a session for students, faculty and staff about the importance of integrative learning, faculty expectations and his plans for achieving excellence at Ithaca College.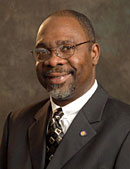 Goke-Pariola is  the provost at Otterbein University in Westerville, Ohio, and was the last candidate to present his platform.
Goke-Pariola has worked as a teacher, scholar and administrator for 35 years at Georgia Southern University, Illinois State University, Berry College and others.
Building a strong faculty, developing a tenure program that focuses on major facets of faculty work, fostering an environment of high expectations among faculty and appreciating the changing demographics of new professors are all issues Goke-Pariola said he would address as provost.
He said it is crucial that the college has clear goals for the future.
"Without vision, we get lost in the process of transformation," Goke-Pariola said.
Goke-Pariola also said the college should be working hard to prepare students searching for jobs in "overcrowded fields" to stand out among other college graduates.
When President Tom Rochon asked Goke-Pariola how he would approach the IC20/20 program, Goke-Pariola said he would create a time line to find the right moment to approach each issue.
Addressing his expectations for undergraduate students, Goke-Pariola said if he were chosen as provost he would require each
student graduate with experience in community engagement, research, professional development, intercultural engagement and leadership.
Goke-Pariola said he admires the strong sense of community at the college.
"This is one characteristic of a smaller community, so I think it told me that you are really doing a lot of things very well, and those are values that you don't want to lose as you go through that transformation," he said.
Martha Gray, director of the Office of Institutional Research, said she felt Goke-Pariola was not only well prepared for the position, but he also seemed like he would be able to find a compromise between the needs of faculty and the staff.
"He bridges a nice place between what the faculty are looking for and the staff are looking for," she said.
Karen Johnson, manager of administrative operations in the provost's office, said Goke-Pariola stayed true to the college's goals.
"It's all right on track with where we are going right now," she said. "He seems very pleasant — somebody that would be easy to work with."