In an age where many concert tours are cancelled due to poor ticket sales, indie-dance band Rubblebucket has used the live performance setting to its advantage. Since the release of its debut album in 2008, the band has been touring frequently and earned the Boston Music Award for "Best Live Act" in 2009.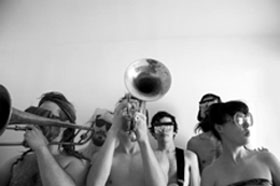 Tonight, the band will perform at Castaways. Doors open at 9 p.m. for the 10 p.m. show, and tickets will be available at the door for $15 each.
Staff Writer Marissa Framarini spoke to Rubblebucket's lead vocalist, Annakalmia Traver, about the band's latest efforts, inspiration to perform and their upcoming visit to Ithaca.
Marissa Framarini: Rubblebucket won the 2009 Boston Music Award for Live Act of the Year. What do you think makes your concerts so successful?
Annakalmia Traver: There must be something in the music. It's really danceable and rhythmic, and the lyrics are positive. People see that we're invested, so they want to become invested and dance without a care. We are working on our visual showcase and trying to use crazy neon banners. This tour we're going to use two giant robot puppets, but I'm not sure if they will fit into Castaways.
MF: What inspires the band's music?
AT: Initially, we were all inspired by Afrobeats. Our sound has evolved since then, though. We still love Afrobeats, but we have gotten closer to the heartbeat of rock and roll.
MF: "Came out of a Lady" is one of your biggest hits. Did you know this song was going to be so successful when you were recording it?
AT: The first time we played this song was in Ithaca actually. That was the moment when I realized this song was really powerful.
MF: There are eight people in Rubblebucket. Is it difficult to make your voice heard in the music production?
AT: It definitely is hard to balance and make sure that everyone is heard, but we all have different roles in regards to writing and producing. Usually Alex Toth will first record demos on GarageBand and then bring it to the band. After that, usually everyone fills and adds in. Our recordings are definitely a collective sound.
MF: You recently worked with producer and engineer Eric Broucek, who also worked with bands like LCD Soundsystem and Holy Ghost!. What was working with someone of that stature like?
AT: He has genetic blood for music, and you could totally sense it. I don't think the band realized what we were getting into when we decided to work with Eric. We knew he was really talented and experienced, and the outcome was definitely great. He got the punchy, sort of disco stuff, for the rhythms we wanted. We loved the results.
MF: Rubblebucket's cover of "Michelle" by the Beatles has received a lot of praise. Why did you decide to cover such a popular song?
AT: I love the song so much. Also, I just lived in France for 10 months, so I had French stuck in my head and really have ever since. At the time, I was having these really intense dreams of going back to France. They were not bad dreams, but the fact that I couldn't get rid of them really disturbed me. I think recording "Michelle" was my escape. Writing and singing in French helped me process all of the dreams.