The first time sociology lecturer John Muschko walked into a classroom at Ithaca College, he said he was surprised to be greeted by a room full of students who were eager and excited to learn.
Muschko, who used to teach at Good Hope Group Homes, Inc., a detention facility with locations in Mecklenburg and Cortland, N.Y., said he hasn't always had such an attentive audience. In his old position, students' behavioral issues often forced him to act as more of a counselor and psychologist than a teacher.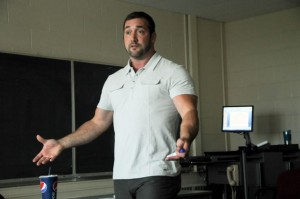 "Certainly it's noble work, but it was also exhausting," Muschko said. "Every day it's a struggle, but you struggle to find that one
glimmer of hope."
Originally from Paterson, N.J., Muschko was hired at the college this fall. In addition to his position at the detention facility, Muschko said he has also taught at Tompkins-Cortland Community College where he currently teaches two sections of Introduction to Sociology. This semester he is teaching two sections of Contemporary Social Issues at the college.
Muschko said he is drawn to the dynamics of the area and is enjoying being a part of the college's faculty.
"The students want more," Muschko said. "I have to bring my A-game every day. It's a vibrant place. It leaves an indelible mark on anybody who spends time here."
Muschko said Judith Barker, associate professor of sociology, heavily influenced his decision to begin teaching at the college.
"She inspired me not only as an educator but as a person," he said.
Barker met Muschko 18 years ago when a friend of hers brought him to Barker's house. The two immediately bonded when they discovered that they had a mutual love for science fiction and began discussing how creating a unique world from scratch was connected to sociological principles.
"Basically we both read what science fiction calls the world-building authors," Barker said. "To me they're kind of like lay sociologists. That is how we sort of started talking, and that's how it eventually got connected to sociology. The writers actually create another society. To me, that's sociologically fascinating."
When a position as a lecturer opened at the college, Barker said she encouraged Muschko to apply.
"[Muschko] enjoys what he teaches," Barker said. "He is intellectually stimulated by what he does."
Whenever the subject turns to sociology, particularly issues of social justice, Muschko becomes animated and his speech takes on an enthusiastic tone. Freshman Tommy Burchill, a student of Muschko's, said Muschko's actions in the classroom convey that he wants to pass his enthusiasm for sociology on to others.
"The class is definitely not boring," Burchill said. "[Muschko] likes to get everyone involved and not just talk at us the entire time."
Muschko said he tries to create an interactive learning environment. Most of his classes aren't lectures, but open-ended class discussions that focus on the personal experiences of  students. Sometimes Muschko asks students to arrange desks into a circle or break out into small groups, but no matter what activity he plans for the day, Muschko rarely stands still.
Muschko is also taking advantage of technological options available at the college, like Blackboard, in an effort to facilitate class discussion. After each lecture he posts the PowerPoint slides and notes from discussion. Burchill said this allows students to actively participate in class instead of struggling to jot down notes.
When he's outside of the classroom, Muschko works out regularly, joking that going to the gym is cheaper than paying for a psychiatrist. After a long workweek, Muschko uses his time at the gym as a form of release. Muschko also said he tends to a garden regularly.
Muschko said he's uncertain of what the future holds, but he plans to take advantage of any opportunity to stay at the college. Calling himself a lifelong student, Muschko said he hopes to continue to take classes to satisfy his appetite for knowledge. In the meantime, he said he has high aspirations for this year and what it will bring.
"I hope to see the times that occur when you realize a student had a moment of realization, of understanding," Muschko said. "Creating moments — that's what I feel sociology allows you to do with increased frequency."