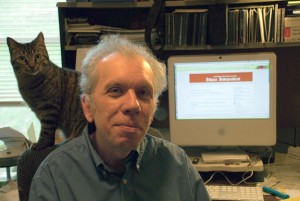 The Ithaca Post, Tiny Town Times and The Ithaca Independent are new additions to established independent publications in Ithaca, which include Tompkins Weekly, The Lansing Star, The Ithaca Times and 14850 Magazine.
Luke Fenchel, a former Ithaca Journal writer, established his own local online independent media outlet called The Ithaca Post last February. Fenchel said he hopes the Ithaca Post, which covers arts and entertainment news, complements other local publications instead of competing with them.
"I started the Ithaca Post in order to provide an alternative source of news and information about art, entertainment and culture in Ithaca and Tompkins County," Fenchel said.
In July 2009, Franklin Crawford, a former Ithaca Journal columnist, launched Tiny Town Times, an online tabloid-like publication that publishes hyperlocal, mostly humorous news and photography. Crawford said he prefers to stick with smaller stories
because he feels investigative stories take time and frequently go unsolved.
"The smaller the thing it is, the more I'm interested in it," he said.
There are also independent media outlets on the way. After encountering problems funding Ithaca Community Radio, Rene' Borgella, professor of biology at Ithaca College, said he hopes the project will begin producing local content this spring. The station is currently broadcasting from a station in Binghamton. Borgella, chairman of the station's board of directors, said it will take about $50,000 to afford the necessary equipment to localize the station.
"There's not a lot of opportunity for two-way interactions to go on with most radio, and what we are offering that's different, really, is actually an opportunity for radio to be used as a vehicle for democracy and education," Borgella said.
Jeff Cohen, associate professor of journalism and director of the Park Center for Independent Media, said layoffs at corporate media outlets have paved the way for independent outlets to flourish.
"The importance of any media outlet is to watchdog the powers that be in the town," he said. "The mainstream dailies keep shrinking, and, therefore, when the city council meets, or the mayor's doing something, there's just less journalistic presence in the faces of these public officials."
Ed Sutherland founded the Ithaca Independent, a "quasi-daily, online-only" newspaper, because he said he felt that The Ithaca Journal, the city's primary paper where he used to write columns, wasn't providing enough local coverage.
"I wanted to respond to that and have a stronger news presence in Ithaca, especially with all of the students that are very conscious of the news and what's going on around them," Sutherland said. "I just thought it was a shame for that huge market just to be on reserve."
Assistant managing editor of The Ithaca Journal, Dave Bohrer, said though many of the paper's facilities are now shared with The Binghamton Press & Sun Bulletin and The Elmira Star-Gazette, The Ithaca Journal's choice of stories has not changed.
"We have picked up additional stories that are of interest throughout the region, but that hasn't taken away any space that we've used for Ithaca news," he said.
However, problems collecting sufficient revenue, attracting local attention and balancing time with a paying job puts burdens on independent news outlets.
Fenchel said he relies on the help of unpaid writers who cover events because they're passionate about the arts, entertainment and the community.
"I'm very lucky to have a core of writers, editors, photographers and other contributors participating in the Post," Fenchel said.
Cohen said while independent outlets continually fight for financial survival, they still play an integral role both locally and nationwide, especially as mainstream media outlets become less prominent.
"Independent media are needed in Ithaca to fill the gap left by the shrinkage of The Ithaca Journal and other mainstream media," he said. "It's happening in every city and town. If you don't have new independent media sprouting up, it's a recipe for corruption."