Higher temperatures and lower snow accumulation than normal for the Northeast region are challenging some local businesses to adapt their marketing strategies to stay relevant in the warmer weather.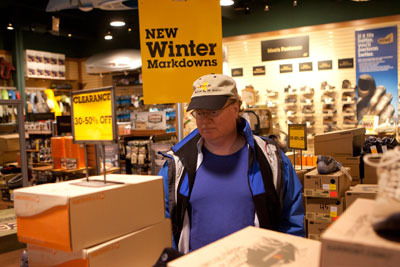 Businesses that rely on colder climates and snow are suffering in the season's mild temperatures.
According to data from the Cornell University Northeast Regional Climate Center, the average temperature in Ithaca this month was 31.3 degrees Fahrenheit, 8.5 degrees warmer than normal. Ithaca has seen snow accumulations of just 18.2 inches this season, a drastically lower number than the 48.8 inches that normally falls, according to the organization.
Kevin Morrin, vice president of sales and marketing at Greek Peak Mountain Resort, said that while the 84-degree indoor water park is doing "quite well" in the warmer weather, fewer visitors are flocking to the resort's ski mountain. Between 50,000 and 70,000 people have hit the slopes this ski season, he said. The mountain typically sees about 170,000 guests in a season.
"No matter how many marketing dollars you have out there saying you're open, if there's no snow in the backyard, people won't come," Morrin said.
The ski resort has cut back hours and staff as a result of the drop of visitors, Morrin said. Greek Peak has also relied on "creative, out-of-the-box" promotional ideas to draw customers to the mountain. Last December, the resort held a playful ceremonial bonfire where someone dressed up as Ullr, a mythical god of snow, and appealed for wintery precipitation. As the spring season approaches, Morrin said people are less likely to spend an afternoon or weeklong getaway at the slopes.
"Even if it does snow a little bit in March, the demand is not going to be there," he said.
Local retailers have also taken hits due to the mild winter. Eric Mastroberti, floor manager of Eastern Mountain Sports, called this winter "difficult" and "disheartening." The outdoor equipment store has seen a drop in sales due to the warmer temperatures.
"When you sell clothing and equipment to be used in cold weather and there isn't any cold weather, sales begin to slow," Mastroberti said.
While the store would typically be preparing to stock shelves with spring clothing and equipment at this time of year, an excess of winter gear has led to sooner-than-usual sales on items to make room on clothing racks and shelves, Mastroberti said.
"We have some more opportunities for folks if they are actually looking for that stuff now, just because it is all on sale," he said.
The local hotel industry has seen little difference in guest stays this winter compared to previous years. At the Clarion University Hotel and Conference Center, 18 out of 106 rooms were filled Friday, Andrea Fort, a front desk clerk at the hotel, said. The Ramada Ithaca Executive Conference Center has seen "no noticeable increase due to weather at all," Stan Witko, general manager of the inn, said.
Bruce Stoff, spokesperson for the Ithaca-Tompkins County
Convention and Visitors Bureau, said it is remarkable to have no snow on the ground in February. The unusually high temperatures have had a significant impact on road salt and snow removal companies, he said.
Those struggling hope temperatures will drop down to normal digits in order to recoup the money and visitors lost this season.
"I've seen the snow plows drive by on days when there's just a flurry," Stoff said. "I think those guys are terribly bored right now."