Local farmers at recent forums spoke out about the obstacles preventing small-scale local farms from starting social justice programs, citing time and money as the main barriers standing in their way.
Social justice for farmers generally focuses on treating workers fairly, paying living wages and providing reasonably priced local food. Farmers met to discuss these issues at a Nov. 1 workshop on adopting social justice standards at Ithaca EcoVillage and at a panel hosted by Ithaca College faculty members Julia Lapp, Paula Turkon and Michael Smith on Tuesday.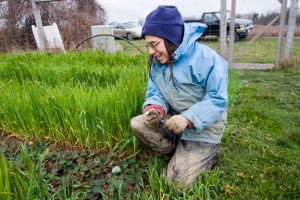 Smith, assistant professor of environmental studies and sciences, said small-scale farmers strive to implement these standards but face competition from large-scale farms that produce cheap food with low-paid workers and dangerous chemicals.
"If you have an orchard that is 10,000 acres and you can use well-skilled but underpaid migrant labor to pick the stuff, and you use pesticides instead of integrated pest management, you're going to have a cheaper product," he said.
At the EcoVillage workshop, members of the Agricultural Justice Project, a wage, labor and trade standards initiative, presented a proposed certification that would identify farms who abide by social justice standards regarding wages, treatment of laborers and pricing and trade standards.
Katie Creeger, who owns Kestral Perch Berry farm, said she attended the workshop to learn about running an organic farm "right" because she was just beginning to hire laborers for the first time. However, she said she realized Agricultural Justice Project's idea could not work for her small farm.
"If you add a lot of bureaucratic stuff and record keeping into that job description, there is just not enough time to do it," she said.
Smith, who helped organize the panel at the college as part of the IC² initiative project "We are what we've eaten," a collaborative study among three classes, said the farmers provided a new perspective to students from his class studying the history and contemporary implications of food.
"We thought rather than spend a huge amount of money bringing in some big name speaker who'd just come in for a couple of hours, just use the local resources," he said.
Farmers invited to the college panel brought up similar issues to the ones that were discussed in the EcoVillage workshop.
Anna Steinkraus, who works at Little Tree Orchards and spoke at the college panel, said with all the time and energy required to run a farm, there is little opportunity to start programs that promote social justice.
"We're so busy with what we're already doing," she said. "Sometimes, starting one of these things is like starting another business."
Maryrose Livingston, co-owner of Northland Sheep Dairy, said she charges prices for her cheese below an ideal level to maintain customers, even though it hardly makes up for labor costs.
"We're not really getting paid, but we're still feeling that we don't want to charge too much because we want people to eat it," she said. "It's a huge struggle for us."
Smith said pricing is a major issue for small farmers who cannot produce on a large scale and do not have the labor and capital resources of corporate-owned farms that can charge less for food — distorting the actual cost.
"Food should be more expensive," he said. "If food is more expensive, then the people who are producing it ideally will get better wages and better working conditions."
Senior Kristyn Polucha attended Tuesday's panel and said society does not recognize what farmer's responsibilities entail, usually looking down on it as a blue-collar job.
"Our social system really doesn't know about how much work these farmers put in," she said. "They have a lot of negative parts to the job. It's hard to get by for them."
Heather Sandford, who co-runs The Piggery, a farm that raises pigs for meat, said right now the extent of being active in bringing social justice practices into farming is just doing the daily farm labor.
"Our activism is what we do every day," she said.