When sophomore Mike Tannenbaum sat down last Thursday night in Muller Chapel, he did not intend to speak in front of the more than 100 students there to honor victims of the shootings at Virginia Tech. But Tannenbaum, a northern Virginia native whose friend was shot and injured as she ran away from the gunman, said his emotions got the best of him.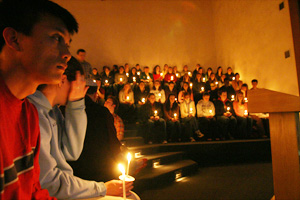 "I wanted to let others know what was going on in my head," Tannenbaum said. "All my emotions just started pouring out."
At the interfaith vigil, students lit candles and listened as the names of the 32 victims were read, a bell tolling after each name. Tannenbaum said after the official part of the vigil ended, the campus chaplains opened the floor to student reactions.
"The words just kind of came out," he said. "It felt so good to express myself."
The vigil was the first official campus response to the shootings at Virginia Polytechnic Institute last Monday. Seung-Hui Cho, a 23-year-old senior at the school, shot two people in a residence hall before killing 30 more in an academic building across campus. He fired 170 rounds in nine minutes before eventually killing himself.
Since the shootings, a number of officials and organizations on campus have stepped forward to offer support and improve the college's own response systems. The Ithaca College Core Emergency Response Team (CERT) will meet next week for the first time since the shootings to discuss policy changes, including implementing a system that will send out information to students via cell phone text messages.
Brian McAree, vice president of Student Affairs and Campus Life and head of CERT, said the meeting will give the group a chance to formally reflect on the tragedy and what it will mean for college policies, especially campus-wide communication.
The idea for using cell phones to communicate with students is a response to the criticism the administration at Virginia Tech has faced for the lack of a timely campus-wide communication response system, McAree said.
"One thing we absolutely want to learn from [Virginia Tech] is communication strategies," he said.
McAree said he foresees a problem collecting student cell phone numbers, since students are not required to provide them.
"An emergency communication procedure is only as good as the information people provide us with and how we utilize it," McAree said.
McAree said CERT will also discuss how to lock down the more than 70 buildings on campus.
"It's like locking down a small city," McAree said.
Robert Holt, director of Public Safety, said in addition to policy changes, Public Safety officers will review expectations of local and state police departments, but did not elaborate on specific tactics.
If a shooter was on the college's campus, Holt said Public Safety would use its incident response plan. The plan calls for a response phase, a planning phase and an assault phase.
Holt said the main goal would be to locate the crisis and isolate it. The planning phase involves Public Safety providing CERT with information. The assault phase, Holt said, is used only if negotiation fails.
Changes to security plans will take time to develop, McAree said, but many students felt more immediate effects of the tragedy. Senior Joe Sterne, former president of his high school class at James Madison High in Vienna, Va., lost his friend and classmate Maxine Turner.
"It was a very dark day not only for our class, but for anyone who knew anyone in Virginia," he said.
Sterne said he notices a disconnect between Virginia Tech students and students at the college because Ithaca is not directly linked to the tragedy.
"If you're linked to a tragedy, it's in the forefront of your mind," he said. "You're more connected."
To keep this connection, Tannenbaum, a varsity football player and member of the Student Athletic Advisory Council (SAAC), said the organization will sell maroon and orange ribbons at the Mark Madness charity kickball game Sunday, honoring Mark Alderman, a former athletic trainer at the college who passed away last spring. The proceeds will go to either the United in Caring Fund for Victims of the Virginia Tech Tragedy or to SAAC at Virginia Tech.
The School of Music will also hold a concert Wednesday at 8:15 p.m. in Ford Hall dedicated to the Virginia Tech victims. The concert will feature performances by the Chorus and Women's Chorale and other student ensembles.
Sophomore Meaghan McTammany, who will perform with the Symphonic Band, said she is composing a piece she hopes to send to Virginia Tech.
"I wanted to do it as a way of showing sympathy, and show how other college campuses feel for them," she said.
Deb Harper, director of the Counseling Center, said the center will increase advertising of its services and then examine if it needs to add more programs. She has seen students from Virginia who were directly affected, but also some who simply felt sad.
"For some people, it wakes up feelings of grief," she said. "It reminds people about their own losses."
Regardless of what policies are changed, Holt said, some things cannot be anticipated.
"Who could have predicted what Cho did?" he said. "The imagination could devise any crisis that needs to be solved … but who can tell [what it will be]?"
Matt Quintanilla contributed to this story.