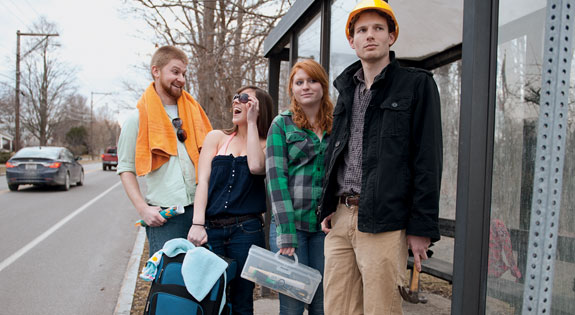 For sophomore Yiwei Zhu, spending spring break in Florida last year meant a lot more than basking in the southern sun.
In the Spring 2011 semester, Zhu traveled to Pensacola, Fla., on one of Ithaca College's
Alternative Spring Break trips, which are service learning trips offered to students to help communities in need. During the seven-day experience, Zhu and 12 other students from the college spent time helping with the restoration of the Gulf Coast's ecosystem. Zhu said she chose Pensacola because of its environmental focus, an area she is interested in learning more about.
"I'd never done any kind of service that was environmentally centered, so I thought, 'Oh, I want to do that,'" she said. "It was interesting to learn about the ecosystem down there, especially since Ithaca itself is such an environmentally friendly community."
The college has offered the Alternative Spring Break program for several years. This year, 42 students will be traveling to Pensacola, Fla., Washington D.C., Salamanca, N.Y., and Beckley, W.Va. In 2011 there were 24 participants and in 2010 there were 33.
Freshman Olivia Norris, who will be going on the Salamanca trip next week, said she chose the southwestern New York location because of the opportunity to develop her passion for working with children. Salamanca is located on the Allegany Indian Reservation, where students will be working with Native American youths.
"I like working with children, and I know the trip will involve working with children and helping them get more involved with their schoolwork through tutoring," she said. "I'm also an occupational therapy major, so it really applies to my field."
Norris said her roommate's passion for Native American culture piqued her interest in the Salamanca trip, where she hopes to learn more about the local land.
"I'm looking forward to going somewhere else and experiencing a new culture," she said. "I'm excited to learn about this whole aspect of Native American life, about the territories and the history of the land."
Nationally, there are several organizations offering alternative spring break opportunities and resources.
Break Away, a leading national alternative spring break resource organization, was founded in 1991 by two students at Vanderbilt University.
Samantha Giacobozzi, program director for Break Away, said the organization saw a spike in  student volunteers after Hurricane Katrina.
"There were a lot of schools and school administrations … that were interested in having an impact or being able to do a program," she said. "Out of that, a lot of spring break programs were formed."
According to a 2011 study by the U.S. Department of Labor, college student volunteer numbers decreased between September 2007 and 2010. However, the numbers increased from 29.2 percent in 2010 to 29.5 percent in 2011. Giacobozzi said Break Away expects numbers to continue rising.
Boston University's alternative spring break website actually crashed in January from the amount of students logging on to register for its Alternative Spring Break program. The site of the university's Community Service Center had to offer a wait list for students who missed the registration cut off.
Giacobozzi said this year around 72,000 people are going on trips through institutions registered with Break Away. Ithaca College is one of these institutions.
Giacobozzi said service trips, like the Alternative Spring Break program, help students see the world differently.
"I know the power of spending a lot of time learning about a social issue and immersing yourself in a different community, working on that issue, seeing firsthand the impact of these social issues and … seeing the world in a different light," she said.
Don Austin, the director of Alternative Spring Break for the Office of Student Engagement and Multicultural Affairs, said the program is not affiliated with any national organization.
Students only have to pay a small percentage of the total cost — which ranges from $275 to $475 depending on the destination — because the program is funded by OSEMA.
"I prioritize part of that money to assist with the Alternative Spring Break program because spring break-style service emergent trips are a priority set by the college and are going to continue to be a priority as marked out in the IC 20/20 plan," he said.
Austin said the college prioritizes these service trips because they reflect the direct link of college education and application on the field.
"Let's look at the 'Ready' campaign," he said. "If we really want our students to genuinely be 'Ready,' they have to go beyond the classroom, and they have to be directly involved in the things that they are trying to discipline themselves in, the skills that they are trying to acquire [and] the areas that they want to be competent in."
Austin said there is still one more spot available for any student interested in going to Beckley, W. Va., and he will accept anyone up to Friday.
Zhu, who plans on doing another break trip her senior year, said though she signed up for the trip to help others, she ended up also reaping personal benefits through her interactions with other students.
"You understand yourself better by learning how you work with others and how you adapt to a new place," she said. "It's definitely one of the best experiences you can have."