More than 20 students and faculty gathered Tuesday at the Free Speech Rock to bring awareness to climbing student debt and financial inequalities adjunct professors experience at Ithaca College.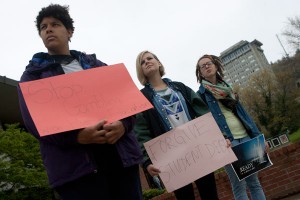 Sponsored by the Labor Initiative in Promoting Solidarity, an on-campus group that advocates for economic and social equality, the May Day protest garnered student signatures in response to rising tuition costs, and called for better pay and working conditions for part-time professors. They also argued that the changes made to the payment of adjunct professors should not be placed upon the students' shoulders.
May Day, also known as International
Workers' Day, is a holiday where workers unite in solidarity to call for better working conditions through organized demonstrations and marches. This year, Occupy protestors around the country came together once again Tuesday, particularly in Oakland, Calif. and New York City, to demonstrate against Wall Street and to advocate for workers' rights.
LIPS protestors held signs with phrases like "Ready to drown in student debt" and "Stop gambling with higher education."
Senior Alyssa Figueroa, a LIPS member, said she was concerned about the lack of student voice present on the college's board of trustees, the body that approves institutional changes such as tuition.
"We have a student trustee on the board who isn't democratically elected, so how are our concerns being heard?" she said. "We demand that a student trustee be democratically elected and be able to hear our concerns and voice our concerns to the board."
She said that while tuition is increasing every year, part-time professors are not benefitting from the tuition increase.
Currently, part-time professors at the college do not receive health care benefits and are paid $1,300 per credit for each course they instruct. The adjunct professors are not permitted to teach more than two courses per semester, but to earn benefits from the college, professors are required to teach at least three courses per semester.
Junior Laura St. John said the student loan debt and lack of equal working conditions of part-time professors are national issues.
"When education is commodified in this way and looked at solely through an economic lens as a monetary business, then you lose sight of what higher education actually is," St. John said.
Chip Gagnon, associate professor and chair of the politics department, said the faculty in his department want to see quicker change from the college's administration.
"We in the department are not happy with the situation we have been put in," Gagnon said. "The change has not really been listened to at the top and I think what LIPS is doing ­— what the students are
doing — is very important to get the students' voices heard out there to put pressure on the college to make these kinds of changes."
Full-time faculty members Zillah Eisenstein, professor of politics, and Michael Smith, associate professor of history, sent a letter and a petition signed by 67 other full-time faculty in February to the board of trustees, President Tom Rochon, Provost Marisa Kelly and the deans of each individual school. They raised the issue that it is a matter of "grave unfairness" to not extend the raise to all faculty, including part-time faculty.
Eisenstien said both part-time and full-time faculty members are equally important in attaining a well-rounded education, and that the faculty will continue to press the issue about the rights of adjuncts to administration in the coming fall.
"This is just the beginning," she said. "It's only the tip of the iceberg."