The story of Queen Sheba's legs is one that is well-known in Hebraic culture. Her beauty entranced King Solomon until he saw her hairy legs; he criticized t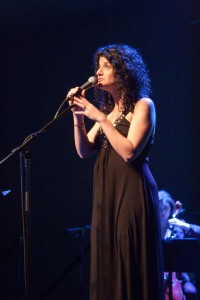 hem as masculine and taunted her until she shaved.
Galeet Dardashti's multimedia production Sunday in Emerson Suites presented this Middle Eastern tale and many others in a fresh, different way. With dancers and a band accompanying the vocalist, cantor, and anthropologist Dardashti, the group combined lyrical dance, contemporary Mizrahi and Arab music and projected images in "The Naming."
Based on Dardashti's album of the same name, which comes from the Jewish tradition of mother's naming their children, this performance piece revolved around the themes of femininity in Jewish culture, traditional gender roles and motherhood. "The Naming" contained well-known biblical narratives that were interspersed with experiences from Dardashti's own life, followed by Persian and Jewish songs.
In conjunction with the Department of Anthropology, and with support from Steven Weiss '91, the college's Jewish Studies Program sponsored Dardashti's visit. Coming from a long line of famous Persian musicians, Dardashti is the first woman to embrace her family's tradition as an accomplished singer.  She also holds a Ph.D. in cultural anthropology, with a concentration in contemporary Mizrahi and Arab music performance in Israel. Prior to her evening performance, Dardashti demonstrated her expertise to the college community, guest teaching a master class on the Jewish music of the Middle East followed by a Sephardi-Mizrahi service for Shabbat, which she led in Muller Chapel that evening.
The program began 25 minutes late because of difficulties with the musicians and the dancers. But when the performers finally took the stage, their ability to completely shift the group's mood was captivating. Through their performance, Dardashti and her group allowed the audience to experience the complex and sensual feelings of ancient Jewish wives and mother as well as Dardashti's own female relatives.
One of the first stories detailed the life of Dardashti's aunt, Tovah, a childless and pious relative of hers. In the tale, when young Dardashti asked why Tovah prayed before God like a man, her aunt's reply was because God did not bless her with children for whom she could care. In Jewish culture, women are exempt from daily prayer because of their wifely and maternal responsibilities. Since Tovah had no children, she chose to pray with a yarmulke, the traditional Jewish head cap for men, and prayer beads like her brothers. Tovah's deviation from tradition coupled with her embrace of Judaic practices enthralled Dardashti and inspired her to take up her family's musical legacy as a career in spite of her gender.
Her music, sung in Hebrew, Arabic, Aramaic, and Judeo-Spanish, alternated between fast-paced and electrifying rhythms to calm and expressive ones. Accompanied by a cellist, violinist and drummer as well as a conductor who coordinated the musicians, synthesizer keyboard and projections, the songs were unlike both contemporary pop music and traditional Jewish hymns. The music felt otherworldly, at least to the homogenous audience listening to the performance. Dardashti's strong voice and the distinctive instrumentation unnerved unassuming listeners and left them wanting to hear more.
Images on the large projector screen that was stationed behind the group displayed paintings and photographs depicting Judeo-Christian biblical stories, Egyptian culture and the lifestyles of different women from around the world. Laid over the pictures were key phrases from Dardashti's narration. A distinct performance element was the three women who came onstage for nearly every other song. Mixing traditional Middle Eastern styles with modern lyrical dance, the dancers rounded up the multi-faceted presentation.
The audience's reception of this independent and abstract musical presentation was positive. Many appreciated the cultural insights of "The Naming," while others simply enjoyed the Middle Eastern music. While none of Dardashti's vocals were in English, singing multilingually instead, her elegant voice and the harmonic songs were pleasant to the ear. With support from her fantastic musicians, Dardashti's performance was not only entertainment, but also an experience to grow and learn from.
Galeet Dardashti and her ensemble will go to Brooklyn and Los Angeles in March to perform.