From the bottom of Tibet Drive in Ithaca, traditional Tibetan prayer flags are visible. A multicolored gate reminiscent of a Tibetan temple stands at the entrance, and beyond this, a long, gravel driveway winds up to a construction site. Here, farm soil and hay strands characteristic of the upstate New York land creep from beneath a partially constructed traditional Asian structure.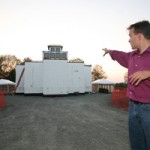 The 27-acre lot located off of Route 96B is the new site of the Namgyal Monastery, the primary reason for the visit this week by the Dalai Lama. On Tuesday, the Buddhist leader blessed the monastery's partially completed shrine room. The blessing lasted about 45 minutes, during which the Dalai Lama recited a land blessing and was presented a book on Buddhist teachings compiled by the Namgyal community members.
The Namgyal Monastery is the North American seat of the Dalai Lama's personal monastery in India. The new complex, called Dü Khor Choe Ling, is designed to accommodate Ithaca's growing Buddhist
community, which has outgrown the monastery's location in a Victorian home on North Aurora Street.
"This is his North American seed," said Ted Arnold, president of Namgyal Monastery's board of directors. "This will be the only location of its kind in the Western world, where really important but advanced teachings will be made available."
Dü Khor Choe Ling means "The Land of Kalachakra Study and Practice." Kalachakra is a complex Buddhist teaching that revolves around the concepts of time and cycles and teaches the practice of controlling energies within a person.
The Dalai Lama has spent much of his adult life giving the Kalachakra Initiation, which gives students permission to learn the teachings of Kalachakra. Arnold said the spiritual leader has given this initiation to hundreds of thousands of people in the United States and Canada, but resources in the Western world are too limited for most of those initiated to actually learn the teachings.
The Namgyal Monastery in India was founded during the 16th century by the second Dalai Lama. In Ithaca, the Namgyal Monastery is also an institute for Buddhist studies, offering a three-year program that averages four to five classes per week. It is a much less intense, very condensed version of the 13-year curriculum at the mother monastery in India, Arnold said.
One of the reasons Lindsay Gilmour, assistant professor of
theater arts at Ithaca College, came to Ithaca was to study at the Namgyal Monastery. Gilmour takes classes in Tibetan language and Buddhist theory at the monastery.
She said the Namgyal community is very integrated. She spends some afternoons at the monastery, volunteering or attending meditations.
"The other day I [was there] … chatting in Tibetan with one of the newly arrived [community members] and at the same time talking with other Westerners," she said.
Construction on the new monastery began in July and is expected to conclude next fall. Arnold said the new complex will mimic an authentic Eastern temple and was designed with Tibetan architectural tradition in mind. Local contractors and
architects are running the project, and many volunteers have helped with the building.
Lane Chambliss, a local architect, designed the new complex. He worked with monks, who gave him basic organizational concepts as he created plans for the
monastery. He said the major challenge was refining these plans and finding a way to combine Tibetan traditions with Western construction techniques.
Chambliss said his design for the shrine room and monastery will be based on the mandala — an art form comprising concentric shapes of Buddhist symbols or a deity's image and attributes.
"The mandala is an idealized diagram for a perfect monastery," he said. "The layout is based very much, almost literally, on that mandala."
Dü Khor Choe Ling's shrine room will be the main and center building of the complex and will be surrounded by a courtyard and four other buildings. These will house monks' quarters, a dining area, library space and apartments for students attending private retreats. There will also be special living quarters on the premises for the Dalai Lama, to be left empty when he is not in Ithaca.
Once complete, the new complex will be able to accommodate twice as many people as the current monastery and will be used for celebrations and retreats. The house downtown will continue to be used for meditations and smaller classes.
Arnold said though there are a significant number of practicing Buddhists in the United States — some 3 million Americans self-identify as Buddhist — very few actual monasteries exist. Technically, a center must be run by four ordained monastics in order for it to be considered a monastery. Smaller centers, called Dharma Centers, are run by only one practitioner and are more common in the United States.
Arnold said Ithaca's Namgyal community includes about 80 individuals. About 50 of them come from the town's Tibetan community, while another three dozen come from other backgrounds. Some are undergraduate students, while others are local residents or people who have come to town specifically for the monastery.
Gilmour said she became interested in Buddhism after taking an introduction course as an undergraduate dance student.
"I loved it," she said. "It just made sense to me."
Gilmour went on to get her master's degree in international affairs, specializing in Tibetan studies. She spent six months volunteering in India before returning to New York.
"There was always this tugging feeling in the back of my mind of everything I experienced and saw," she said.
Gilmour said awareness of the Namgyal community on campus has grown significantly this fall. She said it seems that curiosity is bubbling around campus.
"It's exciting that people are asking questions now," she said. "There is this whole awareness of Tibetan Buddhism and culture is happening, across departments."
Gilmour said the monastery will draw people to Ithaca from all over the world.
"It … will [add] to the vibrant, intellectual and inquisitive energy that makes Ithaca unique," she said.