Vibrating with the hums of mandolin, fiddle and guitar, blues artist Andy Cohen awakens a nostalgic longing as he plays. Cohen invokes the spirit of folk and Dixieland jazz by appropriating melodies of artists like Muddy Waters, Etta Baker and Reverend Gary Davis. Fascinated by older instruments, he sees a sensibility in this genre that transcends time and location.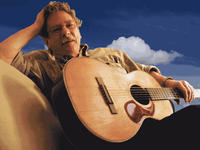 Cohen will perform at 7:30 p.m. Saturday in McGraw Hall on the Cornell Univesrity Arts Quad. Staff Writer Jillian Kaplan spoke to Cohen regarding his musical inspirations and his advice for musicians.
Jillian Kaplan: How did you get started playing music?
Andy Cohen: Real, real early — my dad was a labor lawyer back in the '40s and '50s. I'm 65. I was born in 1946, so when I was five years old, I got to listen to 78s of Woody Guthrie singing, "So Long, It's Been Good to Know You." My dad also liked Dixieland jazz, traditional jazz — the old stuff, the New Orleans stuff. He was very fond of it, and I learned to like it very early, too. So by the time I was five or six, I was banging out stuff on the piano. By the time I was 10, I was playing a cornet along with my dad's Dixieland records. Around 15, I ran into the guitar, and for me the transition from piano to guitar was really natural.
JK: Why do you think this was?
AC: The material I saw rediscovered old guys. I didn't see them in their youth, when they were making 78s. I saw them when they were old men. I saw Reverend Gary Davis and Jim Grover, Muddy Waters and all them people. I made it my business to seek out old blues guys when I had the chance — obscure ones. When I had seen Reverend Gary Davis, I was about 16 or 17 years old. He was doing the same thing on a guitar that I had been playing all my life on a piano. I instantaneously understood his music. I couldn't reproduce it, but I understood the elements it was made out of, because there are very standard musical elements, just used in a particular way. I was intuitive about it when I was 15. Fifty years later, I'm analytical about it.
JK: Your degrees are in anthropology — does this field at all tie in to how you play music?
AC: Of course, in a lot of ways — it applies to how you interact with the instrument. That's what I wrote my master's thesis on — how bluesmen use their thumbs. But also, playing music is the expressive end of a long chain of events that begins out in the world, enters the musician and is organized, embedded in a culture within the musician's brain and ultimately comes to expression from the musician's finger. Some people have a little of it, most people have a little of it, some people have a lot of it, and Reverend Davis had a lot of it. The kind of music that he played reflected his ability to absorb what was around him, to hear what was around him and to apply intuitive rules to what was around him.

JK: When you're playing, what do you hope to convey to an audience?
AC: A sense of who the old guys were, in the time and place that they were living in and thinking. Music is but young men and women. You can think of me as a CD salesman with an elaborate spiel. I try to make history. History is what people actually said and actually did and then what we say about it after. I try to make history fun enough that people will pay attention long enough to have fun, to go into it on their own.
JK: Do you have any advice for current musicians?
AC: Play really slow. The slower you learn a thing on your instrument, whatever it is, the faster you will retain it. This is just mechanical, but the other thing is if you want to find your own voice, you can't find it by throwing away the book. What you have to do is know what's in the book first, so that you know what hasn't been said. Rather than throw away a hundred years of recorded music, it makes much more sense to study it and root yourself in it. Then you find out things, not just about the music but about the culture it came from.
Andy Cohen's CDs can be purchased at all live performances and also on http://www.andycohenmusic.net/music.html. Tickets for Cohen's performance this Saturday are available for purchase at Ithaca Guitar Works, GreenStar, Autumn Leaves Bookstore and Bound for Glory, and online at www.cornellfolksong.org.