Senior Meagan Carrick is in charge. A consummate Southern belle in knee-high brown boots and a gingham button-up, she moves her hands in rhythm, listens attentively and drives her vocalists through the "tricky" parts of the songs
she conducts.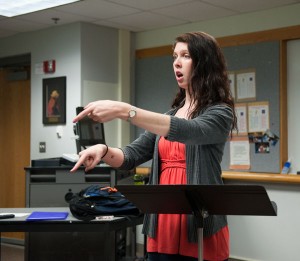 Carrick spends her Thursday lunch hour conducting VoICes, the Ithaca College faculty and staff choir. They're hammering out the particulars on two pieces of music, a traditional choral arrangement called "The Awakening" and a jazz number  known as "Doctor Blues." When necessary, she lends her astonishing voice, which she can change between the choral and jazz styles effortlessly, to guide the choir.
"My mom said that I sang before I spoke," Carrick said. "You know the mobiles that hang above cribs? I would just sit there and sing to mine for hours. I guess it's just always been a part of me."
The music education major discovered her affinity for teaching early on. In elementary school in Reston, Va., classroom conflicts upset her even if she wasn't involved.
"I don't know the exact story, but I remember there was some kind of dynamic in the classroom that was very tense," Carrick said. "And I remember thinking to myself, 'I could do this. I could be a teacher. I could fix this situation.' I don't know why my 9-year-old brain thought that, but it did."
Her interests in music and teaching came together in her high school's chorus program, directed by two Ithaca College alumni, who told her the college had a great program. She sang everything from jazz pieces to madrigals while in green and gold Renaissance-era garb.
"I wanted to teach … but I wasn't sure that music was going to be the medium through which I taught until high school, and [my chorus teachers] said that [Ithaca College] had a great program."
Carrick could only describe her four years at Ithaca College as "busy."
Senior Eddie Steenstra, a close friend she's had since freshman year, agreed.
"She stays busy no matter what," Steenstra said. "She does as much as she can to be involved in the community and in the School of Music. She just goes and gets it."
When she isn't in class, conducting VoICes, or leading the college's chapter of the American Choral Directors Association, she is doing administrative work at New Roots Charter School or volunteering in the music program at Beverly J. Martin Elementary.
Her junior year, she taught at Immaculate Conception School in Ithaca, instructing pre-kindergarteners and running a recorder class for third and fourth graders. While she adored her recent student teaching placement in the choral program at West Genesee High School in Camillus, N.Y., she found her true educational calling in her work at elementary schools in Ithaca.
"There's an innocence and a thirst for knowledge that I'm very attracted to," Carrick said.
Carrick said she owes her enthusiasm for engagement to her professors, whom she describes as being committed to helping her get the most out of her education.
"She's bright, creative and genuinely committed, and that's just an incredible combination," Jeff Claus, associate professor in the Department of Education, said. "She expresses care about these issues verbally, but acts on what she believes."
Carrick explains complicated musical concepts, like the special system of vowel sounds for singing and vocal exercises, to the members of VoICes with simplicity and ease. The group is preparing for its next performance: Carrick's graduation day.
Though she will miss Ithaca's "uniqueness and craziness," she plans to begin her career a little closer to home in Virginia and attend graduate school after she gains a few more years of classroom experience. What she knows for sure is that she will never stop learning and working.
"I've always taken schoolwork very seriously, and I value volunteering, so I've always been very involved," she said. "I'm not good at being still. I feel like there's kind of a need in me to be doing meaningful work in the community. That's ultimately one of the reasons that I decided to be a teacher."