A new student group has formed in Ithaca to tackle the issue of hunger in America and to provide an outlet for the city's homeless population to receive assistance.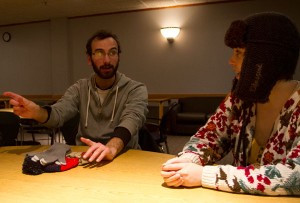 The group, Food Not Bombs, is a global movement that originated in Massachusetts in 1980 to encourage society to focus more resources on solving world hunger rather than on war efforts.
Today, more than 30 years later, six Ithaca College students have set out to make similar changes in Ithaca.
Sophomores Grace Woodward, Alison McCabe, Andrew Morris and Krystal Cannon, freshman Sara Gaechter and junior Emily Wilson comprise the organization, which Woodward said has no leaders, but members of equal status. She acknowledged that supporting the military is important, but said the well-being of hungry Americans also needs to be taken into account.
Woodward explained that the group saves food that would be thrown out otherwise, cooks it and serves it for free to the homeless and hungry population in Ithaca. It also counts on food and supply donations from the local community.
"People who are food insecure or homeless, or just want to come and have a free meal and be together with the community can do that," she said.
Food Not Bombs serves only vegetarian meals, an aspect Woodward said is important.
"Meat goes bad easily, dairy goes bad easily, so we would have to worry about those things," she said. "It's also not good for the environment, and we don't want to support it."
The group members cooked their first meal Sunday at the home of Ithaca resident Clare Grady, whom they met at Silent City Distro, an independent studio space on The
Commons, while scoping out potential meeting places.
Grady was previously a kitchen coordinator for Loaves and Fishes, another food distribution organization in Ithaca, and offered her home after hearing about the group's mission. Together with Grady, the students cooked for more than 40 people Sunday night.
McCabe said the sanitation of the food the group serves is its top priority since it uses food that is a little past its expiration date.
"People understand that if you are going to cook for so many, you have to be very cautious of things like that," she said. "We are public health students, so it's a big concern that the food we are giving people is healthy. We are not going to feed 50 people if we are not completely sure that it is not going to get them sick."
Woodward said the group, which does not have a set time to meet yet, decided to base itself off campus because it felt the need to make use of the resources available in the community.
Woodward also said the group looked at ways of getting more college students involved with its initiative by actively promoting its mission — though she admitted it's hard to convince students to travel off campus for weekly meetings.
"It's definitely a problem because kids don't always want to go off campus because it's cold and it's at night," she said. "But honestly, it's really not a huge time commitment."
Morris said the group also hopes to serve political rallies like Occupy Ithaca in the city in the future.
Inspired by the existing spirit of generosity it found in the Ithaca community, McCabe said the group found that giving back to those in need helped it become a part of that atmosphere.
"We wanted to start a chapter of FNB so that we could give back to the community we've been so graciously welcomed to since moving here for college," she said.